A Poker Player's Holiday Gift Guide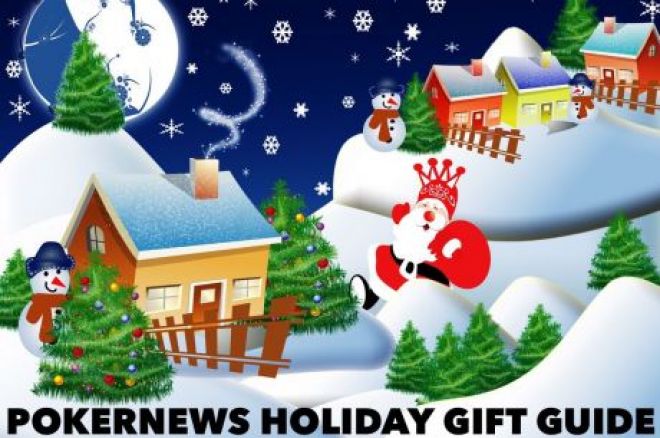 With the holidays upon us, we are all looking around keeping our eyes open for the perfect gifts for the special people in our lives. The shopping days are running out, and this weekend might be your last chance to finish your gift buying. Fortunately, if you have poker players in your life, it's never been easier to find excellent gifts to appeal to their love of cards.
With everything from the obvious like chip sets and poker tables, to poker clothing and online gear, there are a lot of choices for your favourite poker player. Of course, much depends on the individual whims of the player in question, and below we hope you'll find the perfect gift for the grinder in your life.
Poker Chip Sets
No live home game is complete without poker chips, and a good chip set can make or break your guests' poker experience. The look and feel of poker chips is an important part of the experience of playing live for many players, and with the chip sets below, any home game can have exactly the quality you want.
500 Super Diamond Chips in Aluminum Case — $54.99
This basic chip set has everything your player needs to get their home game out of the muck. These 8-gram clay composite chips feel and sound like the real thing. With an included deck of cards, plus dealer and big blind buttons, all handsomely contained in a solid aluminum case, it's hard to go wrong with this $54.99 set from Maverick Poker Table Co.
500 Soprano Striped 10g Clay Poker Chips with Aluminum Case — $76.99
Play poker like Tony with this exclusive chip set modeled after the chips used in Tony's games on TV. The included deck of cards, dealer and big blind buttons, and rugged aluminum case let your favourite player be ready to spread a game suitable for the classiest guests. Let the player in your life play like the capo with this $76.99 set.
500 11.5g Dice Striped Chips Aluminum Case and Poker Table — $111.09
Carry the game with you with this complete set of poker chips, cards, and portable poker table top. The 11.5-gram chips have the look and feel of real casino chips, letting the player in your life bring the casino with them wherever they go.
Poker Tables
8-Player Folding Legs Poker Table — $299.00
This poker table folds down to store away easily when not in use, turning into a full eight-person table for the big home game. Priced under $300, it's a bargain way for your player to get their game on.
MRC Poker Table The Soprano 203 — $1,350.00
The Soprano is a full-ring luxury table with an optional top to convert into an elegant dinner table. With this table, the player in your life can host swanky home games like Tony.
MRC Poker Table The Mystic Mahogany Green — $900.00
This eight-person round table is great for smaller spaces, and will let the player in your life host a game in even the most cramped of quarters.
Specialty Poker Gifts
A Poker Player's Guide to Mixed Games by Ken Lo
This book is the ultimate guide to mixed-game poker strategies. Our Canadian mixed-game specialist, Ken Lo, provides both introductory rules as well as in-depth strategy to explain the various games, producing a very readable book with excellent information. If proof is needed of his mixed-game prowess, Ken cashed the inaugural WSOP Dealer's Choice event shortly after the book was published this summer.
For something a little different, this Okanagan wine maker combines a love of poker with world-class winemaking skills. These wines are the perfect complement to an evening of poker with friends.
Poker Clothing
Nothing tells everyone else at the table that you're serious about the game like some dedicated poker clothing. 3Bet has t-shirts, hoodies, hats, and more that step away from the tacky flaming aces and gothic royal flush that have pervaded the game's fashion for too long.
Every poker player needs a lucky article of clothing to wear for their big game, and now there's a brand that guarantees it in the name. No longer do poker players need to track down their lucky pair of socks, RunGood provides t-shirts, jackets, hoodies, hats, and more that are sure to make the poker player in your life run good.
Sunglasses have been worn by poker players at the table to hide any visual tells in their eyes for decades. But poker rooms are generally not very bright places, so dimming the light further with shades presents a problem. Blue Shark Optics are eyewear specifically designed for the poker player who prefers to hide their eyes. They cannot be seen through by their opponents, but they provide maximum light penetration for the wearer.
Office Gear
For poker players who do most of their playing online, there are plenty of gadgets that will be greatly appreciated to make their grind more comfortable. Here are a couple that would make us "ooh ahh" if you want to splurge:
Aeron Chair by Herman Miller — $999.00
It's a little pricey, but this is la creme de la creme. Poker players who prefer to play cards online will often be seated at their desk for eight to ten hours or more, and an ergonomic, supportive chair is essential to helping them stay focus. You can't do better than this one from Herman Miller.
Ergotron Dual Side-by-Side Monitor Arm — $294.98
Many serious online poker players are opting for two or more monitors to display all of the tables and additional information they need. This great monitor arm can help you arrange your monitors any way you wish — landscape side-by-side, portrait side-by-side, portrait and landscape side-by-side. The poker player in your life will never be limited in how they arrange their displays again.
Happy shopping! We know the poker player who receives any of these gifts will be ecstatic Christmas morning.
Get all the latest PokerNews Canada updates on your social media outlets. Follow us on Twitter and like us on Facebook!