Chris Tessaro is (Almost) Canada's Smartest Person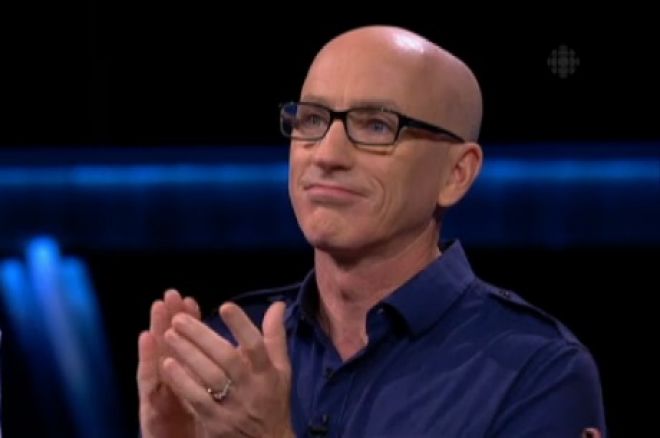 CBC, our nation's public broadcaster, has endeavoured to find the most intelligent person in the country with its TV series Canada's Smartest Person, and one of the poker community's own almost took the title.
Starting with 32 smarty-pants contestants, each episode reduced four new competitors down to one top brainiac who went on to the finale. This isn't Jeopardy, Canada's Smartest Person tests multiple intelligences to find overall smarts. The contestants were faced with linguistic, physical, musical, visual, social, and logical challenges.
Chris Tessaro is a 51-year-old firefighter from Mississauga, Ontario. But we know him better by his other interests. Tessaro is often seen at the peripheral of major poker events hanging out with buddies like Daniel Negreanu and Phil Kessel, though he has also played a few tournaments himself. He was also the host of Canada's only poker radio show and the author of Canada's only poker newspaper column.
CBC billed him as "Canada's leading poker journalist," but we're not so sure about that; nobody asked us. Kidding aside, Tessaro is widely recognized as an important figure in the industry who rubs shoulders with the game's elite, and he became a little more well-known when he entered the race to become Canada's Smartest Person.
Tessaro debuted on the second week of the show and dominated his opponents. What was most remarkable — a testament to the real-world application of poker skill — was Tessaro's perfect score on the lie detector challenge.
Raine Maida of Our Lady Peace made a special appearance to test the lie-detecting ability of the four contestants. He told four separate stories about personal experiences and the four know-it-alls were each allowed one follow-up question before determining which stories they deemed to be true and which ones were made up.
Remarkably, Tessaro scored four out of four correct. Like a true poker player, he explained that he paid close attention to physical cues and used changes in Maida's behaviour to determine when he was "bluffing" with flawless accuracy. "I just read his body language," Tessaro said. Maida responded to Tessaro's spot-on reads with, "I don't like you, Chris."
Tessaro continued to crush throughout the episode, and came out on top to earn himself a spot on the finale. You can watch Canada's Smartest Person Epsiode 2 right here to see Tessaro qualify:
The season finale saw the eight qualifiers from each week come back to compete for the enviable title of Canada's Smartest Person. CBC posted a poll online asking viewers which contestant they predicted would win, and Tessaro actually received the least votes — only 3.66%. However, he outplayed expectations and fared well in the final battle of intelligence.
The first round of challenges saw Tessaro hang undetected around the middle of the pack, but made the cut for the final six contestants while two were eliminated. In the second round of the finale, Tessaro came from behind after losing the lead heads-up against Mith Das to barely squeak out a win and advance to the final four.
From there, the quartet of quick-witted quacks took each other on in a series of challenges that began with Tessaro coming out on top in the visual test. Then the four put on some cringe-worthy improvised karaoke to test their musical ability with Tessaro putting on a third-best performance. Linguistic intelligence was challenged next, and the poet from Vancouver, Johnny MacRae, predictably scored the most points. Then, in the logical intelligence test, Tessaro found another win by using mirrors to guide a laser through targets in the least amount of time. After that, things got a bit heated with the four contestants arguing for an alternative national capital in a debate to test social intelligence, attempting to persuade guest judge Bob Rae. Tessaro picked up another third-place finish.
The final challenge of this series to qualify the final two contestants tested physical smarts. MacRae already locked up one of the final two spots, and Max Cameron couldn't come back to earn a spot, so only Tessaro and Braden Lauer were competing for the other heads-up position. Lauer dominated the final challenge, which gave him enough overall points to tie Tessaro, so the tie had to be broken to choose the contestant that would advance. Looking back on past performance, both had won two previous challenges in the series, but Lauer had two second-place finishes over Tessaro's one second-place finish, giving the other final seat to Lauer.
Lauer, the law student from Kamloops, B.C., then went on to win the title of Canada's Smartest Person. Tessaro is, by CBC's measure, Canada's third-smartest person.
But don't take our word for it; watch the final episode right here. And if you want to make it a bit more entertaining by introducing a drinking game, take a drink every time you see a contestant fist pump or give a high five.
Get all the latest PokerNews Canada updates on your social media outlets. Follow us on Twitter and like us on Facebook!