Editorial: Just Pay the Damn Rake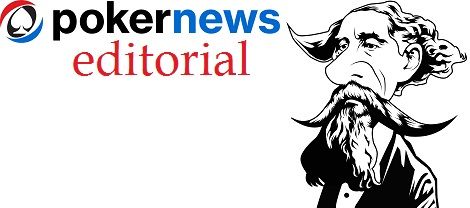 I expect this editorial to be a little polarizing. The majority of poker players won't appreciate some opinionated media guy telling them how to make bankroll decisions, and a few will agree but probably stay silent because the overwhelming discourse in the poker community is one that is never content with the casinos, poker rooms, and tournament organizers in an us-versus-them dichotomy.
I just ask you to read, consider my argument, and not to be so critical of the people who make it possible for poker players to play their game.
In recent years, a new science has emerged: rake analysis. The rake of live and online poker tournaments as well as cash games has become the focus of a hyper-detailed breakdown of the cost of playing the game. Players have charts and graphs showing which games at which venue charge how much for each type of game, comparing them all to find the best value.
Can we give it a rest, already?
Granted, some tournaments and poker rooms charge an exorbitant fee to join the table and should be avoided unless the action is super juicy, but this hardly requires the use of Excel to recognize. If you are looking to make the best investment decisions, the $40+$10 local tournament probably isn't a winning proposition.
Over-zealous rake analysis became especially relevant when PokerStars announced rake increases in some of their games last month. The community responded with complaints of gouging and vowed never to play on the site again. Then a few cool-headed individuals pointed out that the majority of PokerStars' games are still raked at a lower rate than those of their competitors.
In reality, a few percentage points is hardly worth the reaction this news received. There are many reasons to choose to play a certain game at a certain site, and rake is only one criteria — one that, in my mind, should weigh only lightly in your choice of where to play.
If you're playing for pure dollar-value over amount of hands played, rake is going to affect that figure. There are players making a living while virtually breaking even over a large amount of volume and cashing in on rakeback and player loyalty rewards programs. For them, rake is important. Even more important is a pool of players you can beat. There are plenty of poker sites with higher rake but far worse poker players. If you can just beat 25c/50c at PokerStars, you could probably beat $1/$2 on some other sites with the players you will find there.
And what about game variety? Isn't that important? If you love a hyper-turbo, three-player, winner-take-all format, aren't Spin-and-Gos worth paying a little more rake for? Or you specialize in badugi or razz? Won't you play at a poker room that offers more variety of games, regardless of a sliver more rake?
And don't forget volume. Is it worth paying a bit more rake if there is a tournament at your buy-in level running every few minutes rather than every few hours? Or dozens of tables of your preferred cash game instead of three or four?
In other words, aren't we willing to pay more rake for the type of game we want, running at the times we want, and against a softer field of players? Are all games measured equally?
Let's take this conversation into the realm of live poker. Last month, the World Poker Tour (WPT) event in Montreal at Playground Poker Club received criticism from Allen Kessler because of their rake. He deemed it unfairly high in comparison to other WPT events.
Is WPT Event X directly comparable to WPT Event Y? When a poker professional decides to play an event with the long-term expectation of profitability, they have to invest the cost of travel, accommodation, food, and more. This is in addition to the buy-in. Yet players will squabble over a $100 worth of rake they don't feel is justified. But are the accommodation, travel, and food costs equal across all events? Of course not!
Consider the value of not having to pay a penny in tax on your winnings at WPT Montreal compared to a whopping 30% in the "Land of the Free", which you may or may not get some of back. That has to be worth a lot — dare I say, worth a couple hundred dollars in extra rake?
Also, consider the venue. Playground Poker Club is not a casino; they offer poker, exclusively. And they do it better than almost anywhere in the world. Their dealers are top-notch, their poker room technology is the best in the business, and there are always plenty of games running. This, in a casino industry that is becoming less and less interested in their poker rooms because they don't make as much money as slot machines. Casino poker rooms are closing, and, where they still exist, often only do so as a loss-leader to bring players in with the hopes they will also lose some money on their other games.
The poker community often voices a desire to put more separation between casino games and the skill-game of poker. If a venue opens up and offers exclusively poker without the advantage of making their revenue off of other casino games, wouldn't you be willing to support that venue by giving them a little more rake?
The costs of running an event can't be the same everywhere in the world. The property value, local charity requirements, regulator taxation, and employee wages are not identical from one event to the next. Yet many demand the exact same percentage of rake. Should a hotel room or a dinner in Monaco cost the same as one in San Jose?
This is not written in defense of PokerStars or Playground or as an attack of Allen Kessler (I applaud your enthusiasm for looking out for the players' interests); these are just recent examples that serve well for my argument.
The rake at two different events and two different venues is not directly comparable as a simple recognition of x-percentage of rake versus y-percentage of rake. There are so many other variables to consider in the value of playing a game.
I ask that we support the venues and organizers who allow poker players to play the game, rather than maintain a players-versus-house mentality. Please, continue to point out instances where someone is getting greedy and gouging players, but give the hyper-critical rake analysis a rest.
Get all the latest PokerNews Canada updates on your social media outlets. Follow us on Twitter and like us on Facebook!