Five Very Good Reasons Why You Should Play the €200,000 Guaranteed PokerNews Cup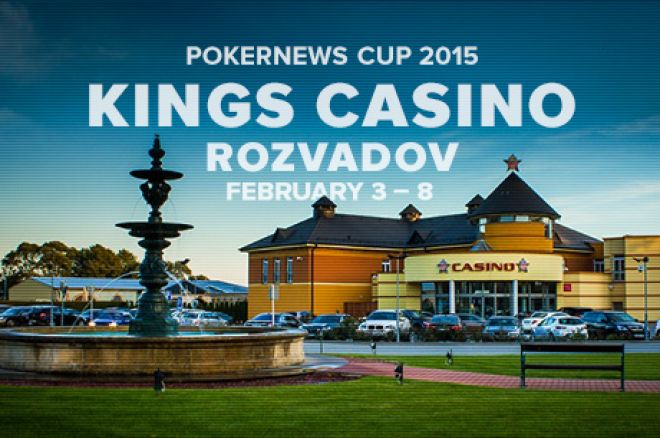 We all have to start from somewhere, and not everyone has the luck (or the financial means) to discover what a live poker tournament is about by getting on a European Poker Tour or World Poker Tour event.
If you are looking for a fun-to-play, challenging, and professional live poker tournament, have a look at the 2015 PokerNews Cup. Scheduled to run from Feb. 3-8, 2015, the event will hit the King's Casino in Rozvadov, Czech Republic, with a rich schedule that includes a top €200,000 guaranteed Main Event accessible for as little as €250.
To convince you to join us for the 2015 edition of our very own live poker series, we have put together a short list of the top five reasons that we believe are going to make this year's PokerNews Cup an event worth being a part of.
1. It's Your Best Chance To Discover What Live Poker Is All About
One of the reasons that pushed us to create the PokerNews Cup was that we wanted to give recreational players the chance to play a proper live tournament, but at a buy-in that they could afford.
Over the last seven years, we have welcomed a great number of recreational players and we have given them the opportunity to play against top names such as six-time World Series of Poker bracelet winner Jeff Lisandro, 2006 WSOP bracelet winner Mark Vos, and the 2005 WSOP Main Event Champion Joe Hachem. And trust us, they loved it.
In 2015, the world-famous PokerNews Live Reporting Team will join the action in Rozvadov to report about the Cup exactly as it does for the WSOP or the EPTs, given you the chance to have your name in print as the next champion.
Are you looking for a chance to play poker, have fun, and feel like Phil Ivey for a weekend? You have been served.
2. Great Value for Your Money
Poker is about fun and enjoyment, this is true — but what about the money?
Everyone likes to get the chance to play for top prizes. We all want to leave the casino with some proper cash in our pockets. It feels good, and it motivates people to give their best at the tables.
If you are looking for a tournament that offers you a good guarantee for a very small buy-in, think about this: for only €250, the 2015 PokerNews Cup Main Event offers you a chance at a €200,000 guaranteed prize pool. Not a single cent less than that.
And if you bust, have a look at the official program because there are plenty of side events to choose from!
3. It Shows You What a "Proper" Poker Room Looks Like
Many casinos in Europe don't love poker players. As the President of the French Poker Series Cedric Billot put it in an interview to PokerNews, "Casinos do not do much to welcome poker players because they feel they don't get enough money out of the game."
King's Casino in Rozvadov, however, is a different story. Not only does the place welcome poker players in the best possible way, but it is also home to the biggest card room on the entire European continent!
Ask yourself, if you had to choose which tournament to play, would you go for that small and dark corner set behind a wall of slot machines, or would you prefer the one that gives you the opportunity to visit the biggest card room in Europe?
4. You Can Play, Rest, and Go Back To Play a Little More
As you can see from the series' official website, we are going to offer you plenty of tournaments to play.
If you think you know how to deal with stress and fatigue, here's our suggestion. Head to the PokerNews Cup tables, play the Main Event, and when that's done, take a break.
Maybe visit the Chikkita Massage salon across the street — it's open until 2 a.m. local time — and spoil yourself with a Texas Hold'em Thai Massage or an Omaha Massage. Then, go back to the casino and hit the cash tables. In Rozvadov, the action never ends!
5. Get In for Cheap
If you play at Unibet Poker, join their 2015 PokerNews Cup Rake Race to win one of the packages available. This way, you will fly to Rozvadov, stay at the King's hotel, and play the Main Event at no cost.
As another alternative, have a look at the other online qualifiers promoted by different online rooms, or test your skills with one of the four satellites organized at King's Casino. They will offer 26 seats to the Cup's Main Event.
For more info about the 2015 PokerNews Cup, satellites, and past editions of the event, have a look at ca.PokerNewsCup.com.