Top 10 Stories of 2014: #6, Tournament Structure Debate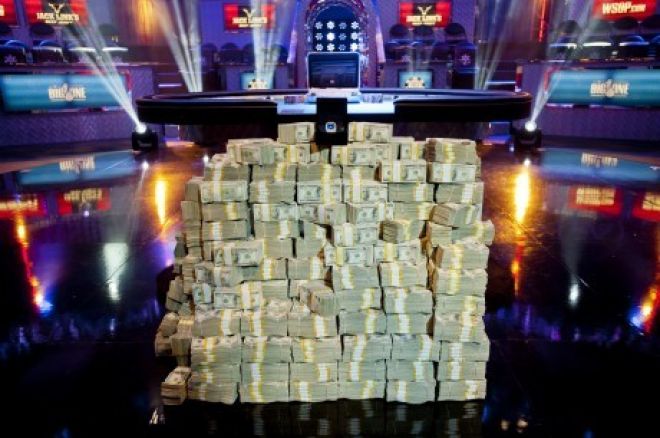 In the twilight of another year, we wanted to feature the articles that our readers have read the most over 2014. These top 10 articles are the stories that received the most views by you, pointing to them as the most popular content on PokerNews Canada. So, to look back on a great 2014, here are the top 10 stories as chosen by our readers:
The sixth-place story on our top 10 list is a debate between PokerNews Canada writers about the payout structure of poker tournaments. Prompted by the $10 million guarantee on first place in the 2014 World Series of Poker Main Event, we considered whether the poker world would benefit from a flatter payout structure than currently exists.
As we know, the payouts for tournaments are heavily weighted toward the top few places. This fact plays a large role in shaping tournament strategy. We wanted to examine what a tournament might look like that paid 10% to the winner, instead of 18%.
We ran the numbers on a flatter structure based on the results of the PCA. Once we examined the numbers, all four of us agreed that a flatter payout structure would likely benefit most players.
Recreational players would benefit from the larger prizes at the low end of the scale, feeling more satisfied when they walked away with a min-cash. Also, mid-level grinders would be able to count on a more stable income because of the more solid prizes in the middle of the field, though their occasional wins wouldn't boost their bankroll nearly as extremely as it does in the current structure.
About the only player it would affect negatively is the player who either wins or busts before the money. Players who consistently cash in seventh position or higher in PCA-style tournaments would likely see a decrease in their earnings. The decrease is offset, however, by increased earnings from mid-field finishes.
Overall, we decided that a flatter payout structure would be a benefit to nearly all players. While that conclusion may be somewhat obvious, what made this our #6 story of the year was the burning desire by most players to dissect the finer details of the game. You can read the entire debate here, complete with some explanatory graphs of hypothetical structures.
Check back in tomorrow to see which article makes #5 on our list of most popular articles in 2014.
Also, in case you missed it, here is the countdown thus far, starting with #10:
#10: partypoker WPT Canadian Spring Championship
#9: WPT Fallsview Event 1 Sells Out but Attracts Criticism
#8: Televised Coverage of the WSOP on ESPN and TSN Starts Tonight
#7: Toronto Poker League Members Freeroll to Big Money at PCA
Get all the latest PokerNews Canada updates on your social media outlets. Follow us on Twitter and like us on Facebook!