Packed Tournament Lineup and Big Guarantees at Deerfoot Inn & Casino's Winter Super Stack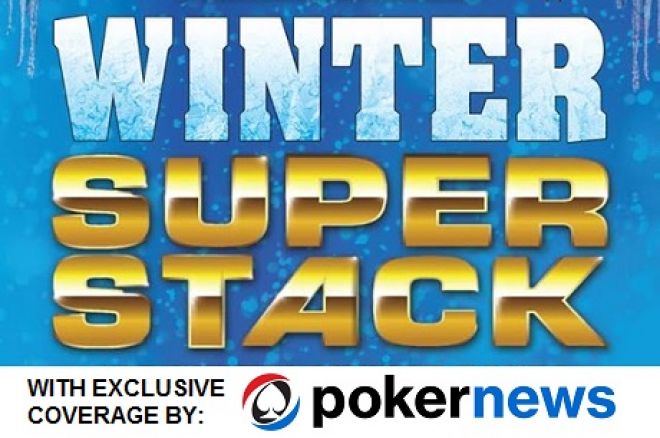 Deerfoot Inn & Casino
Winter Super Stack
February promises to be a big month for poker in Calgary as Deerfoot Inn & Casino hosts the Winter Super Stack poker series. With $350,000 in guaranteed prize pools, the 12-day poker festival will be a welcome refuge from the Alberta winter.
Starting February 5, the series features 15 tournaments with something for every poker appetite. The series kicks off with a $330 tournament featuring three starting flights and $80,000 in guaranteed prizes, and it just gets bigger from there. In addition to the $1,500 Super Stack Main Event starting on Friday the 13th, the series will feature much-anticipated $1,100 heads-up tournaments in both no-limit hold'em as well as pot-limit Omaha formats. Add in a team event, a wild $200 pot-limit Omaha rebuy, and oddballs like a baccarat and a blackjack tournament, and the Winter Super Stack looks to be one of the most unique events in Calgary poker history.
Deerfoot Inn & Casino is pulling out all the stops for the Winter Super Stack, including opening their ballroom to tournament poker action — greatly increasing the space available for tables and allowing them to bump up the guarantee to $200,000! The extra space will be necessary, as the structure for the Main Event is very player-friendly and players will be swarming in for a shot at this sure-to-be-huge prizepool.
The rake is significantly lower than many similar local events, with only $100 of the $1,500 entry fee going to casino fees. Players get 30,000 chips for their buy-in, and the 60-minute blinds will give that stack plenty of play. With three starting flights leading into a final Day 2 on a Holiday Monday, the Main Event could well end up with a massive field.
What's more is that the profile of this event will be raised Canada-wide because PokerNews Canada will be there for all of the Main Event action, reporting live and chatting with the top players. You'll want to follow along on this page for live chip counts, big hands, notable moments, and photos from the tournament floor. Also, use #WSS to follow along as well as participate in the conversation on social media.
Satellites start Superbowl Sunday with two Main Event satellites running at 2 p.m. and 7 p.m. on February 1. If you don't have any luck there, Super Satellites paying out T$1,100 packages to spend on whichever events you wish run at 2 p.m. and 7 p.m. on February 4 as well. Stay tuned here for updates and live coverage throughout this great event. It could be the best Alberta has seen!
| Earn Points | Buy-in Multipliers | # of Players Multipliers |
| --- | --- | --- |
| 1st: 100 points | $1-$99: x0.25 | 2-20: x1.1 |
| 2nd: 70 points | $100-$199: x0.5 | 21-40: x1.2 |
| 3rd: 50 points | $200-299: x1 | 41-60: x1.3 |
| 4th: 44 points | $300-399: x1.1 | 61-90: x1.4 |
| 5th: 38 points | $400-599: x1.2 | 91-120: x1.5 |
| 6th: 33 points | $600-799: x1.25 | 121-150: x1.6 |
| 7th: 28 points | $800-999: x1.3 | 151-200: x1.7 |
| 8th: 24 points | $1,000-1,299: x1.4 | 201-250: x1.8 |
| 9th: 20 points | $1,300-1,599: x1.6 | 251-300: x1.9 |
| Next 20% ITM: 15 points | $1,600-1,999: x1.7 | 301-400: x2.0 |
| Next 30% ITM: 10 points | $2,000-2,499: x1.9 | 401-500: x2.1 |
| Bottom 50% ITM: 5 points | | 501-600: x2.2 |
| | | 601-800: x2.3 |
| | | 801-1,000: x2.4 |
| | | 1,001-3,000: x2.5 |
If you needed a little more incentive to participate in this event, there will be tremendous added value in the High Point Champion points race. Every result across all events will contribute to a series leaderboard with the winner receiving a $10,000 World Series of Poker Main Event seat and a one-year lease on a brand new 2015 Toyota Camry.
Just play in as many events as you can, gather some consistent strong results, and you could be driving your new car to Las Vegas to play in the Big Dance.
By our calculations, if the $1,500 Main Event gets 500 entries, the winner would earn 336 points. By comparison, the player who finishes third in the $550 bounty tournament, if it gets 300 entries, will earn 114 points, so a few deep finishes can easily earn more points than one big win. So play as many events as you can! You will find the full schedule below.
Get all the latest PokerNews Canada updates on your social media outlets. Follow us on Twitter and like us on Facebook!