The Weekly Review: PCA, CPT Player of the Year, an Unbeatable Poker Bot, and More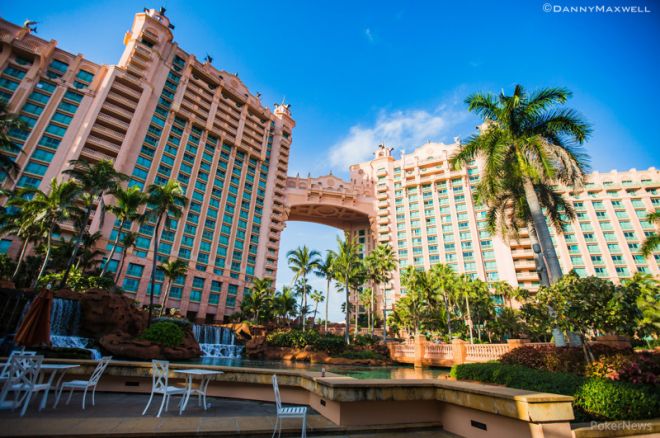 At the end of each week, PokerNews Canada reviews the last seven days in a turbo-paced recap of notable poker headlines. If you missed any of our stories this past week, this is all you need to know to catch up on what's happening across Canada, around the world, and online, in poker.
The Best of CPT Last Year
The Canadian Poker Tour (CPT) offered 67 chances to score Player of the Year points by cashing in sanctioned tournaments. Nobody had more success in CPT events than Edmonton, Alberta's Ryan Cairns who booked seven results to earn the most Player of the Year points.
Cairns is relatively new to the poker scene and has less than $40,000 in reported lifetime live tournament earnings, but with success in the CPT Grey Eagle Monthly Challenges, the CPT Spring Showdown and Summer Showdown, DeepStacks Poker Tour Calgary, and the West Coast Poker Championship, Cairns' 2014 was a strong one.
For more details, read Ryan Cairns Wins 2014 Canadian Poker Tour Player of the Year.
A Forecast for 2015
Last Sunday, PokerNews Canada writer Anthony Charter made five carefully chosen predictions for Canadian poker in this new year. Beginning with an ambitious annual earnings forecast for Mike McDonald, Charter believes 'Timex' will cash for at least $5,000,000 in live poker tournaments. After all, he was over $5,300,000 within 35 days last year.
And with three upcoming Canadian World Poker Tour events this year, Charter thinks all of them will be won by a Canadian, rather than the two out of three we got last year. Then Charter asserts his faith that Daniel Negreanu will hang on to the top career money-earner title that he picked up last year with his runner-up finish in the Big One for One Drop.
Also, online tournament grinder Griffin 'Flush_Entity' Benger is making waves in the live scene these days, and Charter thinks 2015 is the year Benger picks up a live major main event win. And finally, with no red and white on the World Series of Poker Main Event final table this year, Charter is sure we'll see a Canadian in the November Nine roster this year.
For the full article, check out 5 Predictions for 2015 in Canadian Poker.
Albertan Researchers Create Unbeatable Poker Bot
Poker was in the mainstream media this week when researchers from the University of Alberta in Edmonton published an article in Science that shares their recent progress with artificial intelligence (AI) development. They have created a poker bot named Cepheus that cannot be beat at heads-up fixed-limit Texas hold'em.
Not only is the bot unbeatable, but it plays perfectly — something poker players weren't even sure existed. The Computer Poker Research Group has developed AI that is able to compute Nash equilibrium, making it essentially perfect at poker. No adjustments of strategy can beat Cepheus over a long run of playing.
For a detailed explanation of this poker bot and the astounding breakthrough in AI, read University of Alberta Researchers Solve Heads-Up Fixed-Limit Hold'em.
Global Poker Masters Details
Global Poker Index (GPI), under the direction of CEO Alex Dreyfus, is taking bold steps toward making poker more like a sport. With visions of having an official international competition for poker that can claim a country as champion, like soccer's World Cup, GPI is planning their first Global Poker Masters in Malta this March.
This is an invitation-only event with no entry fee. The competitors are organized by nation and compete as a team to become the best country in the world. Eight of the best poker-playing countries will be represented, which includes Canada, of course, as well as USA, UK, Germany, Russia, France, Italy, and Ukraine. Five players from each country will be invited to play and represent their nation, and so far we know that Ami Barer, Sorel Mizzi, Mike McDonald, and Andrew Chen have been chose to bear the maple leaf.
To find out more about this exciting new event, and to see the roster for all eight countries, you can find the full article right here: GPI Announces Participants for First-Ever Global Poker Masters.
PokerStars Backpedals
When PokerStars announced last October that it would be increasing the rake in several of its games, the community responded loudly and unhappily. The rake increase was only going to apply to select games, but now the plans have changed. PokerStars has now retracted most of the rake increases after "additional analysis and consideration."
For the full story, go to PokerStars Cancels Previously Announced Rake Increases.
Hockey Pros and Poker Pros Play on Sportsnet for Charity
It's back again. The PokerStars.net NHL Alumni Charity Poker Tournament has returned to Sportsnet to give Canadian audiences several entertaining episodes of NHL legends battling poker pros and online qualifiers.
There is $100,000 on the line, with the prize money being allocated to the winner's chosen charity, and they get to keep a nice PokerStars Caribbean Adventure package for themselves. The first episode was aired on Sportsnet360 on Tuesday, and the rest of the series will be shown in Sundays and Tuesdays at 8 p.m. ET, all on Sportsnet360.
The full article includes more details and the schedule as it is currently known. It's right here at The PokerStars.net NHL Alumni Charity Poker Tournament Returns to Sportsnet.
Breaking into 2015 in the Bahamas
The first major series of each year takes place at Atlantis, Paradise Island in the Bahamas. It's PokerStars Caribbean Adventure (PCA) and it's a nine-day festival with plenty of marquee events.
The $100,000 Super High Roller got it all started, and the headlines were full of Canadians. Two Canadians, Sam Greenwood and Mike McDonald, led the field after Day 1, and another Canadian, Sorel Mizzi, had the most chips after Day 2. Both Mizzi and Greenwood made the final table, but Irishman Steve O'Dwyer won the top prize of $1,872,580.
Then players lined up to play the very first Latin American Poker Tour (LAPT) Bahamas. The $3,000 reentry had 736 entries, and Josh Kay eventually finished on top. The highest Canadian result was in 14th place, and that was accomplished by Max Greenwood, the brother of Sam on the Super High Roller final table.
The $10,000 PCA Main Event also kicked into action with two Day 1s. There have been plenty of Canadian heroes to note in that large field, and you will have to watch our coverage over the next couple of days to see how our Canadian contingent fares.
To catch up on all the PCA action, here are all of our daily recaps from the week:
2015 PCA Day 1: Canada on Top of Record-Setting $100,000 Super High Roller
2015 PCA Day 2: Monster Mizzi Leads Super High Roller; LAPT Bahamas Kicks Off
2015 PCA Day 3: O'Dwyer Captures Super High Roller Title; Main Event Kicks Off
2015 PCA Day 4: Josh Kay Wins LAPT Bahamas; Steve Goosen Leads Canadians at Main Event Day 1b
Get all the latest PokerNews Canada updates on your social media outlets. Follow us on Twitter and like us on Facebook!