2015 PokerNews Cup Main Event: €200,000 Guarantee Shattered; Wichtrup Leads Final 16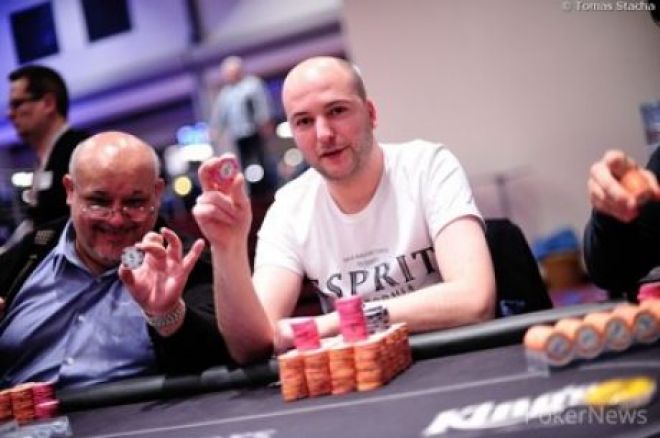 Right while Bulgaria's Ognyan Dimov worked hard to deny Dany Parlafes the pleasure to become Romania's first European Poker Tour winner in Deauville, on the other side of Europe the 2015 PokerNews Cup showed how healthy the continent's live poker industry is.
Held at King's Casino in Rozvadov, Czech Republic, the eighth edition of PokerNews' own live tournament series went well beyond the organizers expectations as the four Day 1s on the €250 Main Event's schedule attracted a total of 1,544 entries and shattered the €200,000 guarantee.
After 173 players (plus 24 reentries) on Day 1a and 324 players (plus 36 reentries) on Day 1b, the Day 1c and 1d held on Saturday filled the King's Casino poker room to its maximum capacity with 560 players (plus 113 reentries) and 235 players (plus 79 reentries), respectively.
"It's a pleasure to see that so many people decided to answer to our call and to come to Rozvadov to enjoy a weekend of poker and fun," one of the organizers told PokerNews. "The huge turnout shows that Europe needs more low buy-in tournaments and that the love for poker in Europe is intact, despite the decline we witness in some markets."
The representative added, "People want to play at professional and international live events, and if you combine this with an affordable buy-in and a guarantee like the €200,000 initially on the table, well, then you see what happens. You get more than a 1,000 players ready to battle and have a blast together."
During the last of the three starting days, when both the Day 1c and the Day 1d took place, a great number of recreational players, pros, and VIPs took their seat at King's Casino poker room to join what everyone agreed to be an event to remember.
"It's great to come back to the King's Casino in Rozvadov for an event like the PokerNews Cup," German model and poker player Johanna Hupfer told PokerNews. "The gigantic number of entries proves that PokerNews and King's Casino offered a great tournament this weekend."
Hupfer, who was among those who did not manage to secure a spot to Day 2, was not the only known face in the field, as she was joined by Austria's Alex Stark, Germany's Karl-Heinz Metz, and Czech Republic's Michal Maryška, who currently sits 10th on his country's all-time money list, according to the HendonMob.
Torsten Wichtrup Leads Final 16
Day 2 of the 2015 PokerNews Cup Main Event begun on Sunday afternoon with 340 of the initial 1,550 players still in the game. Among those still at the table, Day 1 chip leader Robert Ashelm, the winner of Germany's edition of the Who Wants To Be a Millionaire? TV show Sebastian Lang and the World Series of Poker (WSOP) bracelet winner Jörg Peisert.
Although the short stacks literally "died like flies" during the first levels of the day, some of the biggest ones did not manage to last long enough to get to the Main Event's final day as well.
Ashelm, the chip leader at the beginning of the Day 2, was among those to see his stack getting eroded by other players until it was fatally time to leave the table. Ashelm tried hard to use his chip lead to his advantage, but bad cards and an unlucky day forced him to leave the tournament in 23rd position. The same destiny occurred to the WSOP bracelet, Peisert, who was eliminated in 18th place.
The long day of play was extremely proving for the nerves of some, as an episode that involved Germany's Aidar Kulumbetov clearly showed. Left with a short stack, Kulumbetov decided to try hit an important double up and shoved all in with


. Called by a player who held


and a larger stack, Kulumbetov decided to leave the table before the board was completed as he "felt that his kings would not stand the opponents cards."
Luckily enough for Kulumbetov, the five cards placed on the table by the dealer did not change the initial situation and he was forced to sit back on his chair and enjoy a doubled stack.
Torsten Wichtrup, whose stack dwindled down to 300,000 in chips during the day, celebrated a sensational comeback and took the chip lead with 5,120,000 at the end of Day 2.
Here's a look at the 16 players who will be back on Monday, Feb. 9, to battle for the 2015 PokerNews Cup title and the €57,473 top prize:
| Rank | Player | Country | Chips |
| --- | --- | --- | --- |
| 1 | Torsten Wichtrup | Germany | 5,120,000 |
| 2 | Dino Volkholz | Germany | 4,240,000 |
| 3 | Christian Krupp | Germany | 3,720,000 |
| 4 | Vojtech Pesek | Czech Republic | 3,710,000 |
| 5 | Ethem Tosun | Germany | 3,695,000 |
| 6 | Aleksandar Zuberovski | Macedonia | 3,445,000 |
| 7 | Jurek Goman | Germany | 3,280,000 |
| 8 | Witold Krawczyk | Poland | 3,155,000 |
| 9 | --Did Not Report-- | Germany | 2,605,000 |
| 10 | Fuat Giray | France | 2,225,000 |
| 11 | Slavomír Byrtus | Czech Republic | 2,175,000 |
| 12 | --Did Not Report-- | Slovakia | 1,980,000 |
| 13 | Alexander Rimmer | Germany | 1,920,000 |
| 14 | Dejan Popović | Germany | 1,205,000 |
| 15 | Josef Müll | Austria | 1,090,000 |
| 16 | Asian Kandokhov | Russia | 490,000 |
The action at the 2015 PokerNews Cup resumes Monday afternoon with the last day of the Main Event, along with the €5,000 guaranteed Pokernews Cooldown No-Limit Hold'em set to begin at 19:00 local time.
For more information about the events included in the series' official schedule, visit ca.pokernewscup.com