Chris Bowers Earns $23,000 in Winter Super Stack Event #1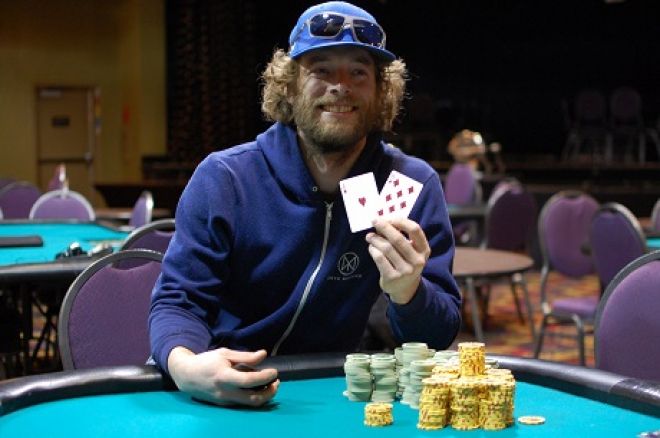 While the weather outside still feels like winter, things have been heating up at Deerfoot Inn & Casino as the Winter Super Stack got underway last week in Calgary, Alberta. This 15-event series is packed with a great variety of events across 12 busy days.
As of Sunday night (actually early Monday morning), four events have found winners in tournaments that all exceeded expectations, and the excitement continues to build with the $1,500 Main Event coming up on Friday. Players have been showing up in large numbers for the big prizepool guarantees, the promise of a well-organized event, and the High Point Champion prizes of a brand new Toyota and a ticket to this summer's World Series of Poker (WSOP) Main Event, which will be awarded to the player with the best results across all 15 events.
Chris Bowers Wins Huge Kickoff Event
The first event on the schedule was a two-day $330 tournament with three starting days spread over Thursday, Friday, and Saturday. Deerfoot Inn & Casino slapped a prizepool guarantee of $80,000 on the event, but it was easily exceeded. When we spoke with Poker Room Manager Robert Bowers last week, his expectations for Event #1 were to pass 350 entries and his hopes were for 400. By the time the three Day 1s closed registration, his hopes were exceeded with a field of 427 entries. That created a prizepool of $121,695.
Each of the three starting days played down to 10% of the field, putting all of the survivors in the money. With 43 players returning for Day 2 on Sunday, Ryan Hodge began the day with the chiplead after bagging 470,000 chips on Day 1c. Right behind him with 457,000 chips was Sheila Schmidt.
Some of the familiar faces that came back to see how high they could climb up the payout ladder included 2011 WSOP bracelet-winner Tyler Bonkowski (372,000), Bashar Ramahi (264,000), Alex Bylicki (230,000), Ryan Comely (161,000), and Sinan Tawfik (140,500).
The final-table bubble was burst when Tawfik was eliminated in 10th. The Calgarian with two Albertan Main Event wins last year and a runner-up in an Albertan High Roller lost the last of his chips in this first event when he three-bet all in from the small blind with nines. The initial raiser, Chris Bowers on the button, called him off with king-ten and flopped the best of it on a board of



, though Tawfik had plenty of outs to a straight. He didn't get there, and Bowers made one of many eliminations on his way to victory.
Eventually, it came down to Bowers and Francois Lincourt heads up. After chopping the remaining prizepool evenly with $20,000 each and leaving $3,000 on the table to play for as well as series points, the heads-up battle was short-lived. Only a few hands in, Bowers was holding ace-eight and all of the chips after a board ran out with two aces.
Bowers also won a $550 tournament last fall at the SIGA Poker Championships which earned him $50,000. This win in Event #1 earned him $23,000 and some points for the High Point Champion race. However, Lincourt's runner-up finish was the second of this series already (see below), and he adds another great score to his run at the High Point Champion leaderboard.
Here are the top 10 finishers:
| Finish | Player | Prize |
| --- | --- | --- |
| 1 | Chris Bowers | $23,000 |
| 2 | Francois Lincourt | $20,000 |
| 3 | Ross Healy | $10,900 |
| 4 | Andy Truong | $8,600 |
| 5 | Ryan Hodge | $6,800 |
| 6 | Homer Jimenez | $5,350 |
| 7 | Mike Lonigro | $4,150 |
| 8 | Keith Weideman | $3,250 |
| 9 | Will Pacarcynuk | $2,645 |
| 10 | Sinan Tawfik | $2,250 |
Jonathan Sanborn Takes Down Event #2
Friday evening, Event #2: $550 Big Bounty got started. With a 7 p.m. start, it was destined to be a late night for the players. There were 61 entries to the bounty tournament, paying out the top six a piece of the $16,775 prizepool. Many hours later, two Alberta regulars faced each other heads up.
Jonathan Sanborn and Tony Comely, both from the province's capital, played for the win and Sanborn was the one to get the job done. He earned $6,000 from the prizepool plus the bounties he collected, and Comely received $4,125. Dominik Winter-Krienke (third — $2,750), Kevin Kern (fourth — $1,850), Adam Worr (fifth — $1,250), and Kevin Couture (sixth — $800) also made it in the money.
James Cermak Bests Event #3
With the final starting flight of Event #1 well under way on Saturday, Event #3 took over the other half of the tournament hall for the $200 pot-limit Omaha rebuy tournament. A buy-in of $200 got you started with 5,000 chips. Players could rebuy another 5,000 chips for $100 if they were at a starting stack or less, and one 10,000-chip add on at first break cost $200.
With 61 entries passing through registration, the prizepool climbed to $28,290 to be split among the top four players. Francis Lamothe was the first to make the money and earned $3,290 for fourth. Then another Edmonton regular, Kyle Hartree, took down third place for $4,400, leaving the above-mentioned Francois Lincourt and James Cermak playing for the win.
Cermak, who is hot off of his third-place finish in the Alberta Poker Championship just a few weeks earlier, managed to clinch the win for $13,000. Lincourt collected $7,600 for his first of two runner-up finishes so far this series.
Levi Jones Grinds out a Victory in Event #4
One more event has been played down to a winner, and it's a new one for these event organizers. Due to the growing popularity of pot-limit Omaha in their poker room, there are three events in that format in this series. One of them is the unique heads-up pot-limit Omaha of Event #4 with a buy-in of $1,100.
There were 23 players who were willing to give this new tournament a shot, which meant 14 people played the first round while nine players were given a bye. With generous 30-minute levels and a 600 big-blind starting stack, this event gave the players plenty of play to test each other's ability and let the cream rise to the top.
The lineup included the likes of Bash Ramahi, Ryan Schoonbaert, Ronnie Dattan, Bo Fric, and Jay Dragland, among other pot-limit Omaha wizards.
The final four players who made it to the semi-finals were all guaranteed a payday, and it was there that Paul Bangma and Francis Lamothe's (his second cash of the series) run came to an end with Robin Bergren and Levi Jones advancing to the best-of-three finals. The third- and fourth-place finishers each received $3,200.
The final heads-up matchup began with Bergren taking control of the action and accumulating a chip-advantage, but he wasn't able to hang on to it, as Jones eventually won their first of three when all the chips went in the middle with both players holding two pairs, but Jones' two were better. The next match was all but decided when Jones ran a triple-barrel bluff into Bergren's flopped set, awarding a huge pot to Bergren and leaving Jones short. It all went in on the flop of the next hand with Bergren holding the best pair and Jones looking to draw to a straight. Bergren still had the best hand by the river, and he won the second round to tie it up.
For the tie-breaking third match, Bergren spent most of the time behind and struggling to catch up. He won pots and climbed close to even before slipping again. Finally, it all went in on the flop at about 4:30 a.m., and Jones had two pairs to Bergren's pocket aces. The chips were shipped to Jones and he won the top prize of $9,500 while Bergren picked up $5,950.
High Point Championship
With the first four events in the books, the top 10 in the points race for a new Toyota and a seat at the WSOP Main Event is as such:
| Position | Player | Points |
| --- | --- | --- |
| 1 | Francois Lincourt | 245.70 |
| 2 | Chris Bowers | 231.00 |
| 3 | Levi Jones | 168.00 |
| 4 | Jonathan Sanborn | 168.00 |
| 5 | Francis Lamothe | 126.72 |
| 6 | James Cermak | 120.00 |
| 7 | Robin Bergren | 117.60 |
| 8 | Tony Comely | 117.60 |
| 9 | Ross Healy | 115.50 |
| 10 | Andy Truong | 101.64 |
To see our full photo gallery from the series, head to our Flickr album. On Friday, the $1,500 Main Event kicks off and PokerNews Canada will be on site live-reporting all of the action. Make sure you're tuned to our live-reporting page to follow this exciting event. For more details about the rest of the series, including the full schedule, head to this page.
Get all the latest PokerNews Canada updates on your social media outlets. Follow us on Twitter and like us on Facebook!