Poker PR Guru Warren Lush Steps Away From partypoker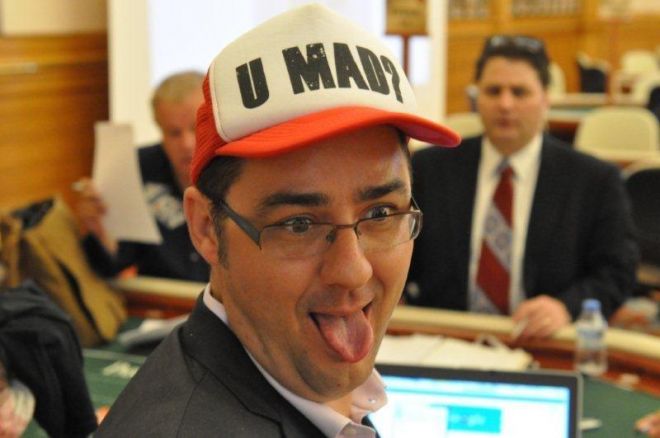 In 2006, poker Hall of Famer Mike Sexton kindled a public relations frenzy when he challenged socialite Paris Hilton to a heads-up match on partypoker. Sexton offered Hilton a chance to win back the Bentley Continental GT she had reportedly lost in a private poker game. The challenge came during the height of Hilton's fame, and gossip magazines and news outlets from all over the world ate it up.
Although the match never happened, the story helped pushed poker further into the mainstream. It amplified Sexton's presence as a poker personality. And, most importantly, it drove a lot of new players to check out partypoker.
It was all Warren Lush's idea.
For nearly 10 years as partypoker's Head of PR, Lush (pictured) brainstormed new and exciting ways to make poker entertaining. He traveled the world, organizing events like the partypoker Premier League and the partypoker Big Game. He played a big role in developing players like Sexton, Marvin Rettenmaier and Kara Scott into the stars they are today.
He was also Tony G's right-hand man, closely involved with dozens of Tony's antics that made him one of poker's must-watch characters.
A shock to many in the industry, Lush announced on Friday that he's stepping away from partypoker to pursue new challenges. He told PokerNews that while he'd like to continue to work in the industry on a freelance basis, the feeling of leaving partypoker full time nothing short of surreal.
"It feels very strange today, I have to admit," Lush said. "It's been nearly 10 years. I joined in November 2005, so I've seen everything that's happened in the industry since that time."
Lush says he's looking to "sharpen himself up" by taking on some freelance roles in Brussels, where he'll continue to work with Tony G in European Parliament. Lush worked in politics for many years and even contributed to Tony's historic campaign in 2014.
"I'm already spending a lot of time in Brussels so going forward I'm looking to freelance and spend a period of time there," he said. "I've always been in touch with Tony and I'm with him every day."
No matter where Lush goes here from here, his mark will always be left on the game of poker. Lush was a pioneer in making poker entertaining and fun for players and audiences. He was damn good at it.
Said bwin.party Poker Director Jeffrey Haas, "I am a firm believer in using Consumer PR to drive awareness, buzz and ultimately participation in both online and offline poker events, and Warren has one of the most sophisticated understandings of this I have seen in our industry today."
Looking Back on a Decade
Lush was as good as anyone in the industry at developing characters — especially Tony G. Lush was the devil on his friend's shoulder, finding rascally ways to keep players chatting and sometimes feuding while the cameras were rolling. Tony G executed the plan to perfection, especially when Phil Hellmuth was at the table.
Says Haas, "Warren seems to always prefer being the mischievous imp laughing in the shadows rather than the man underneath the lights."
Moments like these keep poker fans engaged. One of the first poker events Lush was involved in was the Intercontinental Poker Championships, where Tony G unleashed his infamous tirade against Russia's Ralph Perry. "Bring the Russians on" and "on your bike" instantly became a part of poker culture, and Lush and Tony G were only getting started.
Lush can certainly be proud of what he was able to accomplish in poker. There's one moment, however, that sticks out more than others.
"I was very proud the day that Mike Sexton got into the Hall of Fame because I think he really deserved it," Lush told PokerNews. "We did a little campaign around it but it wasn't needed. I was overwhelmed by everyone who contributed to that and made that happen."
Poker's Life Without Lush
Although he's taking a leave from the game, Lush is still very passionate about the growth of poker, particularly from a television and marketing perspective.
"The landscape has change dramatically for poker tournaments," Lush said. "The days of the big $10K buy-ins and sponsored pros seem to be over."
For the game to evolve, he believes changes need to be made in way it is broadcasted.
"When we look back at 2005 and 2006, poker was on TV at attractive times — before midnight — on a mainstream channel. I think that's the key thing.
"We also need to develop a new generation of poker personalities."
One of those young personalities is American pro Jason Somerville, who has built his own brand through streaming live videos on the Internet. Lush is very impressed with Somerville's vision for growing the game.
"I nominated him for the American Poker Awards because I think he's doing great stuff. I really like the way he's developing things there and I think he has a bright future in the industry."
Although poker has been his life for a decade, Lush is ready to take the next step in his life.
"Poker is a great game. I love it. I love the community. But it's time to move on. I'm excited about the future."
Get all the latest PokerNews Canada updates on your social media outlets. Follow us on Twitter and like us on Facebook!