Behind the Scenes of Winter Super Stack with Robert Bowers, Poker Room Manager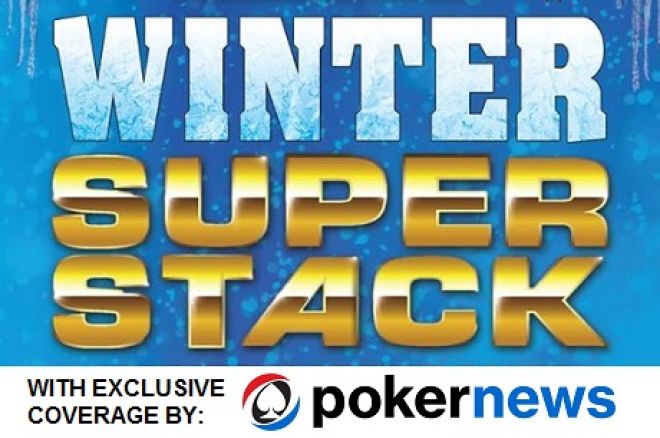 The much-anticipated Winter Super Stack at Deerfoot Inn & Casino in Calgary, Alberta kicks off today (Thursday, February 5) with Event #1, and there is plenty to be excited about over this 15-event series. Poker players from across the country are flying in to take part in the excitement.
We spoke with Robert Bowers, Poker Room Manager at Deerfoot Inn & Casino, to talk about this marquee event and the Albertan poker scene.
PNCA: Event #1 is about to kick off to start this series, what are your expectations for this first event?
RB: I'm pretty excited. I've made more reservations for the hotel than I've ever made. That's a good sign. People are coming in from out of town, and I think this is going to be the biggest event we've ever held. We'll break 350 [players] for sure, and we might get to the 400 number.
PNCA: You recently announced that the Main Event will be played in the Sundance ballroom. How much more room does that allow? What will it add to the overall experience? And what are your expectations for the Main Event?
RB: The Sundance ballroom isn't really a bigger room; it's a better shaped room — it's rectangular. We'll still have the same 18 tables, but there will be extra room for the buffet and tables for eating. It's a more intimate-feeling room. With this tournament, we will do very well on the guarantee this time. Last summer we missed it by one player, which isn't even a miss to me; that's a great number. This year, with all of the hotel reservations I've made, we're looking forward to a big number. I'm hoping we reach $300,000. But I also think that's a big stretch — it's a big number. Having PokerNews Canada on site, that's a big thing. People are very excited about that and it will really help us reach a big number. Players want to see their name in the reporting, even if they're losing, it doesn't matter, they just want to see their name and it's fun.
PNCA: This series has a few unique and unconventional events. What lead to the decision to run two fairly high-priced heads-up tournaments in pot-limit Omaha and no-limit hold'em?
RB: We have always run the heads-up hold'em. It has been a $5K for a while, then we tried $2K, but it has been losing its luster. So we tried making it a $550 and ran it a few times, but it's almost too small of a prizepool. $1,100 gets the prizepool up there a bit. I love being able to run a heads-up event, especially in Alberta. Most people don't get to see that around here. I wanted to add some uniqueness to the series. $1,100 is actually a bit small for PLO. Many of our PLO players would like to see a bigger number, but then that pushes it out of the reach of some of the other players who'd like to give it a shot. PLO is really strong at Deerfoot actually; that's what led to having three PLO events this series. It's what our players want.
PNCA: There are also a couple of other unique events. You're running baccarat and blackjack tournaments which are definitely not often see on a poker series schedule. What was the motivation to add those?
RB: Change and excitement. They're fun events and it's good for the casino. We want people to come in and experience the full casino. We have a nice casino here — very nice, actually. These are for the added enjoyment of the players. The people coming for this series are tournament players, and many don't even care what game; they just like playing tournaments because you get to see a champion at the end. You play to a winner who you can say was the best player of this game on this day.
PNCA: In the past year especially, Alberta is becoming known for being the home of many mid-major poker series. There's seems to be one every month. Between the Edmonton casinos, Calgary poker rooms, Canadian Poker Tour, DeepStacks ... how do you see Deerfoot fitting into the Alberta poker scene?
RB: We have done nothing but gained for the last three years in the entire poker scene. This year especially we've moved to #2 in Alberta, and that is all due to the PLO game. Almost every day we get two games of PLO now. As for tournaments, there are the three regulars: Yellowhead, Grey Eagle, and Deerfoot, and all three run great series. To say which would be ranked #1 or #2, I dont know; it depends on the month and the events that are running. Last month, Yellowhead was #1. This month, we're #1 because of Winter Super Stack. Next month, Grey Eagle will be #1 with DeepStacks.
PNCA: What do you think is causing poker to thrive so much in Alberta compared to some of the other provinces that have been comparatively quiet?
RB: The competition. Alberta is obviously very well off — always had money; always going to have money ... well, hopefully. Money seems to flow around this place, and people like to gamble when they have money. But the biggest reason has been the competition. Everybody has had to — especially in tournaments — has had to step up their game. There has been bad talk here and there between competitors, but we have all come together in the cause of making our tournaments grow. It comes down to competition; you have to grow or be left behind.
PNCA: Any last words you'd like to share with our readers?
RB: I think having entry days for the Main Event on Saturday and Sunday — both weekend days for buy-ins — that will be a big add. People maybe haven't realized that yet, that Monday is a holiday and both days of the weekend are buy-in days to put Day 2 on Monday. Saturdays are always the biggest day for events, so having a second weekend day is going to be key. Also, the High Point Champion feature. Lots of people have been asking me questions about that. You don't often see a chance to win a car in a poker tournament, and that is going to really help players stick around and play all the days of the series. That has been huge. South Pointe Toyota — they're basically our neighbours — they donated the lease, and that added to the World Series of Poker Main Event seat is really exciting for our players.
For more information about this series, you can find full details here. PokerNews Canada will be on site live reporting the Main Event, so check back with this page to follow all of the action, and participate in the chatter on social media with the hashtag #WSS.
Get all the latest PokerNews Canada updates on your social media outlets. Follow us on Twitter and like us on Facebook!