2015 Global Poker Masters Team Profiles: France and Italy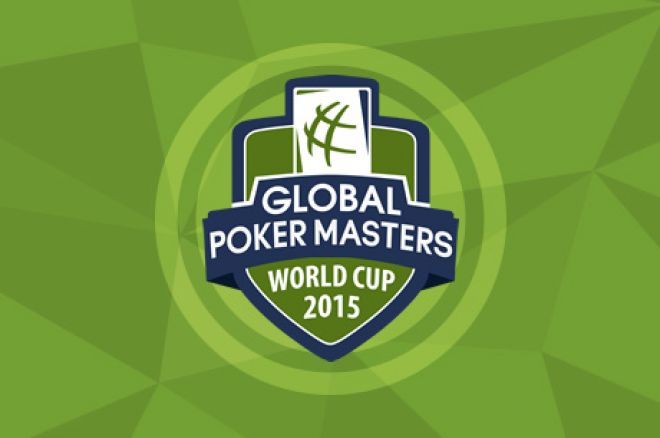 This Saturday, the first edition of the Global Poker Masters (GPM) will begin. The event is deemed the "World Cup of Poker" and will see eight national teams compete against one another in a very uniquely formatted event. Each nation will be battling for the right to be crowned poker's world champion.
Taking place March 21-22, the event will be promoted and broadcasted live on Twitch. Saturday, March 21 will see the first five rounds of action play out before the quarterfinals, semifinals, and finals take place on Sunday, March 22. Not only will you be able to watch the event live on Twitch, but PokerNews will be providing live coverage from the tournament floor.
For complete GPM schedule information, visit the event's website.
The eight teams involved are from Canada, Germany, France, Italy, Russia, U.K., Ukraine, and the U.S. Each team will consist of five players, and over the course of the next few days leading up to the event, PokerNews will take a look at each one of the nations involved. On Tuesday, we profiled Team Canada and Team Germany, and today we'll be looking at Team France and Team Italy.
Team France
| Player | Lifetime Earnings | Current GPI Score | GPI Ranking | GPI National Ranking |
| --- | --- | --- | --- | --- |
| Erwann Pecheux | $863,519 | 2,376.51 | 83 | 2 |
| Bertrand "ElkY" Grospellier | $10,893,264 | 2,320.36 | 92 | 3 |
| Paul Tedeschi | $685,461 | 2,000.70 | 146 | 5 |
| Sylvain Loosli | $3,050,173 | 1,915.05 | 166 | 6 |
| Patrick Bruel | $1,489,740 | 557.93 | 2,192 | 98 |
It's often a running joke in poker circles that French players lack skill. Then you look at this team of players, and you can't help but question what people are talking about — Erwann Pecheux, Bertrand "ElkY" Grospellier, Paul Tedeschi, and Sylvain Loosli? What's there to joke about?
Maybe we'll give you Patrick Bruel, as the French singer, actor, and poker player may be a tad out of his league in this event, but even Bruel has shown he can lock horns with the best and perform. He holds a World Series of Poker gold bracelet and nearly won a second a few years later after he scored his first.
Team France is without a doubt headlined by Grospellier, who boasts nearly $11 million in live tournament earnings and is regularly talked about as one of the game's best, but it's Pecheux who currently holds the team's highest Global Poker Index country rank at No. 2. Rounding out the team is Tedeschi and Loosli, both very respected players with strong backgrounds in online poker. Tedeschi hasn't exactly broken out yet on the live scene, but Loosli certainly has thanks to reaching the WSOP Main Event final table in 2013 and finishing fourth.
Overall, this French team is underrated, and it wouldn't be a total surprise if they finished in the top three.
Team Italy
| Player | Lifetime Earnings | Current GPI Score | GPI Ranking | GPI National Ranking |
| --- | --- | --- | --- | --- |
| Mustapha Kanit | $2,687,672 | 2,917.84 | 27 | 1 |
| Dario Sammartino | $1,265,989 | 2,836.10 | 34 | 2 |
| Andrea Dato | $1,663,750 | 2,352.09 | 88 | 3 |
| Giuliano Bendinelli | $519,434 | 1,991.13 | 149 | 4 |
| Rocco Palumbo | $1,406,778 | 1,297.88 | 460 | 11 |
Like France, Italy is often referred to as a lesser-skilled country by poker circles, but this team also packs a lot of power. Where Team France may be very strong in four out of five spots, Italy is strong across the board, and we'd consider them one of the favorites to win the first GPM.
Let's start with Mustapha Kanit, the country's top ranked player. This kid can play. He packs a great combination of natural talent and aggression that should give many of the other players trouble.
The same could be said for the other players on the team — Dario Sammartino, Andrea Dato, Giuliano Bendinelli, and Rocco Palumbo. They're Italy's best talents and will likely play a high-risk, high-reward style of play.
Bendinelli should be the least known player of the pack, but he's a player we would deem on the verge of a big breakout. He recently stated that he's gunning to take down European Poker Tour Player of the Year.
"To be completely honest with you, the pleasure to say 'I won the EPT POY title in Season 11' would be much, much bigger than the one that comes from saying 'I won the EPT Main Event in Deauville,'" Bendinelli stated. "In the end, that's only a single event."
You know what would look good next to the EPT Player of the Year award? The first-ever GPM trophy.
In the coming days, we'll be going through the rest of the teams for the first-ever GPM. Tomorrow we'll take a look at Team Russia and Team U.K., so keep it locked right here to PokerNews.
Get all the latest PokerNews Canada updates on your social media outlets. Follow us on Twitter and like us on Facebook!