2015 Global Poker Masters Team Profiles: Ukraine and U.S.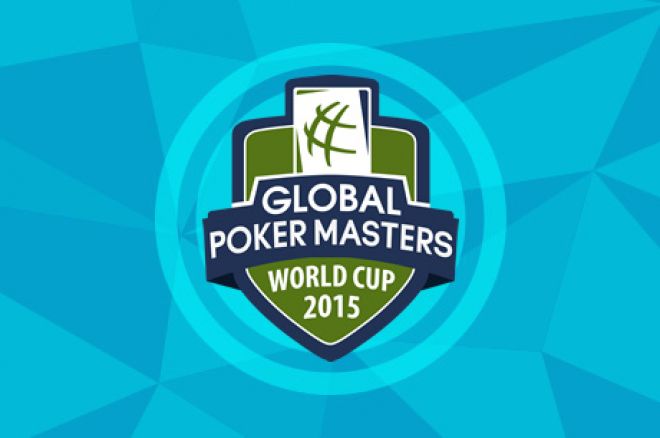 This Saturday, the first edition of the Global Poker Masters (GPM) will begin. The event is deemed the "World Cup of Poker" and will see eight national teams compete against one another in a very uniquely formatted event. Each nation will be battling for the right to be crowned poker's world champion.
Taking place March 21-22, the event will be promoted and broadcasted live on Twitch. Saturday, March 21 will see the first five rounds of action play out before the quarterfinals, semifinals, and finals take place on Sunday, March 22. Not only will you be able to watch the event live on Twitch, but PokerNews will be providing live coverage from the tournament floor.
For complete GPM schedule information, visit the event's website.
The eight teams involved are from Canada, Germany, France, Italy, Russia, U.K., Ukraine, and the U.S. Each team will consist of five players, and over the course of the next few days leading up to the event, PokerNews will take a look at each one of the nations involved.
On Tuesday, we profiled Team Canada and Team Germany, and then on Wednesday we looked at Team France and Team Italy. Thursday was time to profile Team Russia and Team U.K., and today we'll be looking at the final two teams of the competition — Team Ukraine and Team U.S.
Team Ukraine
| Player | Lifetime Earnings | Current GPI Score | GPI Ranking | GPI National Ranking |
| --- | --- | --- | --- | --- |
| Eugene Katchalov | $8,477,445 | 2,400.01 | 81 | 1 |
| Oleksii Khoroshenin | $1,799,205 | 2,053.66 | 140 | 2 |
| Igor Yaroshevsky | $834,344 | 1,738.21 | 217 | 4 |
| Alexander Dovzhenko | $2,120,390 | 1,420.49 | 379 | 6 |
| Oleksandr Gnatenko | $532,554 | 1,213.82 | 538 | 8 |
Team Ukraine would be a complete dark horse if they were to come out on top. If they were to win, it would be our best estimation that it would be on the heels of great performances from Oleksii Khoroshenin and Igor Yaroshevsky. Although Eugene Katchalov has a higher country ranking and may be a better all-around poker player, Khoroshenin and Yaroshevsky are two top no-limit hold'em tournament players right now.
Khoroshenin is strong, aggressive, and relentless, and Yaroshevsky brings much of the same to the table. Yaroshevsky is also coming off a big result at the recent World Poker Tour L.A. Poker Classic, so his confidence will likely be high.
Alexander Dovzhenko is an older grinder, but we're not so sure his style will adapt well to the format of the GPM and against younger, aggressive players. Oleksandr Gnatenko is a fairly unknown younger player, but don't let his $532,554 in live earnings fool you too much. He also brings over $800,000 in online tournament earnings to play.
Team U.S.
| Player | Lifetime Earnings | Current GPI Score | GPI Ranking | GPI National Ranking |
| --- | --- | --- | --- | --- |
| Bryn Kenney | $5,629,986 | 3,510.52 | 8 | 4 |
| Olivier Busquet | $6,103,517 | 3,121.65 | 18 | 8 |
| Dan Smith | $8,864,612 | 2,643.87 | 55 | 30 |
| Vanessa Selbst | $10,614,397 | 2,235.49 | 111 | 65 |
| Isaac Haxton | $9,487,646 | 1,732.19 | 219 | 106 |
Here is the Yankee lineup. Looking at the list of these five players, there isn't a weak spot to be found. Even the lowest country ranked player — Isaac Haxton — is widely considered one of the greatest minds in the game.
Vanessa Selbst was a late addition to the team and certainly will be welcomed by the other four team members. Selbst is one of the best tournament poker players ever, and she's not someone to take an event lightly. Expect her to bring her top game to Malta.
Along with Haxton and Selbst, you've got Bryn Kenney, Olivier Busquet, and Dan Smith rounding out the squad. These are three of the best players the poker world has to offer. Kenney can get a little wild and crazy sometimes with his style, but having a looser, open-minded, aggressive player can be a good thing in this format. You definitely don't want an entire team made up of Kenney-like players, but he'll complement the others very well. Busquet and Smith are very calculated players and will be extremely difficult players for other teams to deal with.
If we were able to grade each and every decision made by teams in the GPM, we'd expect Team U.S. to have the most consistently high score.
Remember, the GPM will kick off on Saturday, and you can follow the live action right here on PokerNews.
Get all the latest PokerNews Canada updates on your social media outlets. Follow us on Twitter and like us on Facebook!