Anthony Zinno Goes Back-to-Back to Win WPT LAPC; Mike Leah Finishes 2nd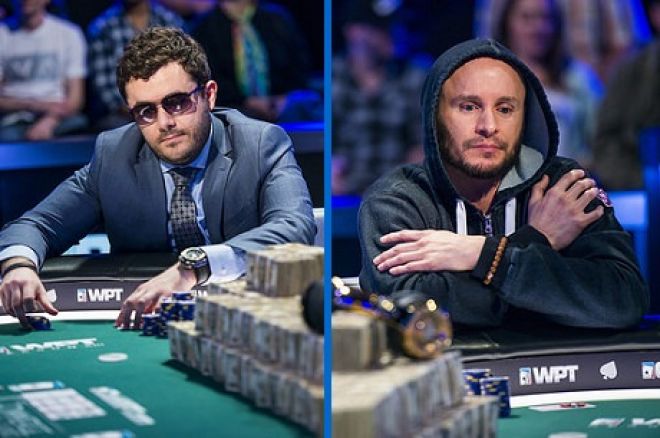 There were no shortage of storylines when the final six players sat down to decide the World Poker Tour (WPT) L.A. Poker Classic. Anthony Zinno, on his second WPT final table back-to-back was looking to win his second WPT title in as many events. Canada's Mike Leah was looking to secure the second part of poker's triple crown, adding a WPT title to the World Series of Poker bracelet he won late last year in Australia.
Ukranian player Igor Yaroshevsky led the chipcount going into the final table with Leah coming in a close second. Peter Neff, Peter Tran, Anthony Zinno, and Chris Klodnicki, in order of chip counts, rounded out the six-handed televised table at Commerce Casino.
Leah took the chip lead early on, cementing his hold on the lead by hand 20 when he had twice as many chips as anyone else at the table. Leah continued to build on that lead, eliminating Tran in sixth place (who collected $200,830) and surpassing seven million in chips by hand 35. Leah continued to crush the final table, holding more than half the chips in play by hand 51.
Zinno, on the other hand, spent most of the the first 50 hands playing from the short stack. He managed to stay alive, however, until he finally doubled his stack to more than two million for the first time through Neff in hand 56 when Zinno four-bet shoved


and Neff called with


. On the very next hand, Zinno eliminated Neff in fifth place when Neff shoved his tiny stack with


. Zinno called him, but was dominated, tabling


. The board of





favoured Zinno, though, as he converted his 28% preflop equity by turning the ace-high straight. Neff collected $250,260 for his fifth-place finish.
Leah continued to crush the table, crossing the nine million chip mark by hand 75, and 10 million in chips by hand 82. He seemed well on his way to a WPT crown, seemingly playing and winning pots at will. Through 80 hands, Leah was by far the most aggressive player at the table, opening 41.25% of hands compared to 17.5% of the second-place Klodnicki, and winning nearly twice as many pots as Klodnicki. Zinno held the bottom of the stats table through 80 hands, with a meager 7.5% opening rate netting him nine pots.
It was little surprise that Klodnicki was the one who eventually started to chip into Leah's big stack. Coming into the final table, Klodnicki's lifetime earnings were nearly double anyone else at the table, and as the second-most aggressive player, he was the one challenging Leah the most. Klodnicki's


doubled through Leah's


.
The next person to take a chunk of Leah's stack was Anthony Zinno when his


managed to hold against Leah's dominated


, cutting Leah's stack to under seven million. Then, in hand 100, Zinno finally killed Leah's chip lead. Leah called Zinno's under-the-gun raise in the big blind. Both players checked the



flop and Zinno called Leah's bet of 350,000 when the

came on the turn. Both players checked the

river, and Zinno turned over


, taking the pot with two pairs against Leah's


.
Leah managed to get the lead back a few hands later, but stayed much closer to the rest of the pack. After 120 hands, Leah was back in the lead again with 7,390,000 in chips to Zinno's second-place stack of 4,225,000. Leah cemented his lead once again in hand 142 when he knocked out Igor Yaroshevsky in fourth place. Leah called Yaroshevsky's three-bet shove with a dominated


to Yaroshevsky's


, but managed to improve on the





board to send Yaroshevsky to the cage to collect $333,680.
That left Leah, Zinno, and Klodnicki vying for the title, each with their own point to prove. As chip leader, Leah was making a solid go at adding the second part of his triple crown. Through 140 hands, Leah was by far the most aggressive, opening 44% of the time, and winning well over one-third of the pots. As the guy with the most lifetime earnings, Klodnicki was looking to add the first-place prize money to that total, as well as his first WPT title, and he was the only one close to Leah in aggression, opening almost 19% of pots and winning 31. Taking a tighter line, Zinno was less aggressive than the other two, opening only 10.7% of pots and winning only 22, in trying to win back-to-back WPT titles.
Zinno was finally able to wrest the chip lead away from Leah 154 hands into the match. When Klodnicki limped from the button three-handed, Leah raised to 150,000 from the small blind before Zinno reraised to 1,900,000. Klodnicki got out of the way, but Leah shoved his stack over top, forcing Zinno to make a decision for his life. Zinno called, showing


for a race against Leah's


. Zinno's pair held, and he took over the chip lead for the first time on this final table.
Klodnicki would be the next to bust when Zinno won another race with a medium pair. Zinno shoved from the small blind with


, and Klodnicki called for his stack in the big blind with


. Once again, though, Zinno's medium pair managed to stay ahead of the overcards, and Klodnicki added $451,090 to his best-of-table lifetime earnings.
It was perhaps inevitable that Leah and Zinno would end up facing off heads-up at the end of this final table. They were the two players with the most to gain from a win and clearly both wanted the title very badly. Leah entered heads-up play with a significant disadvantage in chips with Zinno holding nearly a three-to-one chip advantage. In the end, Leah couldn't find a way to rebuild his stack, and had to settle for second place when he shoved


only to find Zinno holding


. The





board flirted with a wheel straight for Leah, giving Zinno a sweat, but ultimately Zinno's rockets held.
Zinno joins a very elite club of players who have managed to win back-to-back WPT titles, collecting $1,015,860, while Leah fell just short of his first WPT win. Leah, who bagged the second-best stack for three consecutive days previously in this event, also finished the final day second-best. He won $701,350 for his runner-up finish, sending his lifetime earnings over $4.5 million.
Details and photo courtesy of the WPT Live Blog.
Get all the latest PokerNews Canada updates on your social media outlets. Follow us on Twitter and like us on Facebook!