Calgary Poker Pro Kevin Martin Debuts on Big Brother Canada Season 3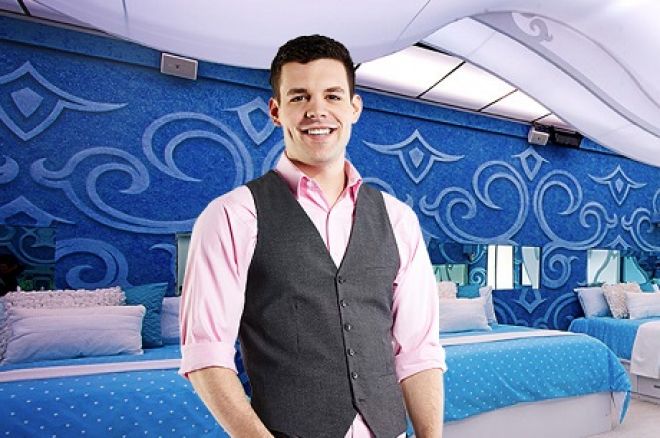 Kevin Martin, 22, had just started his adventure into streaming poker content on Twitch.tv. On Monday, he will embark on a new journey, being one of the 16 contestants on Global's reality television show Big Brother Canada. The last person to survive in the Big Brother house for the third season of the show will walk away with a cool $100,000.
Martin makes his living grinding the live poker scene in Calgary, Alberta, mostly playing $1/$2 or $2/$5 cash games, but he can also be seen at all the major local poker tournaments including the recently concluded Winter Super Stack series at Deerfoot Inn & Casino where PokerNews Canada was on site to report all of the action.
From Web Stream to TV Screen
Martin also has recently gotten into streaming online poker on the popular streaming website Twitch.tv, but he will have to take a break for Big Brother Canada Season 3. In his short run with his poker channel, he has become one of the most amusing must-watch streamers. Taking a more fun approach to online poker, Martin can be seen with a handful of friends in the background drinking along with the Big Brother contestant.
The rowdiness that ensues is entertaining to say the least, and a stark departure from the strategy-focused, analytical streams of other poker channels on Twitch. From guests cheering him on as he plays in the biggest tournaments to Martin or a drinking buddy (both have happened) having to disappear off camera to throw up after one too many libations, or the ever-popular girlfriend cam, you never know what is going to happen when Martin clicks the switch to go live on Twitch.
With multiple webcams on the night's action, Martin has fun while streaming his poker content, showing people that you can have a good time while playing for thousands of dollars. In less than a month of streaming on Twitch, he has won the Hot $44 on PokerStars for over $8,000 and amassed over $11,000 in total earnings.
Check out Martin's celebration following the winning hand of the Hot $44 tournament:
The Calgary, Alberta native vows to take a relaxed approach while entering the Big Brother house. In an interview with Global TV, Martin stated, "This is a marathon, and while I'm staying relaxed, I'm going to let the other houseguests get worked up and destroy their own games." He also thinks that the skills he has learned from poker will translate well in the Big Brother house: "It takes mental stability and very strategical thinking," Martin said.
For those new to Big Brother, all houseguests (the contestants) compete in various challenges each week. Head of Household (HoH) challenges are the most important; they dictate who has the most power for the week. All contestants other than the previous HoH compete in this challenge, and the winner of the challenge gets to select two houseguests to be put up for eviction from the house.
The next important challenge is the Power of Veto (PoV) competition. This competition pits the two nominated house guests and the current HoH along with three other selected houseguests. The winner has the opportunity to remove one of the nominated houseguests if they so choose. The HoH would then have to name a replacement from the remaining houseguests other than the PoV winner.
After the final nominations have been made (or left the same), the remaining houseguest not nominated for eviction or the current HoH will cast a vote to evict one of the two nominated houseguests.
To make things more interesting, Martin stated in his video interview that he plans to throw all the competitions. Not only that, but Martin also said he plans on making it clearly obvious that he is throwing the competitions. This should be extremely entertaining for the viewers as we get to have a little fun alongside Martin watching the interesting ways he intentionally fails at the competitions. He will also have to step up his mental game as he won't have the safety net of the HoH to be safe for an entire week or be able save himself off the "chopping block" (the name given for the two houseguests nominated for evictions) by winning the PoV.
When asked if he is going to tell his fellow houseguests that he is a professional poker player, Martin stated, "No, I'm not going to tell them I play poker for a living."
You can see the full video below:
Martin already has big plans if he wins the $100,000 prize. On his biography on the Global TV website, Martin revealed that he plans to invest the money back into his poker bankroll and take a crazy trip to Las Vegas. If that's the case, you can be pretty certain Martin will be playing a busy schedule of events at the World Series of Poker this summer.
The third season of Big Brother Canada starring one of poker's own begins Monday, March 22, at 8 p.m. ET on Global TV. Eviction and HoH competitions will take place at 9 p.m. ET on Wednesday's. The nomination ceremony will happen at 7 p.m. ET on Sunday's, followed by the PoV competition which is 8:00 p.m. ET on Monday evenings. That means there are three nights a week you can catch Kevin Martin use his poker skills in this unique social experiment.
* Photo courtesy of Global TV.
Get all the latest PokerNews Canada updates on your social media outlets. Follow us on Twitter and like us on Facebook!