One To Remember: Inaugural American Poker Awards Deliver with Success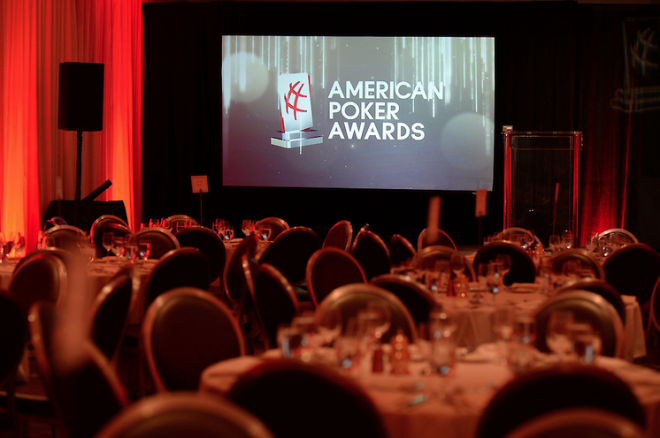 I'm not quite sure anyone truly knew what to expect heading into the 2015 American Poker Conference and American Poker Awards at the end of last week, but the turnout from start to finish was overwhelmingly positive. From the volume of people in attendance, to the depth and gravitas of the discussion panels, to the who's who of poker lining up on the red carpet for a grand ceremony, it was certainly one to remember.
The biggest, most important thing I can strongly say that I took away from it all was that this is good for poker.
Scratch that, it's great for poker.
It's great for poker in America, and it's great for the game on a global scale. The amount of time and energy Alex Dreyfus and his team dedicated to the event did not go unnoticed, and the industry needs more people like Dreyfus with such immense passion for its positive development.
When I say that I'm not quite sure anyone truly knew what to expect, I'm including myself. As someone who had planned well ahead of time to attend the conference and the awards, I received some mixed feelings from all of those I talked to. Maybe we were all a little too weary to dive all in in terms of our expectations for the event, but the more you learn about how much Dreyfus has dedicated to this vision, the more you will come to the conclusion that he wasn't going to fail.
American Poker Conference
Looking back, I was most fulfilled to see the big turnout for the conference portion of the event. Nearly all the seats were filled with various members of the poker industry, young and old, members of the gaming industry, and even some players. It's actually this latter group, the players, that I would implore to attend with a larger force in 2016. Even if it's just for the second half of the day, because I know you not-so-morning people can hardly wake up before noon, it's well worth your time. I also believe it's important for anyone involved in this industry to try and make it out, from freelance contributors to top executives.
The discussion panels were extremely interesting and informative, and knowing about one's industry is a highly-valuable asset. I believe this to be especially true if you're a professional poker player and you care about the game's direction. Come out, see and hear what everyone in the industry works so hard on, give your own insights, and ask questions.
They say knowledge is power, and the more informed we all are in this industry, the better.
There were five discussion panels: Live Poker in a Digital Era, The Future of Poker — Live Poker Leaders, Live and Online Poker: Two Industries in Harmony, Online Poker Snapshot: The Current State of Online Poker in the U.S., and Players' Perspective. Each discussion panel addressed a different topic, but through them all it seemed the overall theme related to how online poker and live poker could better work in conjunction with one another. This was clearly evident in four of the five panels, with the least involvement in Online Poker Snapshot: The Current State of Online Poker in the U.S.
For me personally, it was the Online Poker Snapshot panel led by Chris Grove that provided the most insight. Grove didn't hold back on the questions, and panel members Jeffrey Haas (Group Director, Poker for bwin.party), Eric Hollreiser (Director of Corporate Communications, Amaya and PokerStars), andAdam Small, (Co-Founder, PocketFives) offered up as much as they could. There was plenty of knowledge coming from the minds of all three, who all possess a superior wealth of it, and even a bit of professional, friendly banter.
American Poker Awards
The award show was spectacular.
Every table in the place was full, the vast majority of those in attendance were dressed to impress, the drinks were flowing, the food was great, and everyone was able to celebrate the achievements of their industry peers. As a member of the jury that helped determine the winners, I was very happy with those who walked away holding some new hardware. Every single one of the nominees was very deserving of an award, and it was no easy task selecting who should win.
The awards seemed to unify everyone in a way that made all involved feel a part of something truly special. I can honestly say that from a personal standpoint, the awards ceremony elevated things to a new level. This is the industry, and it's grown to this. This is our industry.
Additionally, the awards have been a long time coming, and they now provide something for everyone to strive for. From media members, to industry executives, to players — the awards are a new way for us to all push each other to be better and there will be recognition that comes from our success.
At the end of it all, I can confidently say that the biggest winner of the night was the poker industry. That may be cheesy, but it's true. I don't think there will be one person who deems the event as anything less than a massive success, and I look forward to many more to follow.
Suggestions
There are a few things I would suggest as ideas for next year's event, but this should take nothing away from how amazing the event was this year.
First, I'd like to see a female poker player as a member of the player panel during the conference. The amount of women in poker is growing each and everyday. Jen Mastrud, Former Director of Operations for the Heartland Poker Tour, was on the The Future of Poker panel, but getting a female player's insight would be a big step in the right direction. Someone like Linda Johnson, Vanessa Selbst, Maria Ho, or Kara Scott, who hosted the awards ceremony, would provide an additional avenue of expertise.
The second suggestion I would have pertains to expansion. Many of those that I talked to at the conference liked the one-day format. That can certainly remain intact, but tacking on an additional day before the conference/awards day would allow growth into more of a convention. With Dreyfus' goal of wanting to "sportify" poker, the convention day could be held for a few hours on the day prior to the conference and allow vendors interested in the poker community a chance to display products, innovations, ideas, and more.
Then, that same night, a charity poker event could be held. Dan Shak accepted the award for Charitable Initiative of the Year for "All In" for Kids Poker Tournament presented by CHOP and the WPT Foundation, and he stressed how important charity is, especially to our game. With poker being the number one way that charity events are held, this would be the perfect time for an event and a lot of fun for those within the industry on behalf of a great cause.
Lastly, I'd like to see greater representation from all industry parties for the conference, which I touched on above. More representatives from key companies within the industry and more players attending the conference would be a great thing. Seeing as this was the inaugural event, I expect this to grow almost by default in years to come. As Dreyfus stated several times throughout the event, the poker industry is still very young. We are all in this together and seeing the game grow is good for all parties.
Along those same lines, Lee Athias, Casino Manager at Grey Eagle in Calgary, brought up a good point that U.S. online poker regulators should be in attendance. I second Athias' motion, and hopefully we can attract some of them to the conference in the future. Allowing them to hear the discussions, see how the industry thinks and works, and meet those involved would be beneficial.
All told, the heart and soul of the poker industry was alive and well at both the American Poker Conference and the American Poker Awards. They are two projects I believe we should all get behind and support for many years to come. I'm happy to see your bet paid off, Mr. Dreyfus.
Get all the latest PokerNews Canada updates on your social media outlets. Follow us on Twitter and like us on Facebook!