2015 PlayNow Poker Championship: Jamie Constantine Ships Event #3
PokerNews Canada Contributor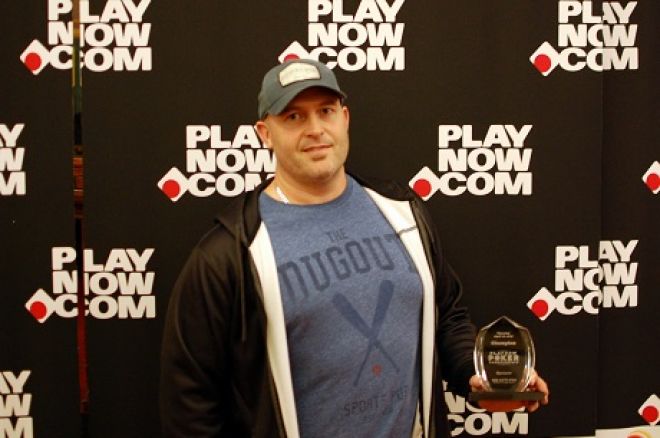 Event #3 of the PlayNow Poker Championship sponsored by 92 CITI FM was held on Thursday at McPhillips Station Casino in Winnipeg, Manitoba. The no-limit hold'em bounty event featured a buy-in of $300 with unlimited reentries and a $50 cash prize for each opponent a player busted. Winnipeg native Jamie Constantine was crowned the champion, winning the first live tournament of his career.
Going into the 10-player final table, Constantine had a quarter of the chips in play. With the quick structure, it didn't take long for the chips to start flying and players get knocked out. The first to go was Kirwin Rempel who was eliminated by one of the two ladies at the final table, Hong Le. Rempel's 10th-place prize was $1,310.
Constantine then took out Roger Singh in ninth for $1,550. Hong Le went back to work busting Joseph Monteiro in eighth for $1,879. Robert Anderson then took control eliminating dinner-break chipleader Zoe Chua in seventh for $2,342.
The second lady at the final table, Kerry Koch busted Hong Le, leaving Koch as the last woman standing. Le was awarded $3,102 for her sixth-place finish. Anderson added to his chiplead, knocking out Jake Gill in fifth for $4,012 and Chris Wallmuth busted Koch in fourth for $5,553.
Just before the elimination of Koch, Anderson had an overwhelming chip lead until he ran into Constantine's quad nines, drawing the three top stacks almost even. Once Koch was eliminated, the final three started to talk chop. There was $39,427 left to play for and they decided to give each other $10,000 and play for $9,000, leaving the rest as a tip for the dealers. A moment later, they decided that second place would get a bonus $2,000 and the winner would get $7,000. After a couple of hands, they paused again, this time coming to a conclusion to pay each other $12,000 and play for $3,000. Wallmuth was then eliminated in third for $12,000 and Constantine and Anderson decided to chop up the extra $3,000. Constantine was deemed the champion and both he and Anderson cashed for $13,500.
Here are the final table results:
| Finish | Player | Prize |
| --- | --- | --- |
| 1 | Jaime Constantine | $13,500 |
| 2 | Robert Anderson | $13,500 |
| 3 | Chris Wallmuth | $12,000 |
| 4 | Kerry Koch | $5,553 |
| 5 | Jake Gill | $4,012 |
| 6 | Hong Le | $3,102 |
| 7 | Zoe Chua | $2,342 |
| 8 | Joseph Monteiro | $1,879 |
| 9 | Roger Singh | $1,550 |
| 10 | Kirwin Rempel | $1,310 |
Constantine was very humble with the victory. As soon as the event ended he asked if he could do the winner's photo right away as he was already late for work. When asked how he felt about the win, he had this to say: "I don't play these very often. I was playing a couple of $40 home game tourneys a couple weeks back and I said if I don't win one of these I'm not playing the PlayNow event. I finished second in one and first in the other and felt like it was a sign I was supposed to play today." Constantine also cashed in 17 bounty chips for an added $850 bonus.
The lowest of the buy-ins available during the series, Event #3 was expected to draw in the most entries. Registration remained open until the start of the first break and, after the dust cleared, 328 entries had been received with 68 of those being reentries. A total prize pool of $73,800 was created with the top 33 spots getting paid.
Players able to navigate their way into a payday were Michael Dong (33rd — $470), Jackson Oniske (32nd — $470) Garry Hobson (31st — $470), Lesther Mabilangan (30th — $470), Rosario Bullaro (29th — $470), Chris Arsenault (28th — $470), Clayton Edmonson (27th — $593), Jordan Thomas (26th — $593), Chris Clisby (25th — $593), Harry Kuksuk (24th — $593), Blaine Kranchuk (23rd — $593), Joe Jasin (22nd — $593), Jean Hebert (21st — $593), Philippe Danylo-Lemay (20th — $593), Norman Meier (19th — $593), Clayton Mozdzen (18th — $621), Jules Barten (17th — $655), G. Sciangula (16th — $697), Jordan Eettam (15th — $748), George Dickson (14th — $813), James Hopps (13th — $894), Richard Wolfe (12th — $998), and Kyle Buell (11th — $1,132).
Friday is the big day at the PlayNow Poker Championship as the Main Event begins. The $1,100 event sponsored by the Manitoba Liquor & Lotteries features 45-minute blind levels and a 15,000 chip starting stack. Action kicks off at 12:00 p.m. in the McPhillips Station Casino poker room. PokerNews Canada will be there live-tweeting the action.
Get all the latest PokerNews Canada updates on your social media outlets. Follow us on Twitter and like us on Facebook!