Highlights from the 2015 World Series of Poker Conference Call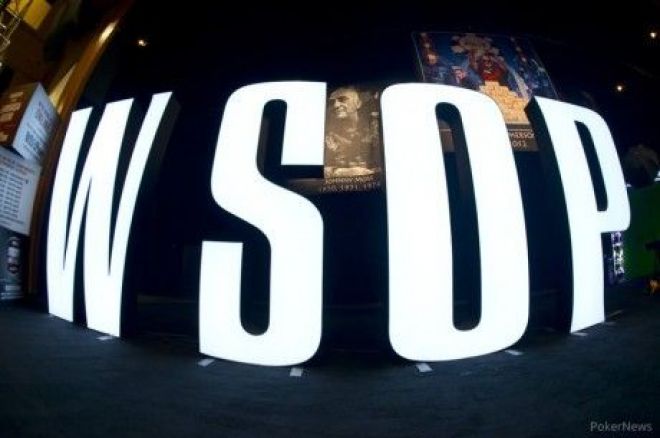 At 1:30 p.m. ET (10:30 a.m. PT) on Tuesday, the World Series of Poker will hold its annual conference call with WSOP Executive Director Ty Stewart, WSOP Tournament Director Jack Effel, and WSOP.com Head of Online Poker Bill Rini to preview the summer's events. The three will discuss what is in store for the game's longest running poker series and take questions from the media.
The 2015 WSOP, which will feature 68 gold bracelet events, begins on May 27 at the Rio All-Suite Hotel and Casino in Las Vegas and runs through July 14. It marks the 11th consecutive year the longest-running tournament series will be held at the Rio All-Suite Hotel & Casino.
PokerNews will be live tweeting the conference call on Twitter via @PokerNews, and we'll also be providing a running list of highlights right here. Stay tuned and be sure to refresh your browser regularly.
Highlights from the 2015 WSOP Conference Call
10:33 a.m.: Palansky welcomes everyone to the 2015 WSOP Media Preview conference call. Stewart then jumps on the line.
"We have more preregistration than in the past five years combined," Stewart states, elaborating that preregistration is experiencing new records.
10:35 a.m.: Stewart states the WSOP will leave it up to the media to develop the storylines, but that they will also "let the events speak for themselves. We expect them to speak loudly."
10:36 a.m.: ESPN programming expanded to two-and-a-half hours on Sundays after SportsCenter. Episodes will run Sunday nights from 8:30-11 p.m. The November Nine will play down to the final four on Sunday, then to final two on Monday, and finally playing to a winner on Tuesday.
10:38 a.m.: 888Poker alone should send more than 100 players to WSOP Main Event. Others partnerships, such as with Winamax in France, will also qualify players, as will land-based venues and charity events — 56 of which are licensed by the WSOP. Likewise, DraftKings, who will have a lounge up on the Pavilion Stage this summer, will be qualifying players into the Main Event.
10:40 a.m.: New Modiano Playing Cards (more than 50,000 decks) will be used for the 2015 WSOP.
Each Jostens bracelet will be customized, not by just a simple inscription, but for each specific event.
Global Poker Index named title sponsor of the WSOP Player of the Year award. GPI will power formula.
10:42 a.m.: Effel hops on the call. Substantial changes will be to players' benefits, perhaps the most notable being the starting-stack multiplier. The $1,500 NLHE Extended Play event will offer 90-minute levels, something Effel believes this will please Allen Kessler.
Hotel bookings are way up; in fact, they're more than double of what they were last year. Effel encourages players to book a room and preregister for events in advance.
10:45 a.m.: Booth in Rio Rotunda will handle all preregistration, not the Rio Main Cage.
Wi-fi will be available to players in all areas. Players can play WSOP.com and peruse the Internet as they see fit.
10:47 a.m.: Rini is given the floor. Reveals the WSOP has worked with regulators so they are white-listed from the NGCB's "one account per IP address" restriction.
Players will have a variety of WSOP.com deposit options including credit cards, electronic checks, cash deposits, etc. Pending regulatory approval, they should have cash deposits at several of the Caesars' properties (Harrah's, Planet Hollywood, Caesars Palace, etc.) during the WSOP.
10:50 a.m.: Players can qualify for the WSOP.com from outside of Nevada (i.e. New Jersey, 888Poker), but will need to be in the state to play the bracelet event. That tournament will play down to six players on July 2, and then two days later play it out live inside the Rio. July 3 will serve as a day off to allow players to travel to the Rio.
Minimum guarantee of 25 Main Events seats will be give away in their popular "25-Seat Scramble." Will take place at 3 p.m. on July 5 (Day 1a of Main Event). Late registration open for three hours. Buy-in will be $185+$15. It will be a reentry tournament. There will be satellites held to qualify players for the 25-Seat Scramble.
Summer Online Championships will take place in both Nevada and New Jersey. Three events a day from May 31 through June 29. Will be a total of 90 events and a series leaderboard, with the top finisher taking home a ring. Winners of each event will get entry into a winner-take-all freeroll for seat into the National Championship (two given away — one for Nevada and one for New Jersey).
Every night at 6 p.m. there will be satellites for WSOP gold bracelet events.
10:57 a.m.: May 15 is deadline for online preregistration for Colossus event. Preregistration after that can be done at the Rio. Preregistration is also available for those seeking to secure a safety deposit box. Boxes are $200 + a $100 deposit. Pay in person upon arrival. Pre-reserve open until June 1.
Q&A Session
Why did the WSOP opt to host their biggest event in the first weekend?
Stewart explains it's their responsibility to bring as many players to the series and to the city as they can. They felt bookending the series with the Colossus and the Main Event was a good way to do that. They expect Colossus to smash the record for the largest live poker tournament ever, and to see a lot of first-time players.
"If it is not by a large margin the largest event in the history of poker, it will be a disappointment," Stewart admits. Explains they are not afraid such an event will dilute the prestige and success of the Main Event. They actually expect an increase in attendance for the Main Event.
Are the sporting books allowed to put up a line for the events?
Yes, but the WSOP has not yet decided whether or not this will be offered for most events. More than likely will only be available for the WSOP Main Event final table. Just not enough time to successfully implement for anything other than the Main Event.
What is the situation regarding patch restrictions?
No change from last year. WSOP doesn't look to impede players' right to manage themselves.
Why the change to adding more affordable buy-ins? What has been reaction of poker pros?
They're aiming to get recreational players more involved. Poker players at large are "value-based customer," and they're trying to reflect that in their offering via small buy-in options, bigger starting stack, convenient start times, etc.
Many pros see the value in attracting more recreational players, which helps the poker economy as a while.
"It's a very symbiotic relationship between the poker professionals and recreational players," says Stewart.
Has there been any talk in the WSOP facilitating deals either in bracelet events or in the Daily Deepstacks?
There have been discussions. It's a very complicated situation. The WSOP believes the general public, as well as the ESPN producers and viewers, don't want to see tournaments played with chops. It's the WSOP's job to look at the big picture, and they believe the casual poker fan may not understand chops.
The WSOP also doesn't want to set up an environment that could lead to harassment, bullying, tax evasion concerns, etc., many of which often come with chop talk. They continue to stand by their policy of not facilitating chops or deals, but will continue to review the topic.
The WSOP doesn't allow players to use headphones when in the money, and also can't use. How will those rules coexist with players playing on WSOP.com?
If you're in a tournament hand while also playing a WSOP.com hand online, they will understand the situation. They will be monitoring during the series and don't expect any issues. Players could theoretically play a hand both live and online at the same time.
11:32 a.m. — 2015 WSOP Media Preview Conference call come to an end.
Remember, PokerNews will be at the Rio throughout the summer providing daily content from the 2015 WSOP.
Get all the latest PokerNews Canada updates on your social media outlets. Follow us on Twitter and like us on Facebook!