For Many of the Game's Enthusiasts, the Colossus Is Their Ticket to Poker Immortality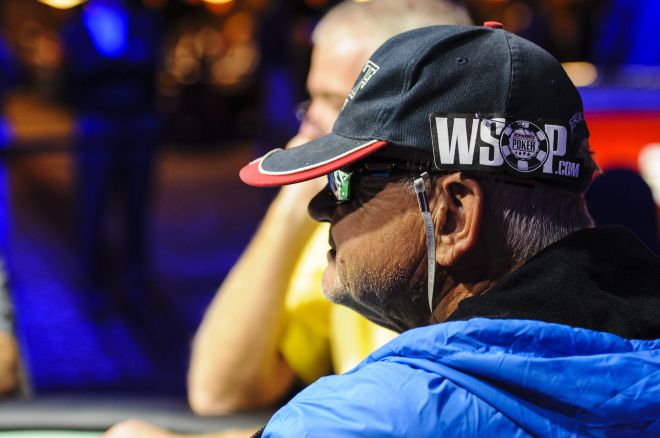 On May 27, the record was broken for biggest-ever World Series of Poker tournament when Executive Director Ty Stewart tweeted "History #Colossus" with a picture that included the amount of registered players at 8,926.
For nine years, the record of biggest WSOP event stood at 8,773, which was the field Jamie Gold managed to beat in the 2006 WSOP Main Event. While history has already been made with the sheer numbers of this event, for the 20,000-plus expected hopefuls it's only just beginning, as they look to win life-changing money over the course of the next six days.
The Colossus, or what we're alternatively calling the "Rumble at the Rio," will be a once-in-a-lifetime experience for many players, and we wandered the hallways in search for some stories from the queues.
The first thing you'll notice, if you've ever been to the Rio during the WSOP, is that the lines are longer, and in more places, than you've ever seen. If you think the wait is long for the Goliath roller coast at Six Flags, the Colossus will top it.
"I've been standing in line for hours trying to get registered for the Colossus," said Tom Balzarini, a gentleman in his 50s from Great Falls, Montana.
We found Balzarini nowhere near the front of the line, but the logistics of this giant operation should not be underestimated. Balzarini was in line for "will call," and all players here had already pre-purchased a ticket online in advance.
Waiting in line is somewhat part of the Colossus experience. If anything, similar to waiting for that roller coaster you've been waiting to go on at an amusement park, the wait to get your hands on that physical tournament ticket builds the anticipation up that much more.
"I really just wanted to see what it would be like, and the buy-in of $565 is very interesting," Balzarini continued, expressing what he feels was a sentiment many players will share. "For me, poker is not an every-year deal, it's more a once-every-two-or-three-year deal."
The amount of familiar faces in line for will call or registration is close to nil, and it goes to show that we've got something truly special on our hands.
"I'm excited," Balzarini said. After a short pause he added, "But in a way it's just like any other tournament but bigger."
The Colossus sure is just a very big tournament, but the size of the field and the affordable price point change everything.
David Wood from Ellensburg, Washington, confirmed that, as he's taking his first shot in a WSOP event after having tried to get in through satellites in previous years.
"I was here last year as well, but I didn't play any of the bracelet events," Wood said. "I came down and played some satellites to make my way into one of the events, and that's why this year I came back for the Colossus because it's a much more affordable buy-in. This size buy-in is pretty normal to me, but since this was the inaugural event and probably the world's largest live tournament ever, I just had to be a part of it."
Wood continued by saying that he's used to playing tournaments with similar buy-ins, but the Colossus really attracted him and his group of poker friends.
"We actually have a poker group in Washington, and there's five of us here right now," he continued, full of energy and excitement of what's to come. "Three of us are playing tomorrow, one of us is going deep in the Casino Employees event, and another is playing the Omaha Hi-Low event."
Next to Wood we found Bob Gray, a spry elder statesman who arguably rivals Doyle Brunson in both age and passion for the game. Gray hails from Billings, Montana, where he learned the poker rules at Billings Junior High before moving to California in the 1970s.
"We played deuces wild and one-eyed jacks back in junior high," Gray said with a big smile, as he currently plays at the Commerce in Los Angeles a few times per week.
"The 'W-SOP' has been on my bucket list for quite some time, and this will be my first time ever playing in it, because it's a good buy-in," he said. "I wanted to play here, but up until now I never could. This is my chance.
"My family and friends gave me a cheers when I told them I was going. It was a matter of like, 'Oh, you're going to do that?'" Gray laughed, as his friends and family are not into poker like he is.
"Most of the people that I know don't know the difference between this tournament (the Colossus) and the big championship (the Main Event). When I told them the big championship has a $10,000 buy-in, they said, 'Wow! Who can do that?'"
Despite the excitement, Gray was reserved with his expectations, trying to keep things realistic.
"Anybody can get extremely lucky and win this, but I'm not counting on it," he said. "It would be really nice if I did, and I plan to play conservatively enough so that I can take advantage of it when I get lucky."
The Colossus will be a great advertisement for the game of poker, and waiting in line to get a ticket will be long forgotten when players sit down tomorrow and receive their stack of chips. There are thousands and thousands of people like Bob Gray, Tom Balzarini, and David Wood, all of whom carry their own story to the WSOP felt looking to see a dream come true.
Gray's story was the most captivating we've heard in line today, and it showed a different perspective on things. We, who are used to covering big buy-in events throughout the year, sometimes lose track of what the average poker player thinks and can afford. Players that have a positive experience playing the Colossus will forever long to get back to the felt, wherever it may be, and it will likely be to chase another bracelet.
"About 10 years ago, I played in a WPT tournament after I'd won a seat online," he said. "That got me a little acquainted with what's happening tomorrow, so I don't think I'll be too nervous. At the time, it was very special seeing so many players. My idols, like Doyle Brunson, were there. Tuan Le was sitting right next to me, and Daniel Negreanu was there, too. That was a very exciting experience back then, and I still remember it from 10 years ago. That tournament was such a great experience, and after it I decided that I wanted to experience the WSOP as well"
Tomorrow morning, Friday, May 29, at 10 a.m. local time, the first of four Colossus flights will kick off. While many have high hopes and aspirations, it's the experience that counts for people like Bob Gray. Playing at the World Series of Poker is a bucket list item for many people, and the Colossus gives thousands of them the chance to cross a big one of their list.
Get all the latest PokerNews Canada updates on your social media outlets. Follow us on Twitter and like us on Facebook!