2015 WSOP Day 11: Three First Bracelets to Maslak, Hutter, and Deeb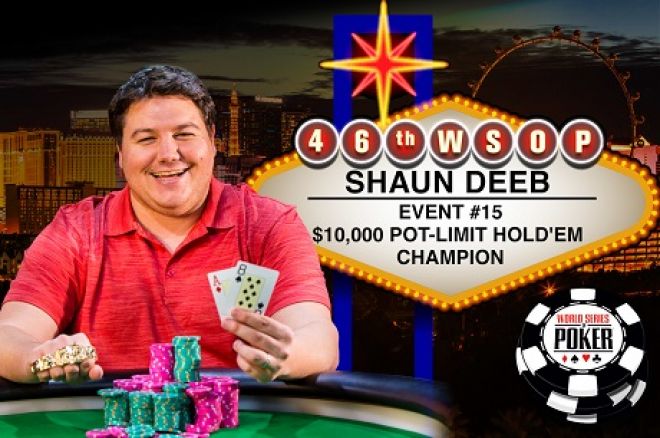 Saturday's action at the 2015 World Series of Poker (WSOP) saw three people winning their first bracelet. The $2,500 hi-lo mix, $1,500 shootout, and pot-limit hold'em championship all come to a conclusion while the Millionaire Maker filled the Rio with its second and final starting flight. Meanwhile, another championship event began, this time in razz.
Konstantin Maslak Comes From Behind to Win Hi-Lo Mix
Day 4 of Event #13: $2,500 Omaha/Seven Card Stud Hi-Lo 8 or Better was an unexpected affair. Originally scheduled to run three days, the 474 original entries made that goal impossible. Day 3 ended with just three players left fighting for the bracelet. While everyone returning Saturday was guaranteed more than $100,000, all eyes were on the $269,612 up top.
When players sat down on Saturday to finish it off, Hani Awad looked to be in control. With twice as many chips as Benjamin Dobson in second, the bracelet appeared to be Awad's to lose. Konstantin Maslak, with barely six big bets to start the day, didn't look to be much of a factor.
Maslak attacked the play early on, and it took only half an hour for him to take the chip lead. Within another half hour, Maslak was heads up against Awad who was back in the familiar chip leader position after knocking Benjamin Dobson out in third for $105,893.
At the start of heads-up, Hani Awad was playing 3,800,000 to Maslak's 2,200,000. With stacks so short — 19 big bets to 11 big bets — it was destined to be a quick match. While the lead see-sawed a bit, Maslak seemed clearly in control, eventually taking the match down on a stud hi-lo hand where he hit a king-high flush on sixth street. With neither player able to make a qualifying low hand, Awad collected $166,583 for second, while Maslak scooped the pot, the bracelet, and the $269,612.
Barry Hutter Denies the Ladies, Wins $1,500 Shootout
On Saturday, there was a chance for history to be made once again this series. A female player has never won a no-limit shootout WSOP bracelet, and the final table of Event #14: $1,500 No-Limit Hold'em Shootout had two talented ladies among the final 10. Both Kitty Kuo and Elizabeth Montizanti were poised to do something no woman has ever done.
Unfortunately (for Kuo, Montizanti, and arguably poker in general), Barry Hutter was the player to sweep the final table to claim his first WSOP bracelet and the $283,546 first-place prize.
At the end of the day, Hutter and Ben Zamani were facing each other heads-up, and Hutter held a two-to-one chip lead. Hutter min-raised to 200,000 and Zamani snap-shoved for 2,450,000. Hutter, unfazed by the aggression, thought for a bit before calling with


. Zamani turned over


and still had some hope. The dealer spread a flop of



. Then the

hit the turn and Hutter locked up the hand with his unbeatable flush, already celebrating by the time the irrelevant

comes on the river. Zamani's runner-up result earned him $174,771.
Here is how the final 10 finished in the shootout, including Kuo's and Montizanti's fourth- and fifth-place results:
| Finish | Player | Prize |
| --- | --- | --- |
| 1 | Barry Hutter | $283,546 |
| 2 | Benjamin Zamani | $174,771 |
| 3 | Dennis Phillips | $113,265 |
| 4 | Kitty Kuo | $82,890 |
| 5 | Elizabeth Montizanti | $61,560 |
| 6 | Orson Young | $46,332 |
| 7 | Anton Smirnov | $35,302 |
| 8 | Daniel Strelitz | $27,216 |
| 9 | Grayson Ramage | $21,208 |
| 10 | Randy Pfeifer | $16,740 |
Paul Volpe Finishes Second Again; Shaun Deeb Wins First Bracelet
The third bracelet awarded on Saturday was in Event #15: $10,000 Pot-Limit Hold'em Championship. A final table of 10 returned to the felt on Saturday including some well-known talent. Jason Koon, Paul Volpe, Shaun Deeb, and Greg Merson were all among the final-tablist, as well as others with proven skill.
Koon began the day with a healthy chip lead, holding nearly 900,000 of the 3.8 million chips in play. Volpe had the second-most, and he was miles behind with 586,000. But after Koon doubled up Jason Les early on and then again an hour later, Koon was left with a lot less chips than he started the day with.
He got the remainder of them in the middle preflop when he called Deeb's four-bet shove but was behind with


to Deeb's


. The flop of



looked devastating, as it gave Deeb a set, but Koon's outs were actually increased from three to four with the straight possibility. However, by the time the river-card hit the felt, the board had paired and Deeb eliminated the once chip leading Koon in ninth place with a full house.
Deeb made good use of those chips, as he found himself seated across from Paul Volpe in a heads-up battle for the bracelet. The deciding moment happened with Deeb holding a slim chip advantage over Volpe as the two built a massive pot that went all the way to the river.
Deeb raised from the button to 120,000 and Volpe called. The dealer slid out



and Volpe led out for 130,000. Deeb thought for a while before calling, and the turn of

hit the felt. Volpe led out again, this time for 290,000. Deeb tanked for half a minute and called again. The river of

filled up a possible flush, and Volpe insta-bet with an announced "pot." The bet was a little over a million chips and only left Volpe with 10,000 behind. Deeb quickly responded, saying "all in," and Volpe immediately mucked his hand, preferring to play those 10,000 chips than lose the last of them in the enormous 3.3 million pot. Deeb voluntarily showed


for the nuts — aces full of fives — which Volpe's bluff was never going to get past.
Volpe's remaining chips automatically went in the middle in the next hand and he doubled up, then did so again in the following hand. With 40,000 chips, he got it in a third time with


and Deeb showed


, which was the winning hand as the board ran out with two pairs for Deeb. With his victory, he collected $318,857 to go with his first gold bracelet while Volpe earned $197,048 for his second runner-up finish already this series, both in $10,000 championship events.
| Finish | Player | Prize |
| --- | --- | --- |
| 1 | Shaun Deeb | $318,857 |
| 2 | Paul Volpe | $197,048 |
| 3 | Jason Les | $142,747 |
| 4 | Sam Stein | $105,364 |
| 5 | Greg Merson | $79,182 |
| 6 | Dario Sammartino | $60,545 |
| 7 | Kristijonas Andrulis | $47,081 |
| 8 | Ismael Bojang | $37,227 |
| 9 | Jason Koon | $29,911 |
| 10 | Tom Marchese | $24,412 |
Canadian Alexander Villa Bags the Most in Millionaire Maker
The second starting flight of the tournament that promises to make one player an instant millionaire began on Saturday. Event #16: Millionaire Maker $1,500 No-Limit Hold'em saw 3,347 entries on Day 1a, and a further 3,928 entered the field on Day 1b. The total 7,275 is down 700 players from last year's field, but the prizepool is still an impressive $9,821,250. The winner will collect $1,277,193.
Day 1a's field was reduced to an even 500 players and Saturday's Day 1b added an additional 618 survivors to return for Sunday's Day 2. Of the 1,118 to survive so far, 747 will earn a prize for their effort.
At the end of the day, a Canadian was sitting atop the leaderboard. Ottawa, Ontario's Alexander Villa bagged 180,500, but several Day 1a players eclipsed that. He'll return as seventh-best on Sunday. Here are all of the Canadians who had a successful Day 1b:
| Player | Chips |
| --- | --- |
| Alexander Villa | 180,500 |
| Sean Eichendorf | 143,100 |
| Darlene Lee | 91,100 |
| Jaymie Holland | 85,800 |
| Harley Stoffmaker | 82,800 |
| Andrew Humphrey | 77,900 |
| Sam Greenwood | 74,100 |
| Tony Hoang | 62,600 |
| Kyle Ho | 57,900 |
| Jason Ackerman | 56,100 |
| Claude Gunraj | 53,300 |
| Walter Metella | 41,300 |
| Thomas Keeper | 40,900 |
| Ping Lin | 38,700 |
| Chris Back | 32,300 |
| Fraser Short | 32,300 |
| David Harnish | 31,800 |
| Narinder Singh Khasria | 31,500 |
| Glen Ho | 31,000 |
| Leanne Brown | 26,900 |
| Eric Lee | 26,000 |
| Sinan Tawfik | 25,100 |
| William St-Pierre | 24,800 |
| Graham Wright | 20,000 |
| Sebastien Soares | 18,900 |
| Robert Corbeil | 18,700 |
| Aaron Duczak | 12,200 |
| Ryan Smith | 9,100 |
The survivors of the two starting flights will combine for Day 2 on Sunday and will take their seats at 11 a.m. The money bubble will burst likely sometime before mid-day.
Duhamel, Bucky, and Leah Stack Chips in $10K Razz
As the previous $10,000 championship event played its final day, another one began. This time it was the top buy-in bracket for the razz format that enticed players to the tables. Event #17: $10,000 Razz Championship saw 103 players to the uncommon poker variant.
It's a game Canadian mixed-game poker writer Ken Lo describes as causing "feelings of deep satisfaction and intense joy one moment, but utter disappointment and complete frustration the next." You can check out his article here on PokerNews Canada for an overview of the game.
Among those to enter the field was Shaun Deeb. He was clearly having a good day, as he won the $10,000 pot-limit hold'em bracelet and headed straight over to the $10,000 razz for late registration, then bagged the fifth-best stack with 94,700 chips.
There were also three of the most talented Canadian poker players among the 63 who survived Day 1. Jonathan Duhamel will return with 66,100 while Shawn Buchanan was also within the top third of the field with 59,200. Mike Leah is right behind with 55,000. As expected, Daniel Negreanu was in the field too, but he failed to make it through the day.
There are heaps of noteworthy players returning for Day 2, but the most notable are Brock Parker and Abe Mosseri who share the chip lead with 140,900 chips each, Dan Shak (80,300), Bryn Kenney (69,000), Anthony Zinno (30,500), Erik Seidel (29,100), Scott Clements (21,400), Max Pescatori (18,900), and Phil Hellmuth (11,300).
The 63 remaining players will be back at 2 p.m. on Sunday and only 16 of them will be guaranteed a prize. The money bubble should burst sometime late in the day.
Details and photo courtesy of the WSOP Live Blog.
Get all the latest PokerNews Canada updates on your social media outlets. Follow us on Twitter and like us on Facebook!