2015 WSOP Day 16: Greenwood Captures Canada's First Bracelet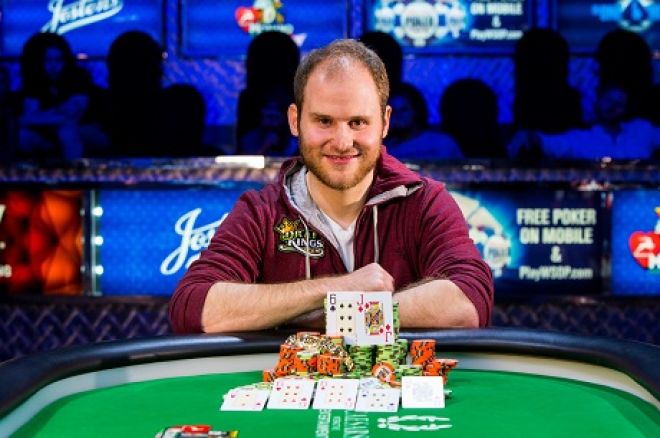 Day 16 was a busy day at the 2015 World Series of Poker (WSOP). Three bracelets were handed out, including Canada's first, as well as an unexpected Day 4. Play continued in the H.O.R.S.E. as well as the eight-handed hold'em, and play began on the $1,000 pot-limit Omaha as well as the $10,000 Stud Championship. Read on for all the pertinent details.
Zamani Wins First Bracelet; Barbour Runner-Up in $1,500 No-Limit Hold'em
On Thursday, only five players remained to return for the unscheduled Day 4 of Event #20: $1,500 No-Limit Hold'em. With the five best payouts of the nearly $2.5 million prize pool still to be determined, the headlining final-tablist was Kevin MacPhee who had the second-shortest stack.
Beginning the day fourth in chips led to finishing the day in fourth place. MacPhee open-shoved preflop from under the gun for about 1.3 million chips (a little more than 10 big blinds) and Natasha Barbour made the call from the button. With the blinds out of the way, the two flipped over their cards. MacPhee held the better hand with the suited slick —


— while Barbour was behind with


. When the flop came down



, MacPhee added outs to a flush to his already leading hand. The turn of

paired both of them, but the

on the river completed Barbour's straight, eliminating MacPhee from the tournament. He collected $142,070 for his deep run.
Barbour made good use of those chips, as she made it to the heads-up match for the bracelet where she faced Ben Zamani. A huge game-changing hand brewed when Barbour called from the small blind, Zamani raised to 710,000, and Barbour three-bet to 1.6 million. Zamani quickly four-bet to 2.9 million and Barbour made the call.
The dealer slid out



beside the huge pot and Zamani took little time betting 950,000. Barbour called immediately and the turn came down

. Zamani checked and Barbour announced all in, putting her tournament life at risk. Zamani called and turned over


. Barbour was drawing dead with


for a failed bluff. The river was the

and Zamani scooped up all the chips, earning $460,640 and his first gold WSOP bracelet.
Sam Greenwood Wins First Bracelet and First for Canada in 2015
Event #22: $1,000 No-Limit Hold'em was the highlight of Day 16 for Canadians. It featured two Canadians at the final table and, when all was said and done, Canada's first bracelet. Sam Greenwood led the final table to start the day, and while his path to the bracelet wasn't without its bumps, he still had the most chips when it mattered most.
Greenwood won the bracelet heads up against Cole Jackson in a spirited affair where Greenwood had to come from behind to win it. You can read about all the details of Greenwood's first personal bracelet, and the first bracelet for Canada in 2015 in our feature piece on the win.
Christian Pham Goes Wire-to-Wire to Win First Bracelet in 2-7
Event #23: $1,500 No-Limit 2-7 Lowball marked the first running of single-draw in this year's WSOP. 219 entries made up the prize pool of $295,650 and 28 players would win a share of that money. Minimum cashers could expect to earn $2,578 while the winner of the event would win $81,314.
In a rare feat, Christian Pham went wire-wire as chip leader, leading both the Day 1 and Day 2 chip counts when play was over. He was able to turn that chip lead into his first bracelet when just three players came back on Day 3 to decide the match.
Matthew Smith came into the final table as the smallest stack, and it was no surprise to see him exit first. Smith got his money in drawing to a ten-nine while Daniel Ospina called with a jack-seven pat hand. Smith was drawing to win the pot, but flipped up another

to pair his top card, sending the pot to Ospina. Smith made $33,163 for his third-place finish.
It would take Pham another two hours to close it out as Ospina, who resides in Colombia now, but who was born in Calgary, Alberta, proved a tough competitor. The tournament came down to a two-draw versus a one-draw when Pham pushed his monster stack on the button and Ospina called for his last 110,000. Ospina took two cards to Pham's single as player's displayed




for Pham versus



for Ospina. Pham squeezed his card first, rolling over a

to complete his jack-eight, but still had to sweat Ospina potentially drawing to a very strong seventy-six. All Ospina needed to win the pot and double up were two cards under

that weren't a


. He squeezed out his first card to disappointment however, rolling over a

. The final ace was irrelevant, but Ospina officially went out on an ace-king low.
Ospina's second place marked his 10th WSOP cash, and his highest finish at WSOP yet, besting his fourth place in the 2011 $10,000 H.O.R.S.E. Ospina made $50,260, which marks his second-biggest WSOP cash, behind the aforementioned H.O.R.S.E. result.
Pham's win marks his first WSOP bracelet after three previous cashes. He also brought a WSOP Circuit ring to the table, from his victory in the 2013/2014 WSOP Circuit Event #10. His prize of $81,314 is his biggest WSOP cash to date, but still doesn't quite eclipse his score from his Circuit ring. While the cash marked only his second-biggest cash in WSOP events, no doubt his first shiny gold bracelet made this win at least as memorable.
Mike Watson Leading H.O.R.S.E. Race
The first H.O.R.S.E. race of the 2015 WSOP rounded the second turn Thursday as Event #24: $1,500 H.O.R.S.E. finished its second day. Of the 772 people who bought into the event, 299 players returned to the felt Thursday for Day 2. Only 31 remained at the end of 10 levels fighting for a piece of the $1,042,200 prize pool.
Leading the charge at the first-place prize of $239,750 is Canada's Mike Watson. While Watson is still looking for his first WSOP bracelet, with 32 lifetime cashes worth over $1 million its only a matter of time before Watson secures his own bracelet. Watson will be playing 634,000 at the start of Day 3.
Watson's only close competitor in chips is second spot Arash Ghanian with 601,000. They are the only players over 600,000, and in fact the only ones to cap the half-million mark. American David Levi sits in third with 481,000.
Watson was the only Canadian to survive Day 2 play, but several were among the 49 people to cash out on Day 2. Samuel Ngai, who led Canadians after Day 1 with the fourth biggest stack overall, busted 39th for $4,596 while 2010 WSOP Main Event Champ Jonathan Duhamel banked a cash of $3,522 for 54th place. Jaehwa Son rounded out the Canadians who cashed, grabbing $2,907 for 71st spot.
Watson will face some tough competition among the smaller stacks. Six-time bracelet winner and mixed game beast Ted Forrest sits at 22nd with just under 100,000. Lurking near the bottom of the counts is none other than 14-time bracelet winner Phil Hellmuth with a small stack of 51,000. Hellmuth is proving himself no slouch in the non-hold'em games with two razz bracelets in recent years, one of which was just a few days ago. Hellmuth came back from a short stack to win that one, and given his past record at WSOP events, Watson would be a fool not to keep a close eye on The Poker Brat.
Play kicks off at 1 p.m. Pacific time as the final 31 players hit the felt to play down to a winner.
Tyler Cornell Leads 8-Handed $5K into Day 3; 2 Canadians Advance
Event $25: $5,000 No-Limit Hold'em 8-Handed played into the money on Thursday. 493 entries paid in to make a prize pool well over $2 million. 198 players returned on Day 2 looking for one of the 56 paying spots, and when the dealing was done on Day 2, only 23 players remained in contention for the $567,724 first-place prize.
There were two busts on the bubble of this event, with both Ryan Julius and Ludavich Riehl busting two hands into hand-for-hand action. They split the minimum cash of $8,642.
Four Canadians made it through the money bubble, but failed to bag chips at the end of the day. First to exit was Griffin Benger, who managed a minimum cash as the next person to bust after Julius and Riehl. Matt Marafioti did a little better finishing in 41st spot, the final person to get paid $9,896. Mark Radoja went him two better, pocketing $11,515 for 39th place while Sorel Mizzi lasted till the next pay jump, finishing in 27th for $13,578. Other notable cashes are below.
| Rank | Name | Country | Prize |
| --- | --- | --- | --- |
| 25 | Cord Garcia | USA | $13,578 |
| 26 | Eugene Katchalov | USA | $13,578 |
| 32 | Olivier Busquet | USA | $13,578 |
| 36 | Paul Volpe | USA | $11,515 |
| 37 | Ismael Bojang | Austria | $11,515 |
| 40 | Mohsin Charania | USA | $11,515 |
| 51 | Konstantin Puchkiv | Russia | $8,642 |
| 54 | Galen Hall | USA | $8,642 |
Leading the way into Day 3 is Tyler Cornell. Cornell has 13 WSOP cashes totalling just over $250,000 to his name so far, not including his results in this event. He'll be hoping to turn his 1,409,000 chips into his first career bracelet. American pro Dan O'Brien in second is the only other player above 1 million chips. He'll be playing 1,328,000 on Day 3, and a deep run here could push his lifetime WSOP earnings over the $1 million mark.
Two Canadians managed to navigate their way through Day 2 and bag chips. Ioannis Pentefountas starts Day 3 with 564,000, the eighth-biggest stack while Kris Lee Steinbach brings a small stack of 151,000 to the third day of play. Other notable players to watch on Day 3 will be Anthony Zinno (906,000), Shaun Deeb (844,000), Dominik Nitsche (784,000), Jonathan Little (329,000), and Jesse Sylvia (236,000).
Cards are in the air for Day 3 at 2 p.m. Vegas time.
$1,000 PLO Bursts Bubble on Day 1; Six Canadians Make Day 2
Pot-limit Omaha is a swingy game, and Day 1 of Event #26: $1,000 Pot-Limit Omaha was full of action. 1,293 entries paid into the prize pool of $1,163,700, and by the end of play, just 129 players remained in contention for the title. 144 spots paid out, and when the bubble burst late in the day there was a flurry of bustouts to end the day.
Leading the way into Day 2 is Sayed "Mo" Khan sitting on 263,100. Behind him is Upeshka Desilva who takes 194,000 into Day 2. Desilva is the player who burst the bubble when he flopped trip sixes with the worst hand to bust Harrison Beech's




as well as another short stack also in the pot.
Six Canadians are still in the running for the bracelet. Al-Karim Lalani leads the way in 22nd place with 88,000, while Mike Leah notches another cash in 2015, taking 62,000 into Day 2. Other Canadians bagging chips at the end of play are below.
| Rank | Player | Chips |
| --- | --- | --- |
| 40 | Vincent Lam | 54,000 |
| 60 | Curtis Krushelniski | 37,700 |
| 91 | Kyle Ho | 23,300 |
| 108 | Joel Bullock | 17,100 |
Cards are back in the air at 1 p.m. for Day 2 action.
Event #27
Negreanu Ends $10,000 Stud Day 1 With Top 5 Stack as Kenney Leads
Event #27: $10,000 Seven Card Stud Stud Championship started with a total of 91 players entering the field, creating a prize pool of $855,400 and $239,518 for first place. Daniel Negreanu was the top Canadian in the field as he ran up the 30,000 starting stack to 104,700. Kid Poker isn't the only Canadian remaining in the field though as he is joined by Mike Leah, who finished the day with 52,000. Leah is off to an impressive start at this year's WSOP as he has already had three cashes, including two final tables in the $10,000 razz (fourth — $75,964) and the $1,500 no-limit deuce-to-seven draw lowball event (seventh — $8,381).
Bryn Kenney finished the day as the chip leader, accumulating 155,000 in chips to end the day. Kenney will lead a star studded lineup back for Day 2 tomorrow which include the likes of Brian Hastings (112,600), Mike Gorodinsky(81,000), Bertrand 'ElkY' Grospellier (72,700) who all have healthy chip stacks.
A total of 51 players survived the day and only another 35 eliminations are needed to reach the money as the 16th place finisher is guaranteed to take home a min cash of $15,106.
Details and photo courtesy of the WSOP Live Blog.
Get all the latest PokerNews Canada updates on your social media outlets. Follow us on Twitter and like us on Facebook!