2015 WSOP Day 19: Big Canadian Stacks in $3K Pot-Limit Omaha Hi-Lo and Monster Stack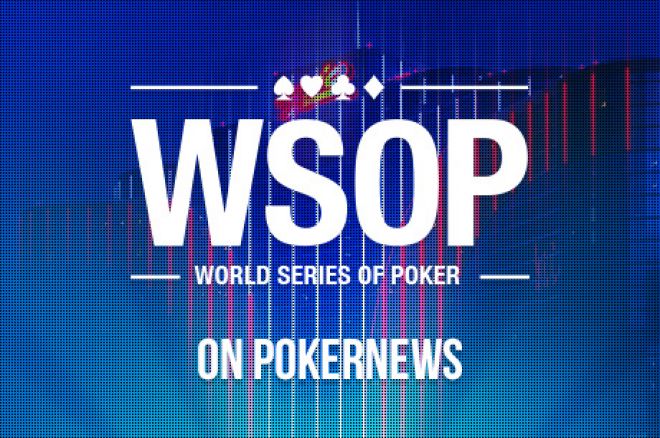 Sunday, Day 20 of the 2015 World Series of Poker (WSOP), was a comparably slow day compared to the usual pace of the series. "Just" four events were in play, and none were played through to a bracelet winner.
The Monster Stack forged onward, reducing the field significantly, while the $10,000 deuce-to-seven played to a final table. A $1,000 no-limit hold'em event kicked off, as did the $3,000 pot-limit Omaha hi-lo.
For everything you need to know to stay caught up on the world's most popular poker series, read on.
Gylbert Drolet Returns to Monster Stack as Third-Best
Day 2 of Event #28: Monster Stack $1,500 No-Limit Hold'em combined the survivors of Day 1a and 1b to create a field of 2,060 players returning. With the money not to be reached until only 720 players remained, there was a lot of play before the tournament reached the bubble.
Six levels into the day, just before dinner break, the money bubble approached and it took a few rounds of hand-for-hand play before the announcement was made that all of the remaining players were in the money. A cheer roared through the tournament hall and then players got back down to business.
Among those who made the money but didn't last the day, having already collected their payout before Day 2 was through, was a slew of Canadians.
| Finish | Player | Prize |
| --- | --- | --- |
| 283 | Ricky Chow | $6,019 |
| 286 | Vanessa Kade | $6,019 |
| 289 | Ryan Southworth | $5,242 |
| 304 | David Ottosen | $5,242 |
| 308 | Philip Cheong | $5,242 |
| 342 | Walter Metella | $5,242 |
| 353 | Anh Van Nguyen | $5,242 |
| 369 | Jason Ferry | $4,563 |
| 375 | Stuart Lowery | $4,563 |
| 399 | Grant Frulling | $4,563 |
| 432 | Blake Carriere | $4,563 |
| 433 | Kristofer Coulombre | $3,980 |
| 462 | Philippe Belley | $3,980 |
| 471 | Max Greenwood | $3,980 |
| 499 | Erin Steele | $3,980 |
| 501 | Andre-Paul Baillargeon-Smith | $3,980 |
| 506 | Philippe Danylo-Lemay | $3,495 |
| 509 | Gerald White | $3,495 |
| 533 | Brett Worton | $3,495 |
| 585 | Jacob Martel | $3,106 |
| 604 | Sonu Sharma | $3,106 |
| 612 | Robert Cheung | $3,106 |
| 633 | Quentin Siffledeen | $3,106 |
| 687 | Raymond Latinsky | $2,815 |
| 703 | Trevor Hughes | $2,815 |
| 719 | Rodney Ramalho | $2,815 |
| 720 | Alexander Allison | $2,815 |
One of the biggest stories of the day for our Canadians was Vanessa Kade who was down to a single big blind early in the day. The words "a chip and a chair" are possibly the most overused phrase in poker, but it was Kade's reality on Day 2. She quickly spun it up and was even a top-10 stack at one point of the day. Unfortunately, our comeback queen was unable to survive the last level of the day. With not much time left on the clock, she got pockets kings all in on a queen-high flop and was called by ace-queen. A queen showed her face on the turn and Kade was done. This was shortly after she was coolered and then got jacks in against queens for another damaging loss. But after coming back from an incredibly short stack well before the money, she can be proud of a 286th-place finish worth $6,019.
There will be 18 Canadians returning for Day 3, and the biggest stack among them is that of Espacejeux qualifier Gylbert Drolet who has 1.19 million to start the day, putting him in third overall. Yao Sun isn't far behind with 1.103 million — sixth overall.
The final 272 players will return for Day 3 on Monday and will play another 10 levels. PokerNews Canada is on site providing special coverage of this event for PlayNow Poker who awarded 100 Monster Stack packages in April and May. Just one of those qualifiers is back for Day 3 — Konstantinos Segounis — and he won a WSOP Main Event seat for being the last qualifier remaining. You can follow our hourly recaps of the action in this event on our reporting page where we'll be watching the Canadian contingent as this tournament creeps toward a new bracelet winner. Play resumes at 11 a.m.
Mike Watson Min-Cashes, Dan Smith Leads Final 6 in Lowball Championship
With just 77 players in a $10,000 tournament at the WSOP, you know it's going to be full of the best players of the game. Event #29: $10,000 No-Limit 2-7 Draw Lowball Championship returned for Day 2 with 32 players still in contention for the bracelet.
Among those to return on Sunday were two of Canada's best: Mike Leah and Mike Watson. While Leah just earned his first bracelet last year at WSOP Asia-Pacific, it's possible that Watson is one of Canada's best poker players who doesn't have a bracelet, and returning with the fourth-best stack put him in a decent position to make it happen in this event. However, once in the money, Watson was the third player to be eliminated, finishing in 12th place for $14,693.
It was a three-handed pot that saw Jesse Martin move all in from under the gun and Watson pushed over the top from the button. Then Jon Turner made the call in the small blind, putting both of the other players at risk. Martin stood pat with





and both Watson and Turner drew one. Turner found a

to go with his




and Watson was drawing dead with




. Turner eliminated both Watson and Martin in the same hand with Watson taking the better finish.
Mike Leah was eliminated before the money, so no Canadians survived Day 2. When play ended for the night, just six players still had chips, and it's a tough lineup.
| Player | Chips |
| --- | --- |
| Dan Smith | 661,000 |
| Nick Schulman | 554,000 |
| Jon Turner | 439,000 |
| Erik Seidel | 265,000 |
| Phil Galfond | 255,000 |
| Eli Elezra | 160,000 |
Play resumes at 2 p.m. with a bracelet winner to emerge later in the day. The one to secure the victory will earn $224,383. Only Dan Smith and Jon Turner haven't won a bracelet in the past, and between the other four they own 13 of the coveted pieces of poker jewelry.
$1,000 Hold'em Day 1 Ends Just Shy of Money Bubble
With thousands of players eliminated from the popular Monster Stack, WSOP scheduled a cheaper hold'em tournament to catch them while the Monster Stack went to Day 2. Event #30: $1,000 No-Limit Hold'em received 2,150 entries on Sunday's Day 1, and 235 of those players had chips to bag for the night.
When registration closed, the prizepool was calculated to be $1,935,900 and the winner will receive $353,391 to go with a shiny gold bracelet.
Leading overall after 11 long levels is Chris Hinchcliffe with 206,000, and he's the only player to surpass 200,000. The top Canadian stack belongs to Raymond Muzyka with 96,500 — good for 17th on the leaderboard. As for other Canadians, Mark Radoja will also be back and he will be playing 87,000 at the start of the day. Al-Karim Lalani and Ryan Ostrove both have a little over 63,000 chips and Yan Lee has 53,200. Sam Greenwood will be back with 44,000, and several more players from our country will be back with less than that.
This tournament will be back in action at 1 p.m. and playing another 10 levels before shutting down for the night. They're only 19 players away from the money, so hand-for-hand play will likely begin early in the first level of the day.
Three Top-10 Canadian Stacks in $3,000 Pot-Limit Omaha Hi-Lo
The fourth event playing on Sunday was Event #31: $3,000 Pot-Limit Omaha Hi-Lo 8 or Better as it kicked off at 4 p.m. The 480 players were reduced to 134 after 10 levels of play when they paused for the night, and Jeff Madsen leads the field with 231,800 chips.
There was some big stacks for Canadians at the end of the night. Within the top 10 are three maple leaves on the leaderboard. Shawn Buchanan sits fifth with 134,200, followed by Mike Watson with 88,800, and Jonathan Duhamel has 85,400. Daniel Negreanu bought in and busted out before the day ended.
Just some of the other notable players returning on Monday for Day 2 — and there are several — are Doug Polk (215,800), Robert Mizrachi (102,700), Brandon Shack-Harris (54,600), and Mike Matusow (31,800).
These players will return at 2 p.m. and play another 10 levels. With the first in-the-money spot in 54th, the money bubble will come part way through Monday's Day 2.
Details courtesy of the WSOP Live Blog.
Get all the latest PokerNews Canada updates on your social media outlets. Follow us on Twitter and like us on Facebook!