2015 WSOP Day 20: Phil Galfond Wins 2nd Bracelet; Monster Stack Forges On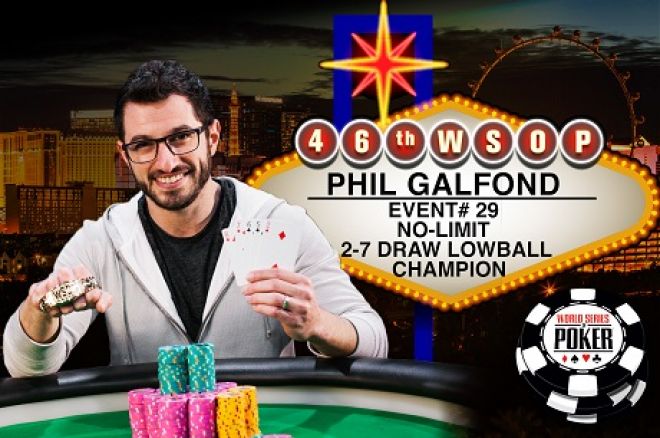 The 20th day of the 2015 World Series of Poker (WSOP) was the lucky day for one bracelet winner, and five other events were in play without reaching a conclusion. Here's what happened at the Rio on Monday:
Eric Place Makes Monster Stack Day 4 with Heaps
The Monster Stack is getting deep! Day 3 of Event #28: Monster Stack $1,500 No-Limit Hold'em began with just 272 players and all of them well in the money. By the end of the day, just the final 29 remained.
With 18 Canadians headed to Day 3 including Gylbert Drolet starting the day with the third-best stack, it was certain there'd be some deep runs made by at least a few of them. And, indeed, by the end of the day, five of those players are still in the hunt for a bracelet.
Nova Scotia's Eric Place will be back for Day 4 with a fifth-place stack of 5.41 million and Ian Modder will return with 3.09 million. Ryan Delorme, Steven Fontaine, and Joshua Wallace round out the Canadian contingent and they all bagged less than two million.
The best result of the Canadians that were eliminated on Monday was that of Scott Montgomery who finished 36th for $36,700. Here are all of the players from our nation who collected a payout on Day 3.
| Finish | Player | Prize |
| --- | --- | --- |
| 36 | Scott Montgomery | $36,700 |
| 51 | Allen Michel | $24,175 |
| 68 | Gylbert Drolet | $16,408 |
| 88 | Scott Hill | $11,456 |
| 104 | Kostantinos Segounis | $8,155 |
| 119 | Yao Sun | $8,155 |
| 159 | Jean Benoit | $8,155 |
| 184 | Patrick Blye | $6,990 |
| 203 | Christopher Bond | $6,990 |
| 207 | Toufic Chehayeb | $6,990 |
| 244 | Adil Dharssi | $6,019 |
| 246 | Jason Clarke | $6,019 |
| 255 | James Westenburg | $6,019 |
| 269 | Laurence Grondin | $6,019 |
The final 29 players will return on Tuesday at 11 a.m. and the plan is to play down to a winner, but that is a lot of eliminations to get through in one day. It is possible the final few players may push on to a Day 5. They're all guaranteed at least $36,700, but the real glory is in first place where the winner will receive a gold WSOP bracelet and $1,286,942.
Phil Galfond Wins Lowball Championship for Second WSOP Bracelet
When the final day of Event #29: $10,000 No-Limit 2-7 Draw Lowball Championship began, there were no Canadians in the mix, as the only one to cash was eliminated the previous day — Mike Watson in 12th place for $14,693. But the final table of six that returned for Day 3 on Monday was a lineup full of talent.
The final six was made up of Dan Smith, Nick Schulman, Jon Turner, Erik Seidel, Phil Galfond, and Eli Elezra, and it took a couple of levels of play before the first player was eliminated. Elezra pushed all in preflop after getting short earlier and he was up against Schulman for his tournament life. Schulman stood pat with





and Schulman held



and drew two. They turned out to be

and

and Elezra was eliminated in sixth place for $31,463.
Shortly after that, Nick Schulman opened the action from the button and Jon Turner moved all in from the small blind. Schulman made the call and both players drew one. Schulman held




and received

to complete a ninety-seven, causing Turner to be drawing dead as his best possible draw could only give him a ten-perfect, which is exactly what he got when he turned over his

. His fifth-place elimination earned him $42,298.
Next out was the man with the most bracelets at the table. Erik Seidel was looking for his ninth career WSOP bracelet but was unable to quite close the win when he got tangled in an all-in pot with Dan Smith. Seidel three-bet all in from the small blind and Smith called from the button. Both players stood pat and Seidel showed a jack-eight and was no good to Smith's ten-nine. He earned $59,532 for finishing fourth.
The heads-up pairing was determined when Dan Smith was eliminated in third place. Smith moved all in over top of Nick Schulman's open and the two held four of their five cards when Schulman's calling chips went in. Smith held




and peeled a

. Schulman was showing




and made a rough eight with the

. Smith collected $87,898 for his third-place result.
The two heads-up players got it in quite some time later with Phil Galfond calling Nick Schulman's three-bet shove. Both players elected to draw one, showing




for Schulman and




for Galfond. They decided that Glafond should reveal his draw card first and he flipped over

for an eighty-seven — a hand Schulman couldn't possibly beat with the nine in his hand. He turned over an irrelevant

and shook hands with the new bracelet winner. Schulman earned $138,665 for his runner-up finish, while Galfond received $224,383 to go with his second WSOP bracelet.
Moving Day in $1K Hold'em Bursts Bubble and Leaves 21 Remaining
When Event #30: $1,000 No-Limit Hold'em resumed for Day 2, the 235 players were only 19 eliminations away from the money, so it was sure to be an action-packed first level. Hand-for-hand play began soon after play began, and the money bubble was burst just as the first level of the day came to a close.
When the day ended, just 21 players remained, and among them is nary a Canadian. Some notables still chasing the bracelet on Tuesday's Day 3 will be Chris Moorman (966,000 chips), Bertrand Grospellier (471,000 chips), Jason Koon (299,000 chips), and Antonio Esfandiari (249,000 chips). All of Day 2's Canadian eliminations are as follows:
| Finish | Player | Prize |
| --- | --- | --- |
| 37 | Jordan Hamilton | $7,046 |
| 45 | Ryan Ostrove | $7,046 |
| 71 | George Caragiorgas | $4,171 |
| 74 | Raymond Muzyka | $3,591 |
| 90 | Samuel Ngai | $3,097 |
| 91 | Dylan Palmer | $2,710 |
| 100 | Joey Vensel | $2,410 |
| 110 | Mark Radoja | $2,410 |
| 119 | Daniel Nord | $2,410 |
| 134 | Kyle Walker | $2,410 |
| 155 | Yan Lee | $2,168 |
| 158 | Joshua Wallace | $2,168 |
| 161 | Jean-Francoi Dion | $2,168 |
| 170 | Stephen Murakami | $2,168 |
| 173 | Sam Greenwood | $1,974 |
| 206 | Shaun Scrygeour | $1,974 |
| 209 | Al-Karim Lalani | $1,974 |
When the final 21 players return on Tuesday, the top prize of $353,391 will be awarded to one of them along with the WSOP bracelet by the end of the day. Play resumes at 1 p.m.
Canadians Fall in Day 2 of $3K Pot-Limit Omaha Hi-Lo
Event #31: $3,000 Pot-Limit Omaha Hi-Lo 8 or Better also returned for Day 2 on Monday. With just 134 players remaining, Shawn Buchanan, Mike Watson, and Jonathan Duhamel all returned with top-10 stacks.
When the money bubble approached, only Duhamel and Watson remained of the Canadians, and they both made deep runs into the money. Unfortunately, both were eliminated late in the day. Watson's end came when he raised from middle position, faced a three-bet from Brian Hacker, and Watson four-bet shoved with




. Hacker held




and the board ran out





, giving Hacker the better high and low, eliminating Watson in 23rd for $9,408.
Jonathan Duhamel lasted a little longer, getting it in with




on a flop of



against Spencer Chan's




. Duhamel was counting on top pair with an open-ended straight draw for the high and a draw to the low. Chan held an overpair to the board and not much else, but then the turn and river were revealed to be

and

, and the aces were good enough to scoop the pot, having no qualifying low. Duhamel was eliminated in 19th and earned $9,408.
There will be 17 players returning for Day 3 on Tuesday, including Jeff Madsen, David "ODB" Baker, and Robert Mizrachi. Play will resume at 2 p.m. and will play to a bracelet-winner, awarding a top prize of $301,413.
Canada's Best Make Day 2 of $5K 6-Max
Play began on Monday in Event #32: $5,000 No-Limit Hold'em 6-Handed with 550 players taking to the felt for a shot at gold. By the end of the day, only 200 of them remained with many big names among them.
The best Canadian stack was that of Sorel Mizzi with 142,400, followed by Jay Glass with 118,500. They will be joined for Day 2 by fellow Canadians Gareth Struvig De Groot (113,800), Matt Jarvis (109,300), Jean-Pascal Savard (91,300), Mike Leah (78,000), William Molson (76,200), Sam Chartier (50,300), Noah Vaillancourt (46,300), Matt Marafioti (43,200), Justin Oliver (30,500), Timothy Adams (28,700), and Shawn Buchanan (14,900).
Only 60 players will be paid, so there is still plenty of play on Tuesday before the money bubble is reached. First place will earn $633,357, though the players will still need another day to get that far. Play resumes at 1 p.m.
Greg Raymer leads $1,500 Lowball; Jordan Cossette Bags Lots
The final event of the day was the kickoff of Event #33: $1,500 Limit 2-7 Triple Draw Lowball. By the time registration closed, 388 players had purchased starting stacks, but only 121 made it through at the end of the day.
Greg Raymer leads the field with 71,400 to his name, while Canada's Jordan Cossette has the most for our nation and sits in fourth overall with 56,000. Terrence Chan will also return with 41,500, as will Samuel Ngai with 37,300. Thomas Taylor also bagged 15,000. Daniel Negreanu registered but failed to make Day 2 once again.
Forty-two of the remaining players will collect a payout in this tournament, and first place will pay $136,215. The 121 players that still have chips will be back for Day 2 at 2 p.m. for another 10 levels of play.
Details and photo courtesy of the WSOP Live Blog.
Get all the latest PokerNews Canada updates on your social media outlets. Follow us on Twitter and like us on Facebook!