2015 WSOP Day 21: Canadian Finds Place on Monster Stack Final Table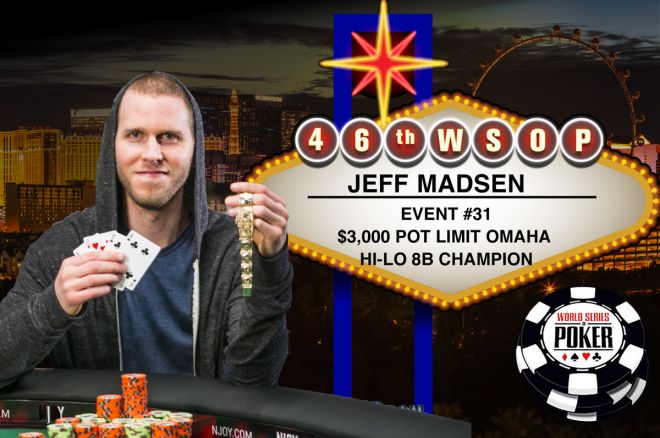 Canadian Makes Monster Stack Final Table
On Tuesday, 29 players returned for Event #28: Monster Stack $1,500 No-Limit Hold'em, and 20 eliminations later it was decided that the final table of nine would bag chips for the night and play down to a champion on Wednesday.
There were four Canadians to return for Day 4 of the event, and among them was Eric Place with a fifth-best stack of 5.41 million chips. Ian Modder, Ryan Delorme, and Steven Fontain were also still in the tournament.
Three of those Canadians were eliminated fairly early in the day. Steven Fontaine was unable to make it past 24th place, and Ryan Delorme was right behind him in 23rd, while Ian Modder followed closely in 21st. All three of them earned $45,633 each.
But the Canadian, Eric Place, managed to hang on all the way through the short day. He will be among the nine on the final table playing for $1,286,942 up top. You can get to know more about all the Canadians by reading our final table preview here.
Place is in a good place, close to the middle of the pack with 12.5 million. Fernando Konishi leads with 20.8 million, and second-best stack through to seventh-best are spread across a narrow 14.725 million to 10 million and include the likes of Asi Moshe, Hoyt Corkins, Christian Rodriguez, and Perry Shiao. The short stacks are Josh Wallace with 4.675 million while Caio Toledoq has 5.55 million.
The previously unscheduled Day 5 will begin at 11 a.m. and one of these players will become an instant millionaire. Could it be one of the Canadians, securing the second bracelet for the country this summer?
One More Day Needed for $1K Hold'em
With 21 players returning for Day 3, the final day, of Event #30: $1,000 No-Limit Hold'em, playing all the way down to a winner was going to be a daunting task. They almost made it, but after a full 11 one-hour levels of play, the final two players had not yet decided on a champion.
A previously unscheduled Day 4 has been tacked on the schedule for Argentina's Ivan Luca to continue his heads-up battle with Artur Rudziankov of the Czech Republic. When they resume play on Wednesday at 1 p.m., Luca will have a 2.6-to-one chip lead.
There were no Canadians still in the tournament for Tuesday's Day 3, but some well-known faces like Antonio Esfandiari (18th — $12,893), Jason Koon (17th — $12,893), Bertrand Grospellier (11th — $20,423), and Chris Moorman (10th — $20,423) were in the mix. However, when the final table of nine was set, the lineup was one of unknown players. The most experience player on the roster was David Chase who has earned eight previous WSOP cashes. In fact, the two heads-up finalists, Ivan Luca and Artur Rudziankov, have no recorded WSOP results.
When heads-up play resumes, they'll be playing to determine who earns the $353,391 top prize and the gold WSOP bracelet, and who will be collecting the consolation prize of $219,976.
Jeff Madsen Earned Fourth Bracelet in $3K Pot-Limit Omaha Hi-Lo
The final day of Event #31: $3,000 Pot-Limit Omaha Hi-Lo 8 or Better began with the final 17 players of the original 480 entrants. No Canadians were among them, but there were some big names, and a couple of them made the final table.
The day ended earlier for John Reading (17th — $11,754), Josh Pollock (14th — $14,833), and Robert Mizrachi (12th — $18,725), but David "ODB" Baker and Jeff Madsen made the final table.
David Baker wasn't able to make it past eighth place. He potted it preflop from middle position and Jeff Madsen potted again, putting Baker at risk when he called. Madsen held




and Baker had




. When the board ran out





, Madsen had improved to a pair of aces as well as an eighty-two low, scooping the pot and eliminating Baker in eighth for $30,833.
Jeff Madsen made good use of those chips, propelling himself forward all the way to heads-up play versus Jeanmarc Thomas who was in line for his first-ever WSOP cash. In the deciding hand, Thomas raised preflop and Madsen potted. Thomas pushed all in and Madsen tossed in a chip to signify a call. Thomas was at risk with




and Madsen held




. Once the board ran out





, Madsen scooped the pot with trip sixes and no qualifying low.
Jeanmarc Thomas earned $186,548 for being second-best and Jeff Madsen earned $301,413 to go with his fourth career WSOP bracelet.
James Obst Leads Final 20 in Six-Max; Noah Vaillancourt Lone Canadian
Just 20 players remain in Event #32: $5,000 No-Limit Hold'em 6-Handed after 2 days of play. Out of the 550 who originally entered, only 190 returned to play on Day 2.
Bagging the most chips at the end of the day was James Obst of Australia with nearly two million chips, while Argentinian Nacho Barbero is a distant second with 1,037,000. The U.K.'s Simon Deadman lead the way at the start of Day 2, and he managed to stay in the top three, bagging just over one million chips at day's end.
Noah Vaillancourt is the Lone Canadian left going into Day 3. Vaillancourt is 14th overall with 515,000 chips. Four other Canadians made it into Day 2, and managed to make it to one of the 60 paid spots. Justin Oliver finished 25th and Gareth Struivig De Groost finished 26th, both for $16,466. Sam Chartier also banked that amount with a 29th place finish. Matt Jarvis finished in 47th spot, pocketing $10,495.
Other notable players with chips going into Day 3 include Jennifer Tilly in ninth with 715,000. Tilly already has her 13th WSOP cash, and is looking to add a second bracelet to her resume, after winning her first in the 2005 Ladies Event. In fifth place is the runner-up from the $5,000 eight-handed event, Pierre Milan with 914,000. As well, Tuan Le (sixth — 800,000), Griffin Paul (12 — 548,000), Mike Gordinsky (16th — 437,000), Jason Mercier (17th — 328,000), and Dario Sammartino (19th — 310,000) will all come back for Day 3.
Play resumes at 1 p.m. Wednesday with everyone guaranteed at least a $20,059 payday.
Final Sixteen Set in 2-7; Toby Mulloy Leads the Way
Just 16 players are left after Day 2 of Event #33: $1,500 Limit 2-7 Triple Draw Lowball. After starting the day with 121 of the original 388 entries, the bubble burst late in the day, sending several people home with early cashes.
Leading the way in the final 16 is Toby Mulloy. A newcomer to the WSOP stage, Mulloy bagged up 323,000 at the end of Day 2, significantly more than the second stack Benny Glazer from the United Kingdom with 259,000. Phillip Hui sits third with 232,000.
No Canadians remain in this tournament for Day 3, but Terence Chan of Vancouver cashed late on Day 2 in 36th place for $3,053. Among the other notable cashes late in the day were 2004 WSOP Main Event Champion Greg Raymer in 21st and Brian Rast in 23rd, both for $4,378. Managing $2,592 minimum cashes were Allen Cunningham, David "Bakes" Baker, and Vanessa Selbst.
Action on the final day gets underway at 2 p.m. and play is expected to continue until a new bracelet has been awarded.
Split-Format Hold'em Kicks Off Nine Handed; Matt Iles Leads the Pack
The split-format structure kicked off at WSOP Europe in 2012 and seems to be a favourite among players. Event #34: $1,500 Split Format Hold'em drew 873 runners looking for a piece of the $436,050 prize pool. Day 1 was played nine-handed, and by the time 10 levels of play finished, only 159 players remained to move on to the six-handed Day 2.
At the top of the counts to start Day 2 will be Matt Iles who brings 14 WSOP cashes to the table with 139,200 chips. Second is Jordan Young, bagging 123,500 at the end of nine-handed play. Sameer Aljanedi rounds out the top three with 116,000.
Top Canadian after Day 1 was Andre Boyer with 63,600. With over $1 million in WSOP cashes under his belt, Boyer is well-positioned to make a deep run here. The rest of the eight Canadians to make it through Day 1 are below.
| Rank | Player | Chips |
| --- | --- | --- |
| 66 | Patrick Blye | 42,000 |
| 90 | Justin Ouimette | 30,100 |
| 111 | Giuseppe Sardo | 25,700 |
| 120 | Jashua Sussman | 22,600 |
| 131 | Raymond Muzyka | 19,500 |
| 139 | Andre Lavigne | 17,300 |
| 159 | Anh Van Nguyen | 4,100 |
Play for the six-handed Day 2 starts at 1 p.m. Vegas time.
Elezra Rounds First Turn in H.O.R.S.E. with Biggest Stack; Idema Top Canadian in 10th
Players at the 2015 WSOP got back on the horse again Tuesday with Day 1 of Event #35: $3,000 H.O.R.S.E. Speaking to the popularity of the mixed game, 376 entries started off Day 1, looking for their share of the $1,026,480 purse. Top spot in the tournament will pay $261,774 for the win, and 40 runners will collect at least $5,563 before they go home.
When they rounded the first corner and bagged their stacks for the night, Eli Elezra was sitting atop the chip counts with 69,000. The familiar Vegas face has two bracelets already, one of which is in stud hi-lo, one of the disciplines in H.O.R.S.E., and is very familiar with the mixed-game scene.
Right behind Elezra is Joshua Turner, a relative newcomer to the WSOP stage, with 65,400. Turner scored his first WSOP cash this year in the $1,500 razz, but he comes to the big show with over $200,000 in Circuit winnings including two rings. Double bracelet winner John Monette is close behind in third with 65,100.
Top Canadian in the field is Vancouver's Daniel Idema in 10th with 55,500. Idema, with two bracelets including one in stud hi-lo from 2013, will be a big threat going forward in this race. Other Canucks to watch are Greg Mueller (22nd — 50,300), Nicholas Verkaik (45th — 35,000), Thomas Taylor (85th — 26,100), Mike Watson (111th — 23,500), Mike Leah (129th — 21,000), Jonathan Duhamel (144th — 18,700), and Sean Eichendorf (157th — 16,900).
They start running the second leg of the H.O.R.S.E. race at 2 p.m. Wednesday.
Details and photo courtesy of the WSOP Live Blog.
Get all the latest PokerNews Canada updates on your social media outlets. Follow us on Twitter and like us on Facebook!