2015 WSOP Day 23: Idema Makes Final Three of H.O.R.S.E.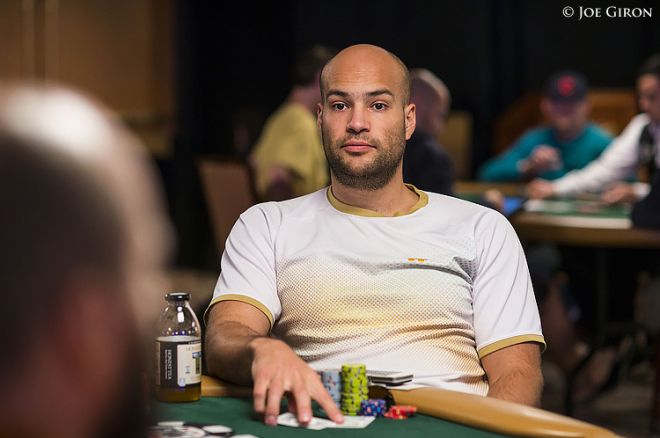 Andre Boyer on International Final Table in Split-Format Hold'em
They've played a day of nine-handed poker, a day of six-handed poker, and a day of heads-up matches, and now the final eight players are lined up for the final day of Event #34: $1,500 Split Format Hold'em.
On Thursday's Day 3 of the event, 32 players remained and had two heads-up matches to win in order to advance to the final day. Only eight players were going to be able to do so. The players eliminated in the first round of the day collected $7,189, and those who were eliminated in the second round cashed for $13,081.
Remarkably, the final eight players represent eight different countries, making this a truly international game for the big stage. Among them is our one Canadian hope, bracelet winner Andre Boyer with the second-most chips. Here's a look at the final-table lineup.
| Rank | Player | Country | Chips |
| --- | --- | --- | --- |
| 1 | Jonas Christensen | Denmark | 929,000 |
| 2 | Andre Boyer | Canada | 851,000 |
| 3 | Chris Bolek | U.S.A. | 849,000 |
| 4 | Erwann Pecheux | France | 831,000 |
| 5 | Idan Raviv | Israel | 829,000 |
| 6 | Gavin Orourke | Ireland | 785,000 |
| 7 | Andre Gaw | Philippines | 756,000 |
| 8 | Isaac Kawa | Belgium | 721,000 |
These final eight resume play on the final table at 1 p.m. on Friday to play down to a champion. Whoever earns that title will also earn $250,483 to go with the WSOP bracelet.
Idema Among Final Three Still Running in $3,000 H.O.R.S.E. Race
There were still three horses left in Event #35: $3,000 H.O.R.S.E. after the end of three days of play. Play on Day 3 started with 29 runners returning to the field of green looking to be in the winner's circle. When 10 levels of play were complete, three players still had chips in front of them, fighting to be the last horse running.
Canada was well represented in the race. Mike Leah and Daniel Idema both had chip bags to empty at the start of the day. Leah managed to turn his very small 28th-place stack into a 13th-place finish for $11,845. Idema brought a bigger stack into the day, and was able to play that into a spot at the final table.
They got to the unofficial final table after just six hours of play when Farzad Bonyadi was eliminated in 10th for $18,743 in a stud hi-lo hand that saw him lose to Paul Sexton's quad kings. The unofficial final table included some big names. In addition to Idema and Sexton, Taylor Paur, John Racener, David Oppenheim, and Randy Ohel all managed to make the final nine.
There wasn't time to finish things off however. They went from 29 players to nine players in six hours, but it took another six hours to go from nine to three. Along the way, all but Idema, Matt Vengrin, and Kevin Iacofano fell by the wayside. Below are all the final table payouts so far.
| Finish | Player | Prize |
| --- | --- | --- |
| 4 | John Racener | $75,559 |
| 5 | Iakov Nepomnyashchiy | $55,553 |
| 6 | Paul Sexton | $41,438 |
| 7 | Randy Ohel | $31,358 |
| 8 | Taylor Paur | $24,070 |
| 9 | David Oppenheim | $18,743 |
Idema had a rocky path to the final three, alternately holding the chip lead, sitting middle of the pack, and languishing near the bottom. He led the way when play was five- and four-handed, but ended up making it to the final three in bottom chip position. As the only player at the table with more than $1 million in cashes, and a bracelet — Idema has two — Idema's experience should serve him well in his mission to win his third bracelet. The final three chip counts are below.
| Rank | Player | Chips |
| --- | --- | --- |
| 1 | Matt Vengrin | 3,175,000 |
| 2 | Kevin Iacofano | 1,390,000 |
| 3 | Daniel Idema | 1,080,000 |
Players are back at the table at 2 p.m. Vegas time on Friday to decide who wins, places, and shows. Follow us here to see if Idema can come from behind to nose out the competition at the line for his third bracelet.
Levy is Fourth After Second Day of Pot-Limit Omaha; Wunstel Leads Overall
Play in Day 2 of Event #36: $1,500 Pot-Limit Omaha began with 140 players returning to the felt knowing that only 117 of them would get paid. By the time the day was over, only 19 players remained in contention, and everyone returning for Day 3 was guaranteed $8,063.
At the top of the chip counts is Corrie Wunstel, the only player over, or even close to, one million chips. He'll be playing 1,217,000 going into Day 3 which is nearly twice what the second stack, Shane Abbott, will bring to the table. His 646,000 is comparable to the third stack, Matthew Colvin at 520,000.
In fourth spot is a Canadian, listed as "N/A" Levy, with 491,000. One other Canadian has chips in a bag somewhere in the Rio in preparation for Day 3. Markus Cara will stack up 313,000 chips to start the day.
Quite a few people cashed out on Day 2. Calgary's Gregory Genge — chip leader after Day 1 — managed to turn that into a 33rd-place finish for $6,732. Also cashing for that amount was Vincent Lam in 30th. Two other Canadians managed to collect some money from the cage. Todd Bryson finished 67th for $3,689 while Thomas Taylor scored a minimum cash of $2,503 for 116th place.
Action on Day 3 kicks off at 1 p.m. local time, and play is expected to continue until a winner is decided.
Two Canadians Among Final Two Tables of 6-Handed Hold'em Championship
When 102 people returned in Day 2 for Event #37: $10,000 No-Limit Hold'em 6-Handed Championship, they all knew only 30 of them would get paid. At the end of the day, just 12 players remained battling for the top prize.
Among the final 12 are two Canadians. Recent bracelet winner Sam Greenwood will be playing 455,000 on the third and final day. Mark Radoja brings the smallest stack into the day, with only 143,000, hoping to turn that into a deep run to boost his 15th-place, and top Canadian, spot on the 2015 WSOP Player of the Year race. Radoja is 18 points ahead of Mike Leah who is 16th in the race, but Radoja will get a boost in his score no matter how he finishes on Day 3.
It's no surprise the final 12 is littered with high-end poker talent. Doug Polk leads the way with 1,443,000, while Player of the Year leader Paul Volpe sits third with 896,000. The full chip counts going into the final day are below.
| Rank | Player | Chips |
| --- | --- | --- |
| 1 | Doug Polk | 1,443,000 |
| 2 | Kenneth Fishman | 1,200,000 |
| 3 | Paul Volpe | 896,000 |
| 4 | Fedor Holz | 841,000 |
| 5 | Kevin Song | 661,000 |
| 6 | Byron Kaverman | 580,000 |
| 7 | Sam Greenwood | 455,000 |
| 8 | Chris Klodnicki | 434,000 |
| 9 | Fernando Brito | 419,000 |
| 10 | Olivier Busquet | 403,000 |
| 11 | Thomas Muehloecker | 254,000 |
| 12 | Mark Radoja | 143,000 |
2010 WSOP Main Event Champion Jonathan Duhamel made it through the money bubble, finishing 21st for $22,057. Other notable players to cash include Faraz Jaka in 19th, Kyle Julius in 20th, and David Benefield in 22nd all cashed for $22,057. Max Silver (26), Bertrand Grospellier (28), and Phil Galfond (30) all scored minimum cashes of $17,456.
The final day of play kicks off at 2 p.m. Pacific time Friday.
Eric Afriat in Fourth After First Day of $3,000 Hold'em
Event #38: $3,000 No-Limit Hold'em kicked off Thursday with a field that fell 11 shy of 1,000. When all the entries were calculated, 989 entries contributed to a prize pool of $2,699.970. That means first place will pay $546,843 with a minimum cash worth $5,129.
Just 298 players made it through the first day of play, still looking to the 117 paid spots up top. A couple of Canadians fell by the wayside on Day 1 as both Matt Salsberg and Mike Leah paid their buy-in and went broke. They were hardly alone as big names like Vanessa Selbst, Jennifer Tilley, Jason Mercier, and Tony Gregg all failed to make it into Day 2.
At the top of the players who did make it through to Day 2 is American Chris DeMaci with 214,900. DeMaci is nearing $1 million in lifetime earnings at the WSOP, and a deep run here could push him over the top. Jorge Breda is second with 192,800 and Nick Yunis is third with 163,400. Immediately behind Yunis is Canadian Eric Afriat, looking for his fifth career WSOP cash.
A total of 12 Canadians managed to bag chips at the end of Day 1. Among the bigger stacks, Jonathan Cohen sits 48th with 76,100 and Matt Marafioti is 58th with 68,600. Other Canadians to make it through the day include Marc-Andre Ladouceur, Noah Vaillancourt, Max Greenwood, and Sorel Mizzi.
Action on Day 2 kicks off in Vegas at 1 p.m. Friday.
Eric Wasserson Leads First Day of 10-Game Mix
Mixed-game poker requires a special set of skills. It's obvious that mixed games require solid skills in a variety of kinds of poker, but on a more subtle level, mixed games require a mind that adapts easily to new circumstances. "Shifting gears" is more than just a betting term in mixed games, as each new game requires a mental reset and a whole new approach to play.
The 10-game mix is one of the premier examples of the mixed game. Combining all game types, all formats, and all limits, the 10-game mix truly tests a player's skill in every conceivable aspect of poker.
Event #39: $1,500 Ten-Game Mix — the first chance WSOP fans have to see 10-game in action — drew 380 runners for the first day, and when play finished for the day just 89 remained. Eric Wasserson leads the way into Day 2 with 85,350 chips. Wasserson is looking for first bracelet after 12 WSOP cashes.
Sitting second in chips is a huge name in the mixed-game world: Eli Elezra. Elezra is a fixture on the Vegas scene, playing in some of the highest stakes available, and both his bracelets are from non-hold'em games in the 10-game rotation. His WSOP resume, littered with 39 cashes across every poker discipline, proves he will be a force to be reckoned with playing a stack of 82,325.
Canada has five runners still looking for one of 42 paid spots. Mike Watson sits on top of the Canadians in 21st place with 45,575. Also still in the mix is Canada's best known player, Daniel Negreanu in 51st with 26,150. The other Canadians who bagged at the end of Day 1 were Christopher Bond, Jordan Cossette, and Greg Mueller.
Day 2 gets under way at 2 p.m. Pacific time Friday.
Details courtesy of the WSOP Live Blog.
Get all the latest PokerNews Canada updates on your social media outlets. Follow us on Twitter and like us on Facebook!