2015 WSOP Day 24: Second and Third Canadian Bracelets Won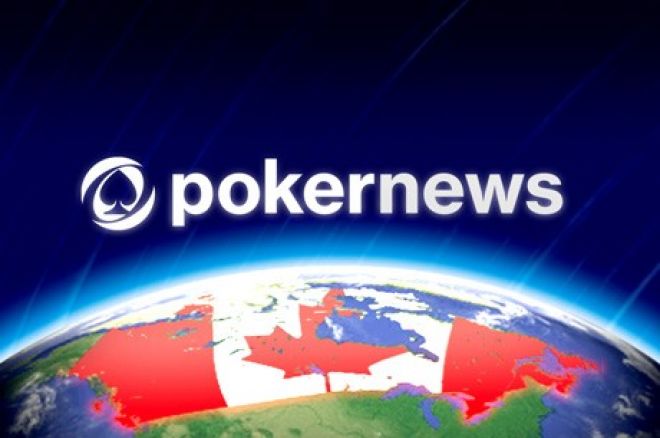 What a day it was for Canada at the 2015 World Series of Poker (WSOP). Of the four final tables in play, Canadians were in contention on all four. There were three bracelets awarded on Friday, Day 24 of the series, and two of them were won by Canadians.
In another event, a Canadian bagged the most chips at the end of Day 2, and another Canadian booked his seat for Saturday's 10-game final table. In total, there were eight separate tournaments in action on Friday, making it one of the busiest days of the summer.
Here's everything you need to know to stay up to date on the WSOP:
1996 Main Event Final-Tablist Andre Boyer Wins Split Format for Canada
It was a remarkably international mix when the final table of Event #34: $1,500 Split Format Hold'em resumed on Friday for the final table. The eight remaining players represented eight different countries, and the Canadian came out on top.
The split-format hold'em tournament began with a day of nine-handed poker, then they played six-handed for a day, followed by two heads-up matches, before finally reaching this final table of eight.
At the end of the night, it was Quebec's Andre Boyer heads-up against Parisienne Erwann Pecheux — a battle between the old school and the new school. Pecheux had Boyer out-chipped by a large margin at one point, but Boyer turned things around when he caught a lucky river in an all-in hand that gave him the double-up, and pushed forward to a victory.
With a short stack, Boyer was limped to on the button preflop and then shoved on the flop of



. He was holding


and was called by Pecheux with


. The

came on the turn, teasing Pecheux with the bracelet, but the

on the river gave Boyer the double-up and his tournament life was renewed.
Just six hands later, with Boyer holding the chip lead, Pecheux pushed all in preflop with


and Boyer made the call with


. After the board ran out





, Boyer was determined to be the victor and had earned himself his second WSOP bracelet and $250,483.
The 72-year-old's first bracelet was in a $3,000 event in 2005 when he defeated Matt Glantz heads up, and Boyer was also on the Main Event final table way back in 1996. Proving he still has the ability to compete nearly 20 years after his first WSOP cash, Boyer collected the third bracelet (Event #35 finished earlier in the day) for Canada in the 2015 series and the second of the day. For a more detailed profile of Andre Boyer's win, head to this feature article.
Dan Idema Wins Third WSOP Bracelet in H.O.R.S.E.
With just three players remaining, the extra day added to Event #35: $3,000 H.O.R.S.E. was going to finish fairly quickly. Matt Vengrin, Kevin Iacofano, and Dan Idema returned to battle it out for the bracelet, and the Canadian hopeful was the shortest stack at the table when play resumed.
An hour and a half later, Dan Idema was scooping up all the chips after defeating Matt Vengrin heads up in a stud hand. All the money went in the middle on fifth street with Idema calling Vengrin's shove. Idema held


/



to Vengrin's





for sixes versus queens. With the

on sixth street, Idema improved to two pairs, and Vengrin's

was of no help. The seventh street of

for Idema and

for Vengrin sealed the deal, and Idema claimed his third WSOP bracelet — the second for Canada of 2015 and the first of two for Canadians of the day.
Dan Idema won $261,774 for the win, putting his career WSOP total at $1,351,159. Idema is proving to be a master of a range of poker variants, especially limit games. His first WSOP result was finishing second in the $10,000 Limit Hold'em Championship in 2010 and he followed that with another final table in the same year in a $2,500 mixed hold'em event. The following year, Idema bested his previous year's result by winning the $10,000 Limit Hold'em Championship for his first bracelet.
A string of cashes later, Idema won his second bracelet in 2013 in seven-card stud hi-lo. Last year, Idema threatened to claim another victory when he final-tabled the first-ever dealer's choice event, but ultimately finished fifth. His victory in H.O.R.S.E. establishes him as second-best in Canada for career bracelets (Daniel Negreanu has more) and proves that he has a broad range of skills. For even more details about the Vancouver, B.C.-based former hockey pro, read this feature on his win.
Markus Cara Books Final-Table Finish in $1,500 Pot-Limit Omaha
It was sure to be a long day with 19 players returning to Event #36: $1,500 Pot-Limit Omaha and the plan being to play to a winner. Not surprisingly, they didn't quite make it, calling it a night with just two players remaining.
Ari Levy and Markus Cara were the two Canadians returning on Friday, and one of them made it to the final table. Levy was eliminated early in the day when he limped preflop and went three-handed to the



flop. Levy check-called a bet from Kevin Allen while the third player gave up. The turn brought the

and both players checked to the

on the river. Levy led out with a bet and Allen raised him all in. With his tournament at risk, Levy went in the tank before finally calling with




for third-nuts. Allen showed the better flush with




and Levy was eliminated in 18th place for $9,802.
When the final table was set, Markus Cara was there with a mid-field stack and giving his countrymen hope that a third Canadian bracelet could be won in the same day. With a relatively short stack, he had a lot of work to do to get there, and it proved too much. He raised preflop and was called by Kevin Saul to bring a flop of



. Cara continued and faced an all-in raise from Saul, which he called.
Holding




, Cara had the better hand with middle set, but Saul's




had a ton of straight-outs. The

on the turn completed one of Saul's possible straights, propelling him into the lead, and Cara needed the board to pair to retake the lead with a boat. The river was the

and Saul's straight was the winning hand, eliminating Cara in sixth for $41,504, adding yet another final-table result for Canada on Friday.
Kevin Saul will be back for another day, as he and Corrie Wunstel will be returning for heads-up play on Saturday to determine who is taking home the bracelet and the better prize of $266,874. Play resumes at 2 p.m. Pacific time.
Sam Greenwood Finds Another Final Table; Byron Kaverman Wins $10K 6-Max Championship
Event #37: $10,000 No-Limit Hold'em 6-Handed Championship was the setting for another great Canadian sweat as Sam Greenwood was positioned to win yet another Canadian bracelet on Friday and his second of the summer.
The day began with 12 players remaining, and Sam Greenwood sat mid-pack and was joined by Mark Radoja at the bottom of the counts. Radoja was unable to improve, being the first elimination of the day when he go it all in with


to Paul Volpe's


and losing the race on the





board, collecting $36,275 for 12th place. Amazingly, this marked Radoja's seventh cash of the 2015 WSOP.
When the final table was set later in the day, it was an incredible lineup of talent. Sam Greenwood was joined by Fedor Holz, Doug Polk, Byron Kaverman, Thomas Muehloecker, and Paul Volpe.
Paul Volpe is having an incredible series and this $10,000 six-max event marked his third final table of the summer, though he has yet to secure a bracelet. His third time was not the charm, as he was the first eliminated on the final table. He got it all in preflop with


against Sam Greenwood's


and couldn't catch up, collecting $89,000 for his run.
Despite holding the chip lead for a large portion of the final table, Sam Greenwood ran into trouble when he gave Byron Kaverman a double-up in a race with


to Kaverman's


. An ace hit the flop and Greenwood never regained the lead.
Just half an hour later, Kaverman finished off Greenwood when the two went to a flop of



and Greenwood raised all in over Kaverman's bet. Greenwood was at risk with


when he was called by Kaverman's


. The eights and fours stayed hidden in the deck as the

and

came on the turn and river, eliminating Greenwood in fifth for $126,745. This has been an incredible year for Greenwood, as he won his first WSOP bracelet earlier in the series and this second final table shows his consistent ability to run deep.
Following Greenwood out the door was Thomas Muehlocker (fourth — $182,448) and Fedor Holz (third — $268,463) before Byron Kaverman made good use of all those chips by eliminated Doug Polk heads up for the bracelet. It all came down to a preflop all-in situation with Polk holding


to Kaverman's


and the board ran out with a pair of fours and a five to match Kaverman's, eliminating Polk in second. Kaverman's 20th WSOP cash was his first bracelet win, and the $657,351 prize was added to his previous half a million in winnings.
Day 2 of $3K Hold'em Ends with Jean-Pascal Savard on Top
With 989 total entries, Event #38: $3,000 No-Limit Hold'em returned for Day 2 with 298 players remaining. Among them were a dozen Canadians, but none with more chips than Eric Afriat.
By the end of the day, 48 players remained, and only one is Canadian. However, he's in the best spot, chip leading the field with 1,066,000. Jean-Pascal Savard is positioned well in his third cash of the series and is looking for his first WSOP bracelet.
More than half of Friday's field had to be eliminated before the players were in the money, and more than half of the Canadians were gone before the money bubble. Among the 117 who survived to collect a prize are Marc-Andre Ladouceur (87th — $6,047), Noah Vaillancourt (81st — $6,722), Brent Bibby (69th — $7,559), and Matt Marafioti (58th — $8,612).
The remaining 48 players will return at 1 p.m. on Saturday and Jean-Pascal Savard will be looking to take his chip lead all the way to the final table.
Mike Watson Makes Final Table of $1,500 10-Game Mix
One of the most exciting things about the WSOP is seeing a whole range of games that are difficult to find anywhere else except in home games and a few poker rooms that have a local favourite they cater to. Showcasing the breadth of formats is Event #39: $1,500 Ten-Game Mix.
The 10-game tournament returned for Day 2 after reducing the field of 380 to 89 on Day 1. Eric Wasserson began the day with the chip lead and the Canadians to return were Mike Watson, Daniel Negreanu, Christopher Bond, Jordan Cossette, and Greg Mueller.
The day concluded with a final table of nine set, and Mike Watson is in there with a mid-field stack representing Canada.
The money bubble burst with the elimination of the 43rd-place player, and two Canadians were among those who collected a prize on Friday. Daniel Negreanu was the second player eliminated in the money, collecting a min-cash for 41st place. Jordan Cossette managed a deeper run, collecting $2,990 for one pay level higher in 31st, but just missing another pay jump by one position.
Brian Hastings leads the final nine and Eric Wasserson will be back, as will Todd Brunson. They resume play at 2 p.m and we'll have our eyes on Mike Watson as he looks for his first-ever WSOP bracelet.
Daniel Lamb Bags Third-Best in Seniors Event
WSOP's generous definition of "senior" gives all players 50 years and older a chance to play in Event #40: $1,000 Seniors No-Limit Hold'em Championship. Without all the young guns to contend with, it's always a popular event for the more mature player, and the 4,193 entries affirms that fact.
Friday's Day 1 concluded with 566 players remaining, and they'll return on Saturday to try to be one of the 423 players to collect a piece of the $3,773,700 prizepool. First place will earn an impressive $613,466, but it won't be determined who will lay claim to it for a couple of days yet.
Dale Eberle will return as the chip leader with 160,000, but Canadian Daniel Lamb isn't far behind with 119,300 to put himself third overall. Lamb is one of 30 Canadians who will be back for Day 2 when they resume play at 11 a.m. for another 10 levels that will see them head well into the money.
Leah, Negreanu, and Duhamel Survive Day 1 of $10K Stud Hi-Lo
The stakes are high and the mixed-game specialists are out in full force. Event #41: $10,000 Seven Card Stud Hi-Lo 8 or Better Championship saw 111 entries, and it proved to be a roster filled with talent. By the end of the day, 64 players remained to advance to Saturday's Day 2.
Three Canadians will be back on Saturday, and they're arguably the three best poker players in the country. Mike Leah (70,000), Daniel Negreanu (65,600), and Jonathan Duhamel (51,500) all bagged Day 1 chips. Ryan Miller will return with the most — 135,600 — and other survivors include big names like Max Pescatori (122,100), Gary Benson (121,900), Norman Chad (89,400), Greg Raymer (59,200), Mike Matusow (46,500), Huck Seed (35,000), among many others.
Only 16 players will earn a piece of the $1,043,400 prizepool, so there is plenty of Day-2 play before the money bubble. Play resumes at 2 p.m. and another 10 one-hour levels will be played before the surviving players bag up their chips for Day 3.
Details courtesy of the WSOP Live Blog.
Get all the latest PokerNews Canada updates on your social media outlets. Follow us on Twitter and like us on Facebook!