2015 WSOP Day 26: Max Pescatori Wins His Second Bracelet of the Summer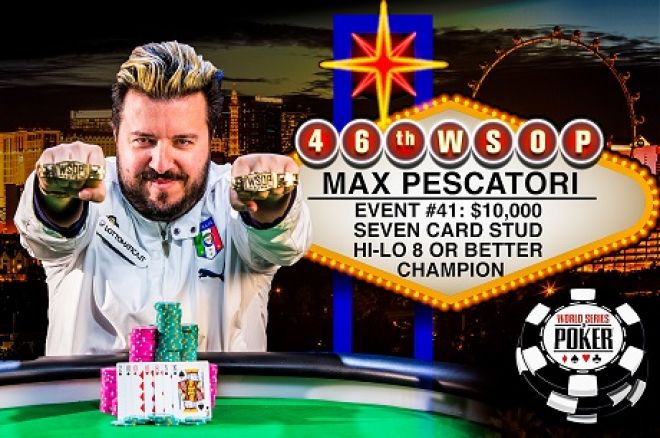 Third Time's the Charm for Thiago Nishijima
Brazil is on the board with the country's first WSOP gold bracelet since 2011. Thiago Nishijima, better known as 'XTheDecanoX' online where he has amassed more than $3,000,000 in tournament earnings, has turned his third WSOP final table into one his country will never forget in Event #38: $3,000 No-Limit Hold'em.
Nishijima entered play on Day 4 as the chip leader with five players remaining including Jesse Sylvia, Sam Razavi, Yun Fan, and Sotirios Koutoupas. Nishijima only relinquished the chip lead once after Sylvia eliminated Fan in fifth place. Nishijima reclaimed the lead in a massive pot between Razavi and Sylvia.
Razavi shoved under the gun for 1.7 million and Sylvia made the call. Action was then on Nishijima who three-bet shoved over the top putting the pressure on Sylvia. Sylvia was forced to fold, giving Razavi a chance to triple up with his


against the


of Nishijima. The board ran out





and Nishijima paired his king on the river to eliminate Razavi in fourth for $153,682.
Sylvia was the next to fall at the hands of the Brazilian. Nishijima opened to 260,000 and Sylvia raised all in for 1.96 million. Nishijima waited for a total count and made the call. Sylvia was behind with


and needed help to avoid elimination by Nishijima's


. The



flop couldn't have been much better for Sylvia, flopping a pair and a flush draw. The

on the turn however gave Nishijima the lead and the

on the river would seal Sylvia's fate, eliminated in third for $211,731.
Koutoupas and Nishijima would battle for 40 hands or so before Nishijima was able to close. After Nishijima limped in the small blind, Koutoupas moved all in. Nishijima made the call with


and was ahead of Koutoupas'


. The dealer fanned out a board of





and Nishijima knocked out his final competitor. Koutoupas earned $338,414 for second place.
The $546,843 cash for first place was Nishijima's 17th career WSOP cash and brought him over the $1,000,000 career WSOP earnings mark.
All-American Final Table Set in Senior's Event
When Event #40: $1,000 Seniors No-Limit Hold'em Championship began, more than 4,000 people turned out to bloat the prizepool to almost $4 million. By the time Day 3 ended, only nine players — all Americans — remained in contention for the title.
Day 3 began with just 65 people remaining, the money bubble long past on Day 2. Three Canadian seniors started Day 3 with chips. Top Canadian at the start of the day was Leon Chambers in 15th place with 461,000. Douglas Vollman started the day 20th in chips with 379,000, while Salvador Villaluz bagged the 30th stack with 289,000. None of the Canadians managed to make it through the day however, and their final payouts are below.
| Finish | Player | Prize |
| --- | --- | --- |
| 17 | Douglas Vollman | $23,510 |
| 19 | Leon Chambers | $18,642 |
| 31 | Salvador Villaluz | $14,906 |
The final table will be headed by Travis Baker who comes to the table with 4,936,000 chips. The only other player over four million is Stephen Nussrallah with 4,060,000. The full final table chip counts are below.
| Rank | Player | Chips |
| --- | --- | --- |
| 1 | Travis Baker | 4,935,000 |
| 2 | Stephen Nussralla | 4,060,000 |
| 3 | Jim Hopperstead | 2,835,000 |
| 4 | Justin Tseng | 1,950,000 |
| 5 | Carl Torelli | 1,640,000 |
| 6 | Lee Budin | 1,630,000 |
| 7 | Shane Goldsmith | 1,600,000 |
| 8 | Steve Gee | 1,455,000 |
| 9 | Michael Smith | 855,000 |
Action on the final table gets underway at 11 a.m. Vegas time.
Max Pescatori Wins Fourth Bracelet, Second in 2015, in Stud Hi-Lo
When Event #41: $10,000 Seven Card Stud Hi-Lo 8 or Better Championship kicked off three days ago, 111 entries came out to take their shot. That meant players were playing for a share of $1,043,400 with 16 players getting something back out of the prizepool.
When Day 2 ended, there were just 11 people remaining in the hunt for the big prize. Stephen Chidwick of the United Kingdom led the counts when the day began by more than 250,000 chips over Max Pescatori in second. Australian Gary Benson started the day third with 421,000.
Also in the mix was Canada's (and the world's) winningest poker player, Daniel Negreanu. Negreanu hit the felt in fifth spot, stacking 252,000 to start the day, hoping to turn it into his seventh bracelet.
Negreanu managed to play that stack into a final-table appearance, and survived down to the final three before bowing out. It was eventual-winner Max Pescatori who put Negreanu on the ropes in a hand where he bricked an apparent wheel draw, allowing Pescatori to scoop a huge pot with just a pair of aces. Negreanu was left with just over two big bets, finishing a few hands later in third place for $113,062.
That left Stephen Chidwick heads up with Pescatori. While Pescatori came to the heads-up battle with three bracelets, including one from earlier this year, Chidwick was still looking for his first after 32 lifetime cashes totalling almost $1.5 million.
Heads-up play took about an hour and, initially, Chidwick made some headway against the experienced Italian. Early in heads-up play, he held the chip lead, but Pescatori would prove too strong, scooping two pots in rapid succession at the end to take it down.
In one of the key final hands, Pescatori check-called fourth and fifth street before leading sixth street with their boards reading




for Pescatori and




for Chidwick. Chidwick called and on seventh Pescatori checked letting Chidwick lead with a bet. Pescatori called and Chidwick declared his hand as "sevens and an eight-seven low."
"I scoop!" Pescatori said with surprise, tabling



for aces and an eighty-six low. The huge pot gave Pescatori a lead of almost 900,000 chips, and he never looked back, eliminating Chidwick in second for $180,529. Pescatori's fourth bracelet win was worth $292,158 and made him the second person to win two bracelets this year after Brian Hastings won his second the day before. The win also vaults Pescatori to seventh in the WSOP Player of the Year standings, 31 points behind the highest Canadian in the list, Mark Radoja in sixth.
Timoshenko Leads New Format Extended Play
Event #42: $1,500 Extended Play No-Limit Hold'em offered players a bit of extra time, boasting 90-minute levels instead of the standard 60. A whopping 1,914 players took advantage of the extra time, building a prizepool for the event of $2,583,900. Day 2 saw the money bubble burst, with 543 players whittled down to just 115 players returning for play on Day 3.
Leading the way is Yengeny Timoshenko, a player well known for his deliberate action. As the only player to bag over 400,000, it's clear that the slower pace of play is well suited to his style. In second to start Day 3 is Antonio Esfandiari with 368,000.
Canada has four players coming back to the felt for Day 3. At the top of the list is Anthony Diotte in fifth place with 306,700. April Facey, earning her first WSOP cash since the 2013 Ladies Event, starts the day 63rd with 104,800. Cuong Tran is 86th with 59,400, while Mark Radoja, working on his astonishing eighth cash in this year's series, is 87th with 59,000.
Two Canadians managed to cash on Day 2 of the event. Lazlo Somogyi from Port Coquitlam, B.C. finished 125th for $3,514, while Sam Chartier finished 161st for $3,178.
Action on Day 3 kicks off at 1 p.m. Pacific time.
Super Seniors Kick Off the New 65+ Event
With the generous definition of "senior" for Event #40 (50 and up), the WSOP have added an additional tournament this year that fits the more standard definition of "senior." Event #43: $1,000 Super Seniors No-Limit Hold'em restricts entry to only those players who are 65 years old and better.
Day 1 began on Sunday and saw 1,533 mature players pay registration to create a prizepool of $1,379,700. The eventual winner will receive $262,200, which would be a nice addition to any retirement plan.
By the end of the day, just 253 players remained and Henry Hannigan had the most chips with 115,000. With 171 players scheduled to reach the payouts, the money bubble should approach in early- to mid-day. Play resumes at 11 a.m. on Monday.
Seiver Leads Field of Dreams in Poker Player's Championship
Next to the Main Event, the Poker Player's Championship is arguably the most important tournament of any WSOP. It usually draws the biggest names in the game, and Event #44: The Poker Player's Championship in 2015 was no exception. A total of 77 players came out on Day 1, and 73 made it through to the end of the day. Late registration remains open until the start of Day 2 however, so no final numbers are in yet.
The 10-game mix drew some of the biggest names in the game, including Paul Volpe, Abe Mosseri, Michael and Robert Mizrachi, George Danzer, and many others. At the top of the counts at the end of the day was one of the most respected young players on the scene today, Scott Seiver, with 350,700. That gave him a huge lead over second place David Oppenheim who bagged 279,000. Justin Smith finished in third with 273,300.
Canada was well represented on Day 1. Shawn Buchanan leads the Canadian contingent, bagging a 33rd-place stack of 167,800. Mike Leah and Daniel Negreanu ended the day 52nd and 53rd respectively, both bagging more than 125,000 chips. The final Canadian with chips at the end of the day was Jonathan Duhamel who finished 62nd with a respectable stack of 101,200.
Some other names to bag stacks at the end of Day 1 include Abe Mosseri (267,910), David 'ODB'Baker (238,000), John Hennigan (212,100), David Benyamine (189,500), Shaun Deeb (184,400), and Jason Mercier (136,400) among many others.
Cards are in the air on Day 2 at 2 p.m. when registration will close and the final numbers are in.
Details and photo courtesy of the WSOP Live Blog.
Get all the latest PokerNews Canada updates on your social media outlets. Follow us on Twitter and like us on Facebook!