2015 WSOP Day 27: Shawn Buchanan Only Canadian Remaining in Poker Player's Championship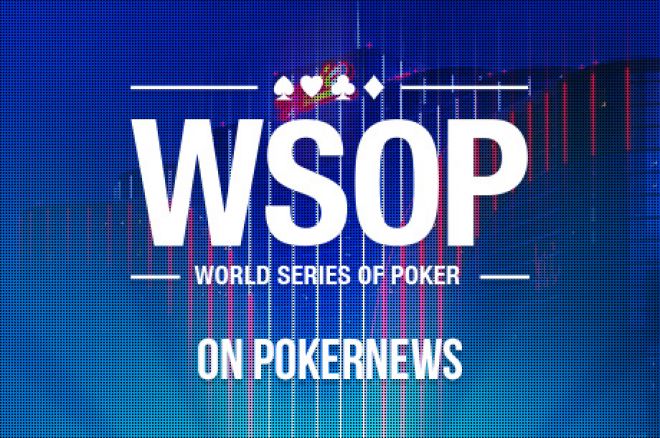 Travis Baker Wins Seniors Bracelet in First WSOP Cash
The all-American final table in Event #40: $1,000 No-Limit Hold'em Championship resumed play on Monday to determine a new bracelet winner, and it was the man who started the day with the chip lead who propelled himself to victory.
The 50-and-up event for poker's mature players saw 4,193 entries to create a prizepool of $3,773,700. The largest portion was awarded to Travis Baker from Tulsa, Oklahoma, earning $613,466 for rising to the top on Monday.
This was Baker's first-ever WSOP cash, and his previous tracked live tournament cashes totalled a little more than $30,000, making this bracelet win easily the greatest poker achievement of his life. Here's how the final nine players finished:
| Finish | Player | Prize |
| --- | --- | --- |
| 1 | Travis Baker | $613,466 |
| 2 | Carl Torelli | $378,766 |
| 3 | Jim Hopperstead | $274,989 |
| 4 | Michael Smith | $202,157 |
| 5 | Justin Tucker | $149,929 |
| 6 | Lee Budin | $112,154 |
| 7 | Stephen Nussrallah | $84,644 |
| 8 | Steve Gee | $64,417 |
| 9 | Shane Goldsmith | $49,435 |
April Facey and Anthony Diotte Deep in Extended Play
WSOP is offering several new formats on this year's schedule, and Event #42: $1,500 Extended Play No-Limit Hold'em is one of them. The Monster Stack famously gives everyone extra chips for more play, and the Extended Play provides more room to play through a different adjustment: 90-minute blind levels rather than the usual 60 minutes.
Monday saw Day 3 of the unique tournament resume with 115 players and they were all well into the money already. Four Canadians were among those to return, and two of them survived the day to play Day 4. Anthony Diotte bagged 817,000 to place him fifth overall, while April Facey finished in the middle of the pack with 498,000. Mark Radoja was eliminated in 94th for $3,927 (his eighth cash of the series already), and Cuong Tran was done in 78th for $5,012.
There will be 26 players returning on Tuesday for Day 4, which is slated to be the final day, but with the number of people remaining and the longer levels, the event will almost certainly need another day to determine who will take home the $478,102 first-place prize. Play resumes at 1 p.m. with Barny Boatman leading the field with 1,152,000.
Super Seniors Dominated by Americans
With the Seniors done and dusted, the "real" seniors just concluded Day 2 of their tournament. Event #43: $1,000 Super Seniors No-Limit Hold'em restricts registration to players 65 years of age and older and saw 1,533 entries on Day 1. On Monday, 253 players returned and the money bubble was burst when 171 remained.
After a long day of play, only 25 players remained, and it was an all-American field with Wayne Knyal leading them all with 779,000 chips.
The longest-surviving Canadian was Margaret Krowiak who was eliminated in 37th for $5,298. The only other Canadians who cashed were Serge Grenier (109th — $2,152), Robert Sharpe (122nd — $1,986), and Jurrien Eisinga (138th — $1,986). Only one other in-the-money player was not American. Michel Akrich finished 99th and is from France. All of the other 166 players who made the money are American.
The 25 players remaining will return for Day 3 — the final day — on Tuesday at 11 a.m. Pacific time.
Scott Seiver Looking to go Wire to Wire
Once again, Scott Seiver topped the field in Event #44: The Poker Player's Championship. A talented lineup of 77 of the world's best poker players entered the Rio on Day 2. Only 47 would survive with the Day 1 chip leader still out front.
Seiver bagged 688,500 to end play with Abe Mosseri (657,400), Matthew Ashton (607,900), Dee Tiller (602,400), and Mike Gorodinsky (488,000) rounding out the biggest stacks still alive. Two-time event champion Michael Mizrachi is still in the hunt with other notables Ben Sulsky, Dan Shak, Jean-Robert Bellande, John Monnette, Brandon Shack-Harris, and WSOP Player of the Year front-runners Paul Volpe and Phil Galfond.
Canadian poker pro Shawn Buchanan was the last canuck alive, taking 195,800 into Day 3. Top Canadian stars Daniel Negreanu, Mike Leah, and Jonathan Duhamel were unfortunate casualties on the day.
Registration closed at the beginning of the day with 84 entries. A prizepool of $4,032,000 was created which will award a first-place prize of $1,270,086. There will be 12 players paid with a min-cash worth $87,010.
Few Canadians Take to Latest $1,500 Hold'em
Another of the staple tournaments of the series began on Monday. Event #45: $1,500 No-Limit Hold'em saw 1,655 players pass through registration to amass $2,234,250 in prize money. Only 171 players will earn a piece of it, but with just 260 players bagging at the end of Day 1, it shouldn't take too long to reach the money bubble on Day 2.
Brayden Fritzshall counted out the most chip at day's end with 194,700, and the top Canadian was a long way off with the 55,600 of Ping Lin in 75th place overall. Raymond Muzyka (38,200), Kyle Ho (37,600), Eric Johnson (34,900), Dmitry Vitkind (20,000), Marshall Virtue (17,900), and Peter Cross (10,400) were the only other Canadians to survive the day.
Players will be back at 1 p.m. for moving day when we see most of this field hit the exit.
Kyle Johnson Leads Canadians in $3K 6-Max Pot-Limit Omaha
The combination of six-max and Omaha was sure to create some action on Monday with the start of Event #46: $3,000 Pot-Limit Omaha 6-Handed. By the time registration closed, 682 entries created a prizepool of $1,861,860 and Russia's Arseniy Makhaev finished the day best-positioned to take down the top prize of $437,575.
There were 154 players who bagged chips to return for Day 2 with a strong mix of players from all around the world. The best Canadian stack belonged to Edmonton, Alberta's Kyle Johnson with 98,100 chips, putting him 28th overall. Shawn Hattem wasn't far behind with 87,900, and some other great Canadian talent will be back as well. Dan Idema (80,000), Ami Barer (78,200), Naheed Bhaloo (67,700), Michael Baxter (60,100), Ryan Smith (59,800), Mike Watson (59,000), and Vincent Lam (57,000), all finished the day in mid-field or better.
The 154 survivors will return in Tuesday for Day 2 at 2 p.m. and will have to play down to 78 before they are in the money.
Details courtesy of the WSOP Live Blog.
Get all the latest PokerNews Canada updates on your social media outlets. Follow us on Twitter and like us on Facebook!