Top Pros Say 2015 WSOP Increased Starting Stacks Amount To Fool's Gold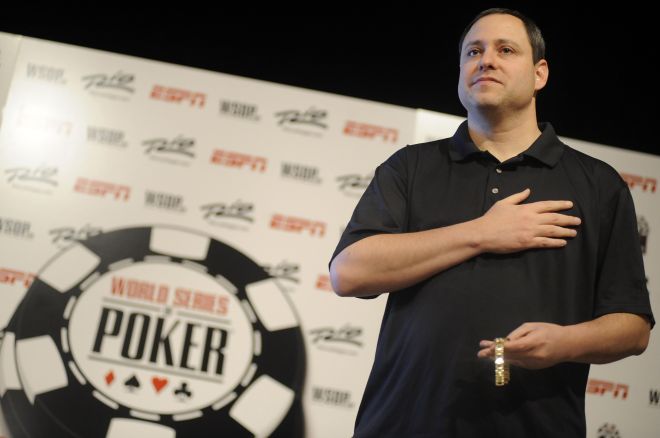 The World Series of Poker made some major structure changes heading into the summer, and a little over a week into play, a number of top professionals are claiming the change has had a disastrous effect.
For events with buy-ins from $1,000 to $5,000, the WSOP increased starting stacks by 66 percent. They added more levels to the beginning of tournaments and increased late registration by an additional two levels.
The plan was to offer players what many have clamored for over the years: more play. The result has been increased play only at the start of events, more players bagging chips on Day 1 than ever before, reaching the money bubble increasingly later on Day 2s, and some events needing an extra day to play down to a winner.
"I think most of us realize it's fool's gold," said WSOP bracelet winner David "ODB" Baker, who has 42 WSOP cashes lifetime dating back to his first in 2004. "I love the World Series of Poker, and I applaud them for trying to make changes to make things better, but the changes they've made are not very player friendly. There's way too much play beginning when it's meaningless and not enough at the end when you're playing for hundreds of thousands of dollars. Adding chips and adding levels is causing it to take way more hours to reach the money as well. All they've done is create this huge period at the beginning of events where the levels are small, chips just get passed back and forth and nobody busts.
"Basically what they've done is listen to a small minority of people who think that more chips and more levels get them more play and it is better for poker. Really, they are tricking the people who don't know any better."
According to Baker, many of the less-skilled players, who have been convinced more chips will give them more play, may get a few more hours out of their WSOP experience, but they're no closer to winning a bracelet and a couple of very long days away from even getting a sniff of the money under these new structures.
As for professional tournament grinders like him, Baker says the changes have only served to drive the hourly rate down, force them out of a number of events they may have registered but can't because they're chasing the money later than ever on Day 2's, which pushes them to the brink of exhaustion putting in long day after day playing meaningless levels of poker, particularly in the limit games.
Fellow pro and WSOP bracelet winner Scott Seiver, who appeared on the PokerNews Podcast Friday discussing the subject, agrees wholeheartedly.
"A lot of amateurs may think they like it more, but honestly, it probably costs them more money in several ways. Having to stay here longer and take more time off of work," he said. "It leaves a terrible taste in your mouth. People like the idea of investing time and getting something out of it. With this, the hourly rate is lower, the ability for more buy-ins in more tournaments is lower and the mental strain is off the charts. No one is going to get any sleep this summer.
"They're front loading all the 'extra play,' but really, at the end of the day here they've created an untenable situation and it's just going to get worse."
Top pros Justin Bonomo and Matt Glantz have also joined the ranks of the dissatisfied on Twitter.
Most mixed game pros are seeming a bit withered this early in the series. Somewhat due to structures. https://t.co/jRRc4oegZf

— Matt Glantz (@MattGlantz)
Playing til 3am could be fine. Playing til 3am, having made little progress, being nowhere close to the money does not feel rewarding.

— Justin Bonomo (@JustinBonomo)
Executive Tour Director of the World Poker Tour and Founder of the Tournament Directors Association Matt Savage also took to Facebook to provide his take on the new structures, ultimately concluding they were "hurting" numbers, "but only slightly."
Not content to simply complain, Baker did propose an improvement. He sent a letter to the WSOP and posted it on Twitter suggesting the repeated levels in the early part of the structures be taken out and time added to the later levels to give the events more play when it counts.
While WSOP Vice President of Corporate Communications Seth Palansky says the organization welcomes input from the players and told PokerNews they will look to implement those suggestions in the future, the structures for the 2015 are already set in stone.
In fact, Nevada gaming regulations dictate the WSOP send all its tournament structures in for approval, and once registration opens for the events and people start registering, they cannot change them.
Palansky said they always take the players input into account and will look to make some structure changes for the 2016 WSOP based on them, but he also cautioned the players complaining about jumping to conclusions to early on.
"I think if they really analyze the numbers they'll see not much has changed," he said, adding that up until Friday, only one event has seen an extra day added outside of The Colossus, and the extension of the Colossus was due more to a late start and reduced levels on Day 2 than anything else.
For Baker and others, that just leaves them in a situation where they'll play less events with less down time.
"It's going to be really difficult to keep the energy up playing all these hours and feeling like you're not getting anywhere," he said. "Being stuck playing 16-18 hours for a min-cash over the next four weeks is going to be frustrating."
Seiver would just simply ask that the best tournament series in the world do all it can to get better.
"We hold the World Series to high standards because they are the best in town," he said. "I love the World Series of Poker and we're all just passionate about making it as good as it can be."
Get all the latest PokerNews Canada updates on your social media outlets. Follow us on Twitter and like us on Facebook!