2015 WSOP $50,000 Poker Player's Championship Final Table Preview
Donnie Peters
Marty Derbyshire
Remko Rinkema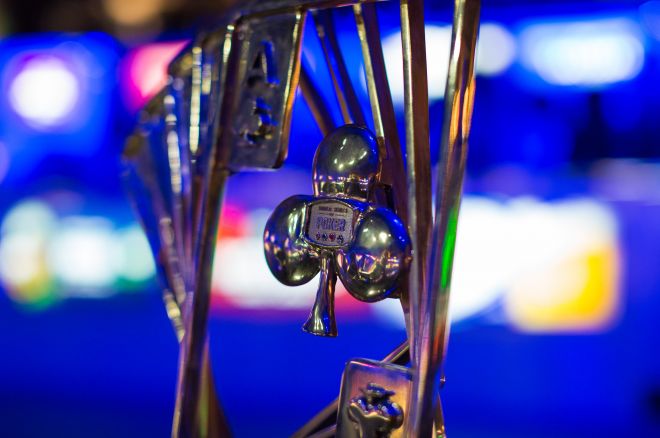 The 10th installment of the $50,000 Poker Player's Championship reached the final table on Wednesday night, and the final six players from the 84-player field will return Thursday at 2 p.m. Las Vegas time for a chance to be crowned as the world's best all-around player.
David "ODB" Baker finished Day 4 of the five-day event with the chip lead, bagging up 3,227,000 in chips. He'll enter the final table with just over 25 percent of the chips in play. Trailing behind Baker are Mike Gorodinsky (2,589,000), Jean-Robert Bellande (2,188,000), Chris Klodnicki (2,130,000), Ben Sulsky (1,462,000), and Dan Kelly (1,003,000).
It goes without saying that this event stands as one of the most elite poker tournaments the world has to offer, and it's highly regarded as the one to win for the game's best. That alone is enough of a storyline to draw a massive amount of interest, but there's plenty more on the table.
Baker, who holds the chip lead entering the final table, is a long-time grinder who has put his blood, sweat, and tears into the game. He'll be looking to see a decade and a half of hard work a dedication come full circle on Thursday.
Gorodinsky has had two near misses already this year with a second and a third in previous events, and he's one of poker's brightest young stars. He earned a gold bracelet in 2013 and will be aiming for his second, plus the chance to take over the lead in the Global Poker Index WSOP Player of the Year race.
Bellande will be third in chips, but the final table's top entertainer. Whether you're hoping to see him succeed or fall flat on his face, the polarizing nature of his character alone will be worth the price of admission.
Then there's Klodnicki, who will be returning to this event's final table after reaching it in 2012. There he finished second, so this time around could see the successful pro redeem himself after coming oh so close.
The "new kid on the block" is definitely Sulsky. He might be one of the lesser known names to the greater poker audience, but he's been a superstar in the online realm for quite some time. Commonly known as "Sauce123," this could prove to be a highly defining moment in his career.
Last, but certainly not least, is Kelly. He'll be bringing up the rear with 1,003,000 in chips and looking to earn his third gold bracelet.
Seat 1: Chris Klodnicki — 2,130,000
With $5,037,074 in WSOP earnings Camden, New Jersey's Chris Klodnicki is among the WSOP's top money makers without a bracelet. Although he's cashed 28 times at the WSOP, most of his loot came from two massive runner-up finishes.
First, he finished second to Michael Mizrachi for $896,935 in this very same event back in 2012.
"It feels good," Klodnicki said about being back at the final table for a second time. "I wouldn't call it a redemption run, I'm just out here playing, and whatever happens, happens — I'll probably get second."
A year later, in 2013, he finished second to Tony Gregg in the $111,111 buy-in One Drop High Roller for almost $3,000,000. Obviously no stranger to deep runs in some of poker's biggest events, Klodnicki also finished 12th for $591,869 in the 2008 WSOP Main Event.
"It's a very tough final table, probably tougher than the last one that I made in the $50K," Klodnicki added about his competition going into the final day. "Everybody seems very competent, for the most part, and I just gotta run good. It's not going to be easy."
Klodnicki is a seasoned pro who picked up the game in 2003 and has a finance degree from Lehigh University.
Seat 2: Mike Gorodinsky — 2,589,000
Mike Gorodinsky won his first WSOP bracelet in the 2013 WSOP $2,500 Omaha/Seven-Card Stud Hi-Low event and he's spent the first half of this summer coming ever so close to his second.
With a third-place finish in the $5,000 Six-Max No-Limit Hold'em, ninth in the $10,000 Seven-Card Stud Championship, and a second-place finish in the $10,000 Razz Championship already this year, Gorodinsky has been a threat to score big in every event he's played.
The Russian-born San Diego, California resident learned the game online and has clearly turned himself into a well-rounded pro. He has one previous cash in the $50,000 Poker Players' Championship, finishing ninth in 2013 for $173,796.
Seat 3: Jean-Robert Bellande — 2,188,000
There's no doubt that Jean-Robert Bellande is the lead personality of this final table, and he's one spot away from scoring the biggest cash result of his poker career. There's also no doubt that Bellande can be very polarizing. You either love to root for him and his wide-open candidness, or you relish watching him live out his nickname of "Broke-Living JRB."
"I'm one of those guys that kind of wears my emotion on my sleeve and kind of just says it like it is," Bellande said after reaching the final table. "I think one of the reasons my haters and my fans enjoy it is because it's entertaining."
While Bellande will help increase the entertainment level of this final table, he'll also be looking to wipe the sour taste from his mouth dating back to the 2008 WSOP when, despite a huge chip lead against Matt Graham in heads-up play, finished second in the $1,500 Limit Hold'em Shootout.
"It was a 19-1 chip lead, and I don't have a bracelet," Bellande made sure to point out. "So for sure I want to win it, but you know, to be honest with you, I'm up against some fantastic players. There's several players here that I would be happy to play cash in these 10 games with, and then there's several players here that, frankly, outclass me."
A former nightclub owner from New York and now a regular high-stakes cash game player, Bellande does boast $1,377,804 in live tournament earnings. His first big splash onto the scene was in 2005 when he appeared at the televised final table of the $10,200 WSOP Circuit Championship Event right here at the Rio All-Suite Hotel & Casino in Las Vegas. There he took third for $210,900. In this event, he's making his 19th WSOP cash and second final table. A win here would nearly double his career live tournament earnings, and it'd add a bit of change to Bellande's pocket, as according to him he's not exactly living on someone else's dime these days.
"I'm not claiming broke these days," he said. "I'm not being staked in this event. As a courtesy to a few friends, I did sell off 10 or 15 percent, so I've got a few friends sweating me. So I actually have 85 percent of myself. Hopefully that's 85 percent of $1.2 million. That would be sweet."
Seat 4: Ben Sulsky — 1,462,000
Ben Sulsky is better known to many as "Sauce123," which is his online poker screen name. He regular plays the largest high-stakes online cash games in the world and has worked his way into poker lore thanks his prowess on the virtual felt.
This year, Sulsky opted to give his talents a true test, and he entered the $50,000 Poker Players' Championship for the first time. four days later and he finds himself at the final table with 1,462,000 in chips — fifth on the leaderboard.
Sulsky was born in 1987 and specializes in no-limit hold'em and pot-limit Omaha cash games, but he's certainly showing how well he's improved as an all-around poker player.
"It's a fun event and a fun structure because you get to play 10-game with people that tend to have fun at the tables," Sulsky said in an interview with PokerNews on Day 3. "It's a bit more relaxed, but I have no special feelings attached to it."
As for live tournament results, this one is already Sulsky's biggest. He only had three live cashes on record, according to HendonMob, and two of those are from the WSOP. Most notably, he took fourth in the 2013 WSOP $10,000 Heads-Up No-Limit Hold'em for $110,485.
Seat 5: David "ODB" Baker — 3,227,000
David "ODB" Baker recorded his first cash at the WSOP 11 years ago, placing 18th in the $2,500 Limit Hold'em event for $4,360. He now has a whopping 44 WSOP cashes lifetime and won his first and only bracelet in 2012 after taking down the $2,500 Eight-Game Mix for $271,312. That same year, he finished 10th in the $50,000 Poker Players' Championship, and that result serves as his lone cash in this event prior to this year.
"I'm so elated and ecstatic," Baker said about reaching the final table. "This is the tournament for me. There is no tournament in the world that I would rather win than this one."
A former salesman who studied finance at Auburn University and now lives in Texas, Baker reportedly had pieces of both WSOP $565 Colossus winner Cord Garcia and third-place finisher Ray Henson in that event, instantly making the summer a profitable one for him from the start. He'll now be taking the chip lead into the final table of the prestigious $50,000 Poker Players' Championship and have just five players standing between him and poker immortality.
"I'm a mixed-game player," Baker added. "So to play a mixed-game championship against the best of the best, and to have this opportunity to win a marquee event for all the money after 15 years of working very hard, is something I hope to be able to deliver on."
Seat 6: Dan Kelly — 1,003,000
The short stack of the final table is also the last person in the clockwise rotation of the final table, Dan Kelly. After fighting his way to the last six of this event, Kelly will be looking to add a third WSOP gold bracelet.
Kelly's first piece of gold came in 2010 when he won the $25,000 Six-Max No-Limit Hold'em for a whopping $1,315,518. Then in 2014, he added a second title after winning the $1,500 Limit Hold'em for a much more tame $195,167.
When the field reached eight players, Kelly was the short stack. In a hand of limit hold'em, he found himself all in on the board of



against Shawn Buchanan. Buchanan had the


against Kelly's


. After the

turn card and

river card, Kelly successfully faded Buchanan's outs and doubled up in a critical hand.
Outside of the WSOP, Kelly has seen a lot of success elsewhere in poker. He has several online poker titles, including six COOP titles from events on PokerStars alone. He also has a second-place result in the 2012 World Poker Tour L.A. Poker Classic for $521,770 and a win in an Aussie Millions side event in 2012.
Kelly is making his 34th WSOP cash and ninth final table.
With that, we leave you with one exciting final table to take place on Thursday. Be sure to stay tuned to PokerNews Canada for more news from this event and continued coverage from the 2015 WSOP.
Get all the latest PokerNews Canada updates on your social media outlets. Follow us on Twitter and like us on Facebook!