The Five Biggest Hands from Day 1 of the Super High Roller $400/$800/$200 Cash Game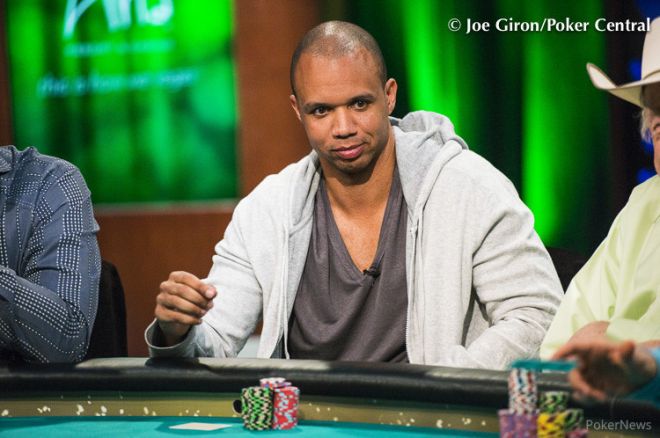 On Monday, a special invite-only cash game was held at ARIA as part of the Super High Roller Series. With blinds of $400/$800/$200, a minimum required buy-in of $250,000, and a live broadcast to be hosted on Twitch, the Super High Roller Cash Game was one of the most anticipated games of the summer.
The cash game, which will continue on both Tuesday and Wednesday from 2 p.m. – 2 a.m. local time, featured some of the biggest names in the game including Doyle Brunson, Phil Ivey, Antonio Esfandiari, Johnny Chan, Jean-Robert Bellande, Jennifer Tilly, and others.
PokerNews was on hand utilizing our live reporting team to cover the cash game — which we'll be doing through July 1 — and as a recap of sorts we thought it'd be fun to take a look back at what we deemed the five most notable pots from Day 1 of the Super High Roller Cash Game.
Everybody Loves a Chopped Pot
The first big pot of the day happened about an hour in when Antonio Esfandiari started the action with a $2,200 open, which Jennifer Tilly promptly three-bet to $7,500. Bob Bright cold-called from the small blind, and Esfandiari called. The three players took in a monotone flop of



. Bright led out for $16,000, and Esfandiari called. Tilly made it $45,000, and Esfandiari came back with $116,000 after Bright got out of the way. Tilly thought for about two minutes and waved her hands all in for $236,000. Esfandiari quickly flipped in a calling chip.
Esfandiari:



Tilly:


With equities close, the players agreed to run it twice. Esfandiari took the first one with a

river after the

turn. The second board came


, two whiffs as far as Esfandiari's draw was concerned. The players chopped up a $514,500 pot.
Brunson Felts Tilly After Cooler Flop
About four hours into the game, Jennifer Tilly raised to $2,500 from middle position and received a call from Johnny Chan. Phil Ivey called from the small blind, Doyle Brunson came along from the big, and four players took a flop of



. Two checks saw Tilly continue for $4,000, Chan folded, and Ivey got out of the way.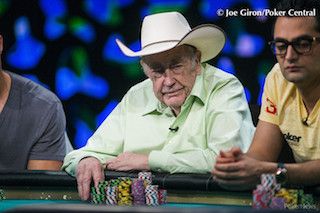 Brunson then check-raised to $14,000, Tilly three-bet to $45,000, and Brunson four-bet it to $139,000. Tilly paused for a moment before moving all in for $278,000, and Brunson snap-called to create a pot of $569,400.
Tilly:



Brunson:


Both players had flopped a straight, but Brunson's was best. Tilly's only hope was to hit either running flush clubs to win or a seven-eight to chop. They to agreed to run it three times, but Tilly missed each as the turn and river came:


,


, and


.
The big pot saw Brunson increase his stack to $791,000, while Tilly opted to reload for $250,000.
Matthew Kirk Down Half a Million Before Dinner
Before the dinner break, Australian Matthew Kirk had a rough go of it as he promptly lost two $250,000 buy-ins. His first time being felted came after Bob Bright three-bet to $12,000 from the cutoff and got three callers, with everyone seeing a



flop. Action checked to him, and he bet $28,000. Two folds later, Kirk jammed for $90,000, and Bright quickly called.
Bright:



Kirk:


The players ran it once, and a brutal

turn left Kirk drawing even slimmer. The

was no help on the river. Kirk fired up a reload of $250,000, and Bright collected the pot.
Kirk started driving the action after that, raising frequently and building pots. In one hand, Jean-Robert Bellande opened to $4,000 with the straddle on, and Phil Ivey made it $15,000 in the cutoff. Kirk called from the straddle, and Bellande mucked. Kirk check-called $25,000 on the



flop, and $45,000 on the

turn. The

river put a four-straight out there, and Kirk fired his last $83,000. Ivey quickly called, and he took the pot with


for a straight, which put his stack up to $850K. Meanwhile, Kirk mucked and ended up taking a break from the game.
Even the Great Phil Ivey Isn't Invincible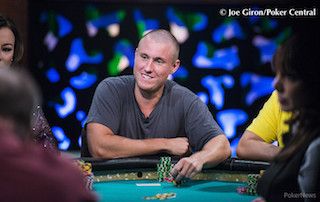 After play had dropped to six-handed late in the night, Johnny Chan put on the $1,600 straddle and Bob Bright raised to $4,000. Jean-Robert Bellande called, and then Phil Ivey made it $16,000 to go from the button. Matthew Kirk then popped it to $50,000 from the small blind, action folded back to Ivey, and he dropped in a bunch of chips for a raise to roughly $180,000. Kirk had $231,000 total and quickly moved all in. Ivey snap-called.
Ivey:



Kirk:


Ivey gave Kirk the choice as to how many times he wanted to run it, and twice was the answer. The





board on the first run secured Kirk half the pot with a pair of aces, which turned out to be the same way he'd win the second half after the board ran out





.
Kirk doubled in the $474,800 pot, while Ivey dropped down to only $661,000.
Bellande's Frustration Boils Over When Esfandiari Hits "Jack Sh*t"
In one of the last hands of the night, Antonio Esfandiari raised to $3,000 from the button and Bob Bright called from the small blind. Jean-Robert Bellande then three-bet to $14,000 from the big blind, Esfandiari four-bet to $44,000, and Bright got out of the way. Bellande made the call and the flop came down



.
Bellande checked, Esfandiari bet $50,000, and Bellande check-raised all in for $247,000 total. Esfandiari snap-called and Bellande discovered the bad news.
Bellande:



Esfandiari:


"I ran into Antonio," a frustrated Bellande exclaimed upon seeing his aces had been cracked. "I knew you had jack sh*t. You literally have jack sh*t. How do you just get blessed with the two pair flop?"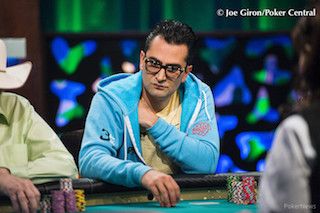 "It's been like that for 20 years," Esfandiari replied.
Bellande continued to moan about his bad luck, and failed to answer Esfandiari's inquiry as to how many times he wanted to run it. As such, the dealer burned and turned the

.
Bellande, on his feet and mumbling, focused enough to answer twice when Esfandiari tried again and asked him how many times he wanted to run the river.
Ironically, the

appeared on the first run, meaning Bellande would have made a bigger pair to take down the $587,200 pot.
"Thank god we said something," Esfandiari said with a sly smile. Bellande seemed even more frustrated.
The

on the second run was safe for Esfandiari, and the two ended up chopping the pot.
"I should have been so tilted just to run it once," Bellande lamented.
Conclusion
While television producers didn't release official numbers, it appeared the biggest winner of the game was Antonio Esfandiari, while Doyle Brunson also booked a nice win.
On the flip side, Australian pot-limit Omaha pro Matthew Kirk and the boisterous Jean-Robert Bellande were the game's biggest losers, while Bob Bright, Jennifer Tilly, and Johnny Chan more or less broke even.
Remember, the Super High Roller Cash Game will continue on both Tuesday and Wednesday as a new lineup of players takes to the felt. The games are expected to last from 2 p.m. through 2 a.m., so be sure to join us then to follow the action in the live blog. You can also watch the action on the Poker Central channel on Twitch.
Get all the latest PokerNews Canada updates on your social media outlets. Follow us on Twitter and like us on Facebook!