Will New Games Mean the Smallest Field in $50,000 Poker Players' Championship History?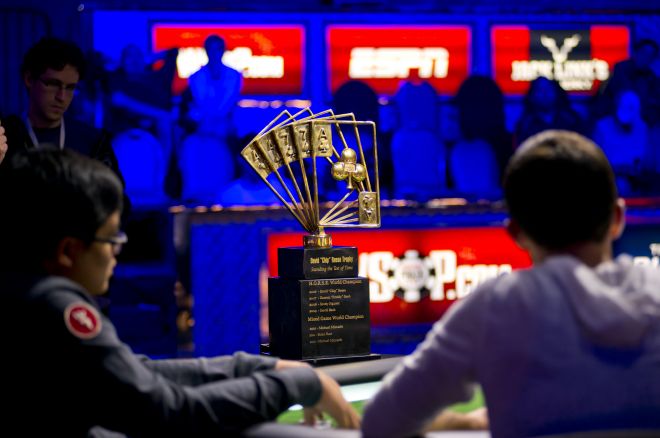 A number of players are saying changes to the format of this Sunday's $50,000 Poker Players Championship will force them out of the action, and at least one is willing to bet the turnout for the prestigious event will be the lowest ever.
"This will be the lowest turnout in history by a mile," said Allen Kessler, who finished eighth in a field of 102 players in the 2014 World Series of Poker $50,000 Poker Player's Championship. "If anyone wants to bet me, I would say this year will be the lowest number in history for this tournament."
Once the biggest buy-in event in WSOP history, the $50,000 tournament began as a H.O.R.S.E. event at the 2006 WSOP. As a tribute to the event's since-passed inaugural winner, the "David 'Chip' Reese Memorial Trophy was added to the winner's take in 2008. In 2010, no-limit hold'em, pot-limit Omaha, and limit deuce-to-seven triple draw were added to a rotation that already included limit hold'em, Omaha eight-or-better, razz, stud, and stud eight-or-better. The event was also renamed The Poker Player's Championship.
This year, badugi, and a third big-bet game, no-limit deuce-to-seven draw lowball, have been added to the rotation. As a result, a number of players have taken to Twitter taking issue with the changes and saying they won't play or are now on the fence.
Nolimit 2-7 and Badugi were added to @wsop $50k ppc. Many arent playing due to this. @Browndog_19 @BigRiskky @WSOPTD http://t.co/MjyOlAhlcQ

— Allen Kessler (@AllenKessler)
@DMBakes @maxpescatori @AllenKessler @WSOP @BigRiskky @WSOPTD Seriously will put most non cash game regs on the fence of playing. I am 50/50

— Daniel Shak (@daniel_shak)
@AllenKessler @WSOP @Browndog_19 @BigRiskky @WSOPTD There is never been a Badugi brecelet, yet it gets put in into the 50k. bad call

— Max Pescatori (@maxpescatori)
The major issues appear to be the fact badugi has never been a bracelet event before, and the dangers of adding another big bet game like no-limit deuce-to-seven, where players can lose their entire stack in a single hand of a game where the top players enjoy a huge edge.
WSOP bracelet winner and mixed-game stud Andrew Brown said there are two factors that will lead to less players vying for the trophy this year.
"First off, you've got a number of players who don't play either of these games that will not enter," he said. "Then there's players like me, who won't play because their money isn't in the prize pool."
However, Larry Wright, whose single WSOP bracelet win came in the 2012 WSOP $1,500 No-Limit 2-7 Draw Lowball event, is on the other side of things, saying he will enter the $50,000 Poker Player's Championship for the first time because of the added games.
"I'm not complaining," said Wright, laughing. "This is the reason I would play it. I have a huge edge. [No-limit deuce-to-seven draw lowball offers top players] the biggest edge by far.
"It's the truest form of all poker. All the cards are hidden. Stud players want to see what everybody else has got and then make their decisions. In [no-limit deuce-to-seven draw lowball] they've got to make their decisions based upon what they've seen before, betting patterns, how they hold their cards. It's actually a truer form of poker and that's why people are afraid of it."
While 2010 WSOP $50,000 Poker Player's Championship sixth-place finisher and $10,000 No-Limit 2-7 Draw Lowball World Championship winner David "Bakes" Baker figures the addition of the games give him even more of an edge, he isn't necessarily behind it.
"For my personal bottom line, I like it, because those games are ones I'm good at and most of the field will just not be," he said. "It is good for players who play high-limit cash, because that's where the games are spread, but it's terrible for anyone who is on the cusp, because they are going to be weak in those two games. It certainly doesn't help us get anyone in and it seems like a crazy precedent to have a non-bracelet game (like badugi) in the Poker Player's Championship as well.
"I don't want to name any names, but the best players in the world who play the biggest cash games everyday, this change is amazing for them. It directly benefits those players and they seem to have the ear of the World Series."
When told of Kessler's prediction that the added games will force the lowest turnout for the event in history, Baker said something should be done about that, and fast.
"If that's true then they have to change it back immediately," he said. "If it turns into just the same people trading money back and forth like they do in the big cash games everyday, then there's just no point to the tournament."
However, WSOP Vice President of Corporate Communications Seth Palansky says organizers have never been concerned about entry numbers for an event like the $50,000 Poker Player's Championship. Players were the ones who asked for the games to be added and the changes will only serve to help the event reach organizers' goal of reflecting the action in the biggest cash games in the world.
"We consulted with players in the offseason and that was the impetus for the changes," he explained. "For this specific event, we've never obsessed about participation numbers. In some ways we think posting the buy-in is an accomplishment in and of itself and the event is not for everyone.
"We want the WSOP Poker Player's Championship to demonstrate skill in all the variants that would be played in the biggest live games around the world and those games are certainly being spread in big cash game settings."
But that doesn't change things from Kessler's point of view.
"It was fine as H.O.R.S.E., then they wanted to add more games and they did that," he said. "Now they're adding games that basically nobody plays.
"Most of the tournament players do not play [no-limit deuce-to-seven draw lowball]. They only got 77 players for the $10K [no-limit deuce-to-seven draw lowball] Championship and that's like the lowest number [for a WSOP event] in the last five or six years. Badugi, that's not even a bracelet game. Certain people wanted these games added so they have an edge in the tournament. Now a lot of people aren't going to play because of it."
The five-day $50,000 Poker Player's Championship will begin Sunday, June 21, 2015 at 4 p.m. local time.
The History of the $50,000 Poker Players Championship
| | | | |
| --- | --- | --- | --- |
| Year | Entries | Winner | Prize |
| 2006 | 143 | Chip Reese | $1,784,640 |
| 2007 | 148 | Freddy Deeb | $2,276,832 |
| 2008 | 148 | Scotty Nguyen | $1,989,120 |
| 2009 | 95 | David Bach | $1,276,802 |
| 2010 | 116 | Michael Mizrachi | $1,559,046 |
| 2011 | 128 | Brian Rast | $1,720,328 |
| 2012 | 108 | Michael Mizrachi | $1,451,527 |
| 2013 | 132 | Matthew Ashton | $1,774,089 |
| 2014 | 102 | John Hennigan | $1,517,767 |
Get all the latest PokerNews Canada updates on your social media outlets. Follow us on Twitter and like us on Facebook!