2015 WSOP Day 8: Cord Garcia Wins Largest Live Poker Tournament in History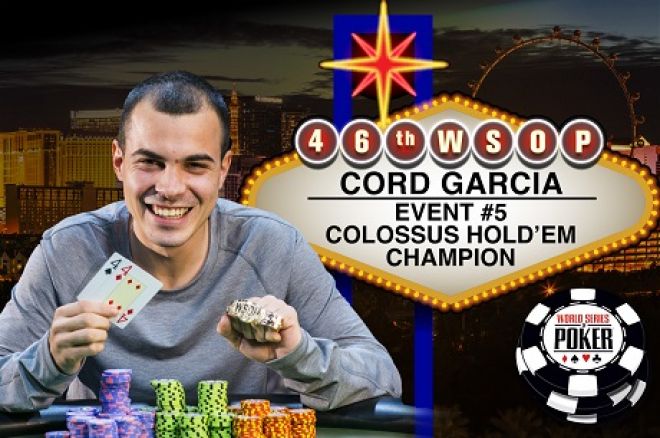 Wednesday was a historic day at the World Series of Poker (WSOP) in Las Vegas. The largest live poker tournament of all time finished out its final table and awarded a bracelet to the winner. Two more bracelets were won in the pot-limit hold'em event and the $1,500 razz. The $10,000 heads-up hold'em was reduced to the final two while the $1,500 limit hold'em continued with Day 2. Two other events also got started on Wednesday: the $1,500 six-max hold'em and the $2,500 stud hi-lo and Omaha hi-lo mix. Here's a look at all of the WSOP action on Day 8:
Colossus Crowns Winner of Largest Live Poker Tournament
It took five days to play from the record-setting starting field of 22,374 down to a single winner in Event #5: The Colossus $565 No-Limit Hold'em. The event was not without controversy, as players complained early on about the seemingly low first-place prize. Later, many grumbled after having to wait for up to four hours in line for early payouts.
Given the unprecedented size, however — the previous record for largest field size was 8,773 players in the 2006 WSOP Main Event — it all seemed to go off pretty smoothly.
When the final nine players sat down, they were guaranteed $67,681, with $638,880 up top for first place. While that first-place number generated some controversy initially, it represents over 1,200 times the original buy-in, which is comparable to Jamie Gold's first place return on investment in the 2006 Main Event, which was exactly 1,200 times.
After a final table lasting just over five hours, the tournament came down to a heads-up battle between Cord Garcia and Bradley McFarland. On the final hand, McFarland tried an all-in reraise bluff on the river with a nut-flush blocker — a move more common in pot-limit Omaha — and was called down by Garcia with a dominating full house. McFarland won $386,253 for second, while Garcia took home the bracelet as well as $638,880, and the prestige of having won the largest live poker tournament of all time.
Viennese Student Takes Down $1,500 Pot-Limit Hold'em
With seven bracelets already awarded at the 2015 WSOP, the eighth was the first of the series to go to a non-American player. Event #8: $1,500 Pot-Limit Hold'em returned for Day 3 with 15 players remaining on Wednesday, and by the day was through, Paul Michaelis was $189,818 richer and the proud owner of a gold WSOP bracelet.
The 24-year-old German-born student resides in beautiful Vienna, Austria and came to the pot-limit hold'em event hot off of his cash in The Colossus — his first-ever WSOP cash.
The final table came down to Michaelis and Tom Marchese and the tournament was decided when both players got it all in preflop with pocket pairs. Michaelis was behind with


to Marchese's


, and it looked liked Michaelis was going to be handing over the chip lead as the flop came down



, but then Michaelis found one of the two cards in the deck he was looking for. The

hit the turn and his rail went wild for the unlikely set. With one card left to come, Marchese could still hit his own two-outter to pull back ahead, but the

was of no help. Michaelis locked up the bracelet and cash while Marchese settled for $117,199.
Max Pescatori Wins Third Bracelet on 10th WSOP Final Table
The Americans gave up another bracelet to an international player in Event #9: $1,500 Razz. Italian pro Max Pescatori won his third WSOP bracelet on Wednesday and is the first Italian to earn three. His most recent bracelet win was seven years ago, but 44-year-old Pescatori proved he still has what it takes to compete with the best.
With 462 players buying in to the event — a substantial increase over last year's 352 for the same event — only 19 of them remained to return for Day 3. When play came down to the final table, the other headliner aside from Pescatori was another two-time bracelet winner, Eli Elezra, who took fifth place for $32,245 — enough to push him over the $1 million mark for lifetime WSOP earnings.
With Pescatori and Ryan Miller facing each other heads up for the bracelet, the key hand came when Miller brought in showing a

and Pescatori completed showing the

. Miller decided to raise and Pescaotri made it three bets, which Miller called. With a

on fourth street, Miller led out and Pescatori called behind with the worst razz card

. Fifth street brought a

to Miller and

to Pescatori, keeping Miller in the betting lead. After a bet and a call, Miller paired with

to Pescatori's

. Pescatori checked the lead and called Miller's bet. Both players checked seventh street with Miller showing down



for a 98 to Pescatori's



96. The hand gave Pescatori a six-to-one chip lead, and he never looked back, taking the rest of Miller's stack over the next three hands.
Ryan Miller won $96,349 for his second-place effort, while Pescatori earned his third bracelet and $152,947.
Paul Volpe and Keith Lehr Remain in Heads-Up Championship
When Day 1 ended, the remaining 16 players of this 143-entry field were all returning for Day 2 in the money. Event #10: $10,000 Heads Up No-Limit Hold'em Championship had $1,344,200 in the prizepool, and three rounds of heads-up matches on Wednesday determined who would win all but first- and second-place money in the premier heads-up event.
We had one Canadian hope left in the tournament when Day 2 resumed. Timothy Adams won his Day 1 matches, and went on to defeat Simon Lam in his first match on Wednesday, earning himself a spot in the quarterfinals. There, he faced Matthew Cooper and his run ended. Adams collected $54,545 for finishing seventh.
The Day 2 lineup was stacked. Among those who collected a payout on Wednesday were George Danzer, Jake Schindler, Max Silver, Olivier Busquet, Byron Kaverman, and JC Tran. Dee Tiller and Matthew Cooper were the two players who were eliminated in the semifinals, earning $111,525 each.
Lehr and Volpe will return on Thursday at 1 p.m. to decide who will earn the next WSOP gold bracelet. It will be the second bracelet for either Lehr or Volpe, who have one apiece. They also have one WSOP Circuit ring each. The winner will be pocketing $334,430 while the runner-up will have to be consoled with $206,620.
Three Canadians Among Final 28 in $1,500 Limit Hold'em
Just 28 players remain in Event #11: $1,500 Limit Hold'em as Day 2 came to a close. The day began with 222, including 15 Canadians among them, and those remaining are well into the money.
The bubble burst when Theodore Park and Jay Bloom split 72nd-place money by both being eliminated on the bubble at the same time. Park lost his chips by getting it in bad preflop with


against David Chiu's


and never catching up, while Bloom put his chips in the middle with Shannon Shorr and needed lots of help with


to Shorr's


. Bloom and Park each received $1,256 and the eliminations started coming quick as the remaining players were now guaranteed a payout.
Two Canadians were among those that collected some prize money on Wednesday. Brennan Kennedy earned $2,940 for finishing 59th while Kin-Yarn Lee finished one pay level up in 54th for $3,474.
Many other Canadians were eliminated before the money, but three are still in this tournament and will return for Day 3. Adam Duguay has the most with 208,000 chips. Francois Vigeant and James Meek trail with 112,000 and 83,000, respectively.
Leading overall is Kevin Song with 450,000 — a strong advantage over second-best stack Daniel Joo with 352,000. The aforementioned Shannon Shorr rounds out the best three; he'll return with 311,000.
The final 28 resume play at 2 p.m. on Thursday and will continue until it is decided who will win the gold bracelet and $196,055 in prize money.
Mike Watson Leads Canadians, Bryan Campanello Leads Overall in Six-Handed Hold'em
The first six-handed event of the series kicked off Wednesday as Event #12: $1,500 No-Limit Hold'em 6-Handed drew 1,651 entries. The total prize pool topped $2 million with the winner taking home $457,007. There are 180 people guaranteed at least $2,563.
At the end of Day 1, 206 players still had chips in front of them and the top Canadian was Mike Watson. Sitting 11th overall with 153,800, Watson is well positioned to get his 32nd lifetime WSOP cash.
Watson is only 60,000 chips behind the tournament leader, Bryan Campanello with 213,800. Two other players are above 200,000. Israel's Idan Raviv is second with 213,000 while David Nowling is third with 206,900.
Watson led nine Canadians into Day 2. Other Canadians to advance are listed below.
| Rank | Player | Chips |
| --- | --- | --- |
| 49 | Sylvain Bouchard | 80,700 |
| 63 | Jonathan Gauthier | 68,100 |
| 83 | Bradley Neumeier | 59,500 |
| 86 | Jeffrey Mulder | 58,900 |
| 92 | Scott Montgomery | 54,200 |
| 96 | Phillip Elliott | 52,500 |
| 141 | Noah Vaillancourt | 34,300 |
| 182 | Matt Marifioti | 23,000 |
Some non-Canadian notables to make it to day 3 are below.
| Rank | Player | Chips |
| --- | --- | --- |
| 7 | Craig McCorkell | 166,100 |
| 10 | Galen Hall | 154,100 |
| 33 | David Benyamine | 95,400 |
| 46 | Trevor Pope | 85,500 |
| 57 | Scott Seiver | 75,700 |
| 62 | Antonio Esfandiari | 69,800 |
Play resumes Thursday at 1 p.m. local time with Mike Watson looking for his first WSOP bracelet.
Layne Flack Leads in Omaha Hi-Lo and Stud Hi-Lo Mix; Four Canadians Advance
One of the pleasures of the WSOP is being able to see rare and unusual poker variants and mixes. Event #13: $2,500 Omaha/Seven Card Stud Hi-Lo 8 or Better is one mix that players rarely see outside of the WSOP, but one which no doubt has split-pot specialists salivating.
It's not much of a surprise to see Layne Flack at the top of the counts, Certainly no slouch in hold'em games, Flack also understands the split-pot game, with a bracelet in Omaha hi-lo from 2003, and a WSOP cash in stud hi-lo in 2013. He will take 72,100 into Day 2 — almost 10,000 more than second-best stack Hani Awad with 62,400.
The top Canadian stack at the end of Day 1 belonged to Samuel Ngai of Edmonton, Alberta. He bagged 31,600 chips for 55th spot. Three other Canadians made it through the day. Vancouver, B.C.'s Dan Idema finished with 26,500, while Saro Mardirosian and Paul Mair both made it through with smaller stacks.
Some other notables to bag chips at the end of the day included Mario Ho (47,100), Taylor Paur (37,700), Norman Chad (35,200), Barry Shulman (33,000), Todd Brunson (32,900), and Anthony Zinno (32,800).
Play resumes at 2 p.m. Las Vegas time Thursday afternoon.
Details and photo courtesy of the WSOP Live Blog.
Get all the latest PokerNews Canada updates on your social media outlets. Follow us on Twitter and like us on Facebook!