2015 WSOP Day 38: Dan Idema Goes for Two in 2015; Paul Hoefer Scores One for One Drop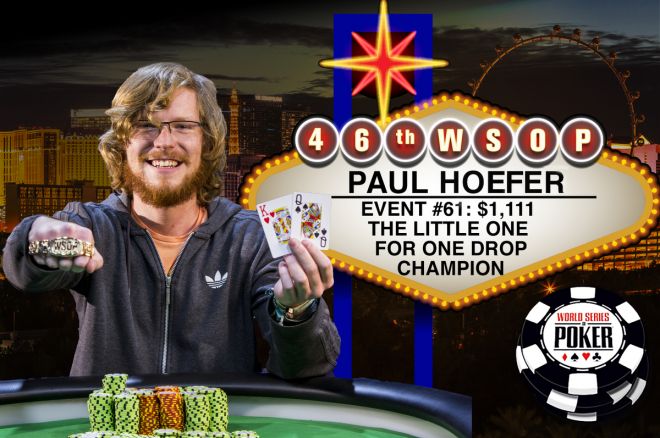 Paul Hoefer Scores a Bracelet and Charity Wins
While poker can often seem, from the outside, a greed-oriented business, what is often less apparent is how much charity work happens while poker is being played. Event #61: $1,111 The Little One for One Drop is a nice example of that. Total entries for the event topped 4,500 generating a prize pool of $4,099,500, with $645,969 up top for first place.
When Day 3 ended, just 14 players remained in the hunt for the top prize. Jason Caulk started Day 4 with the biggest chip stack at 6,975,000 while Paul Hoefer was second with the only other stack bigger than 6,000,000. Caulk was working on his first-ever WSOP cash, while Hoefer was working on his fourth.
The final table seemed clearly broken into two halves. The final table was decided by 5 p.m. on Friday, as detailed below.
| Seat | Player | Chips |
| --- | --- | --- |
| 1 | Carlos Chang | 5,415,000 |
| 2 | Duston Lee | 6,195,000 |
| 3 | John Reading | 3,870,000 |
| 4 | Rainer Kempe | 2,550,000 |
| 5 | Senovio Ramirez III | 5,605,000 |
| 6 | Jason Caulk | 3,055,000 |
| 7 | Brett Shaffer | 6,015,000 |
| 8 | Mario Lopez | 9,999,000 |
| 9 | Paul Hoefer | 3,090,000 |
Nine-handed play went on for nearly four hours, with chips going around the table but none of the players willing to yield. It was almost 9 p.m. before the first player was eliminated from the final table. Brett Shaffer finished in ninth for $53,088.
Another 90 minutes passed before the chip leader coming into the day, Jason Caulk, busted in eighth for $68,912. Play got to six-handed by 11 p.m. when Rainer Kempe took seventh place for $90,189 and it took another hour to reach five-handed play when Dustin Lee busted out in sixth for $119,049 just before midnight.
That's when the pace picked up. Five-handed play would last only 45 minutes. In rapid succession, Carlos Chang and John Reading exited in fifth and fourth places respectively, making $158,404 and $212,559 each. The remaining three players went on a 20-minute break, and in the first hand after break Senovio Ramirez looked down at


on the button and shoved his last 10 big blinds. Mario Lopez folded the small blind, but Paul Hoefer snap-called with a dominating


. Both players hit an ace on the flop, but Ramirez was unable to improve his lower kicker and ended in third for $287,620.
And then, on the very next hand, it was all over. Paul Hoefer moved all in for far more chips than Mario Lopez had. Lopez called off with


, perhaps suspecting Hoefer was trying to bully the pot from him. Hoefer flipped over


for the best hand, and while Lopez improved on the flop, the queen on the river sealed his fate. Lopez won $299,455 for second, and Hoefer took home $645,969 as well as his first bracelet for the win.
Bounty Event Forced into Fourth Day
Event #62: $1,500 Bounty No-Limit Hold'em drew 2,178 runners on the first day, and by the time two days of play were complete, just 34 players remained looking for the top prize. Everyone who returned for Day 3 was guaranteed $7,756, while all were fighting for the $333,351 up top to help pay cleaning fees on the shiny new bracelet.
Czech player Vojtech Ruzicka, already working on his 14th cash, was the massive chip leader going into Day 3 with 2,115,000. The next closest player, Jack Duong was nearly one million chips behind, taking 1,139,000 into Day 3. No one else was over one million chips as the third-place stack of Peter Murphy was just 747,000.
Kyle Ho of Burnaby, B.C. was the lone Canadian making his way into Day 3. The cash in Event 62 marked his 10th WSOP cash, and going into Day 3 sitting 13th in chips with 539,000 gave him a good shot at a deep run. Unfortunately, Ho was not be able to spin that stack into gold, finishing 16th for $11,866.
Chip leader going into the day, Ruzicka was only able to manage a seventh-place finish, collecting $42,228 for his efforts. The third stack to start the day, Murphy, finished two back of Ruzicka with $24,511 to take back to Czech Republic with him.
Play was suspended late in the day while it was two handed. Jack Duong spun his second-place stack at the start of the day into a massive chip lead by the end, amassing a stunning 15,380,000 chips. The other stack belongs to Vitezslav Pesta, another Czech player, who will take just 965,000 into the unscheduled Day 4.
Action kicks off at 1 p.m. Saturday.
Andrew Barber Rides the H.O.R.S.E. to First Bracelet
The Championship events are always the premier events at the WSOP, and the tournaments which test skill in a variety of games, like Event #63 $10,000 H.O.R.S.E. Championship, are always seen as the most valued.
The tournament started with 204 players sitting down to take their shot, and by the time two days of play were complete, just 20 people remained in contention. Andrew Barber led the counts at the start of the day, bringing 574,000 to the table. Just behind him was Frank Kassela, the only other player above 500,000, playing 547,000. Sitting in third to start the day was Eli Elezra with 413,000.
The rest of the final day field read like a who's who of poker. Joe Hachem, Randy Ohel, Brandon Shack-Harris, Brock Parker, Barry Greenstein, Scotty Nguyen, and Matt Glantz, among others, all took chips into the final day.
Everyone arriving on Day 3 was already in the money, guaranteed $18,619. The first four players eliminated on Day 3 earned that amount. That group included Randy Ohel and Brandon Shack-Harris. No Canadians made it to Day 3, but we did have a Canadian-born player still in the mix. Daniel Ospina currently lives in, and plays under the flag of, Columbia, but he was born in Calgary, Alberta. Ospina managed a 10th-place finish for $41,170.
Other notables to cash before the final table included Eli Elezra (ninth — $41,170), Barry Greenstein (12th — $33,078), and Brock Parker (16th — $22,397).
The unofficial final table of nine players was set after Ospina's bustout. Elezra was the first person to leave the unofficial final table, busting in ninth for $41,170 and making the final table official.
It was nearly another nine hours before the final result was in. It came down to heads-up between Andrew Barber and Viacheslav Zhukov after Don Zewin busted in third for $210,629. Barber came into heads-up with a massive chip advantage, playing 4.6 million to Zhukov's 1.5 million.
Zhukov managed to claw some chips back, narrowing the gap to just one million chips in the first few minutes of heads up play. Barber fought back, chipping away at Zhukov's gains until he was back down to 700,000. Zhukov managed to fight back again, this time getting within 520,000 chips. That would be as close as Zhukov could come though. The crucial hand came in seven-card stud when Zhukov called Barber's completion. Zhukov bet out the next three streets before finally check-calling on seventh. Barber showed



which completed a flush with his board of




. Zhukov mucked his down cards, showing a board of




, leaving himself just 620,000 chips behind.
He lost the rest of his stack on the next hand, finishing second for $319,989 after Barber hit a wheel on seventh street. Barber won $517,776 as well as his first bracelet.
Daniel Idema Eyes Fourth Gold Bracelet; 17 Remain in Stud Hi-Lo
Shocker alert: Daniel Idema is near another mixed-game final table and there are only 16 opponents in front of him returning for Day 3. Friday's action of Event #65: $1,500 Seven Card Stud Hi-Lo 8 or Better saw John Esposito grab the chip lead and a few elite players make a run.
Esposito racked up 630,000 to claim the top spot and will be faced by the likes of lone Canadian and three-time bracelet winner Idema, Owais Ahmed, Todd Brunson, Jesse Martin, Vladimir Schemelev, and John Monnette. All looking for at least their second bracelets. Other top stacks include Gerald Ringe, Chris George, John Cover, and Christopher Vitch.
The money bubble was poked on Day 2 with 56 players remaining. Canucks John Tamai (35th) and Jean-Philippe Piquette (40th) were all that busted in the money of the Canadian contingent, both earning $3,670. Some notables also hitting the showers were Dylan Linde (22nd — $5,169) and Daniel Strelitz (27th — $4,327).
Play will resume at 2 p.m. inside the Rio at Las Vegas. Follow along as Daniel Idema goes for a fourth bracelet, second of the summer, and a first-place prize of $180,943.
Thousands Show for Lucky Sevens
There were two Day 1 flights of Event #66: $777 LUCKY SEVENS No-Limit Hold'em played out on Friday with an impressive total of 4,422 entries. Just 618 of those would survive with Sean Munjal (159,300) from Day 1a and Marcus Mack (148,700) from 1b leading the way.
The prize pool closed at $3,095,400 awarding the champion $487,784. There will be 468 players paid with a min-cash worth $1,361. Some players within striking distance after Day 1 include Bobby Bresner (140,000), Sulabh Chouhury (125,000), Aaron Leow (129,000), Lynn Xia (127,900), and Bjorn Gravlien (118,700).
A number of Canadians are still in the hunt. Some of the top stacks include Brett O'Neill (112,300), Kenneth Der (110,400), Andrew Creed (72,200), Li Fu (49,700), and Colin Padgett (47,800). A few notables to survive were PokerNews' own Pamela Maldonado, Matt Matros, David Williams, Eddy Sabat, Kevin MacPhee, Jason Wheeler, Faraz Jaka, and Ravi Raghavan.
The money bubble is sure to burst early on Day 2. Play will kick off at 2 p.m. local time with 10 hour-long levels scheduled.
$10K Dealer's Choice Bracelet Up For Grabs
The final mixed-game championship bracelet quest is underway as Event #67: $10,000 Dealer's Choice Championship kicked off. As expected, the waters were not very calm with over hundred fins cutting the surface.
Matthew Ashton proved to be the biggest shark chomping up a stack of 152,700. Yehuda Buchalter (138,150), 2014 WSOP Player of the Year George Danzer (106,825), Stephen Chidwick (101,875), and Ray Dehkharghani (97,150) round out the top five stacks.
Shawn Buchanan (81,175), Mike Leah (59,000), and Daniel Negreanu (27,900) are all that remain for Canadian bracelet hopes. A total of 61 players will move on to Saturday's Day 2 of the 108 entries received. The prize pool closed at $1,015,200 and will award the victor $319,792. Only 12 will make the money with $21,908 awarded to a min-cash.
Heaps of big names remain as David Chiu, Robert Mizrachi, Ted Forrest, Paul Volpe, David "ODB" Baker, 2015 WSOP Player of the Year frontrunner Mike Gorodinsky, Bill Chen, Maria Ho, Jen Harman, and Phil Hellmuth will all return.
Some no longer in contention are Brian Hastings, Gary Benson, Fedor Holz, Barry Greenstein, John Racener, Allen Kessler, Matt Glantz, and Mikhail Semin. Day 2 will resume at 2 p.m. local time.
Details and photo courtesy of the WSOP Live Blog.
Get all the latest PokerNews Canada updates on your social media outlets. Follow us on Twitter and like us on Facebook!