2015 WSOP Day 40: Quinn Do is First-Ever Dealer's Choice Champion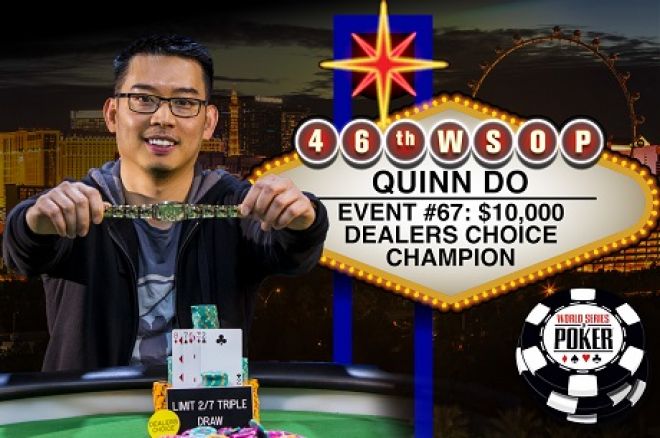 Gerald Ringe Scores Another Bracelet for U.K.
Event #65: $1,500 Seven Card Stud Hi-Lo 8 or Better was scheduled to run for three days. However, at the end of three days of play, three players still had chips in front of them, necessitating a fourth day of play.
Among the final three was Vancouver, B.C.'s Dan Idema. The triple bracelet winner won his third bracelet earlier this year in the $3,000 H.O.R.S.E. He also won this same $1,500 stud-eight in 2013. Idema took the smallest stack into Day 4, playing just 540,000.
The other two players facing off against Idema for the bracelet were both looking for their first WSOP wins. Limit specialist Christopher Vitch led the way to Day 4 with 1,940,000. This event marked his 11th lifetime cash, all of them in various formats of fixed-limit poker. The final player seated at the table was Gerald Ringe from London, U.K. Ringe was the least experienced player at the table with this event marking only his third cash at the WSOP. He brought 1,625,000 to the table.
Though they were unable to resolve the tournament in three days, the fourth day wasn't a very long affair. Players came back to the felt at 2 p.m. local time, and the whole thing was decided before the clock struck 3.
Ringe took the lead early on, scooping a pot from Vitch with a seven-high straight, followed by another big scoop that gave Ringe more than 3,300,000 chips and left both his opponents with less than 500,000. After that, it was only a matter of time.
Idema was the first to go when he four-bet shoved his stack with split eights and an ace behind versus Ringe's three hearts. Idema's split eights started out best for the high pot, but Ringe hit a flush on sixth street. With Idema's runout leaving him with no low draw, and no draw to a full house, he was drawing dead on sixth street. The third-place finish, which was Idema's 29th lifetime cash at the WSOP, earned him $70,322.
That left Ringe and Vitch heads up for the bracelet, but it wouldn't last long. The crucial hand came about 10 minutes after Idema busted as Vitch called down every street showing a pair of aces on his board by fifth street. When Vitch called on seventh street, he saw the bad news — sevens full of kings for Ringe, with neither player completing a qualifying low.
That hand left Vitch with just 50,000, and he busted in second on the next hand, winning $111,860. In addition to the bracelet, the win for Ringe was worth $180,943.
10 Remain in Lucky Sevens; Faraz Jaka Looking for First Bracelet
Another day is going to be needed to finish off "Lucky Sevens". With 61 players returning for Day 3 on Sunday, a lot of work had to be done before a winner was found, and it proved too much. Event #66: $777 Lucky Sevens No-Limit Hold'em will finish on Monday with 10 players left in contention.
Saturday's field included two Canadians with around mid-pack chips. Brian Macnevin and Li Fu returned to the felt, but neither survived the day. The were eliminated in quick succession, taking 28th and 29th for $12,226 each.
Of the remaining 10, Matt Matros (2,415,000) and Faraz Jaka (1,430,000) are the best known. Jaka has yet to win a bracelet in his 27 previous cashes, and is looking to get the job done for the first time on Monday. Matros, however, has three bracelets all in hold'em events, and has final-tabled WSOP tournaments six times out of his 30 lifetime cashes. That gives him an astounding 50 percent rate of turning final-table appearances into wins. With a fourth-best stack to start the day, Matros might be the one to watch.
David Yu will be returning with the chip lead with 3,965,000 chips. Jeffrey Dobrin and Connor Berkowitz are neck and neck in second and third place with 3,630,000 and 3,610,000, respectively. John Armbrust, John Gallaher, Bao Nguyen, Massimo Mosele, and John Zimmerman round out the final 10 who will return on Monday.
Play resumes at noon to determine who will win the final bracelet of the series before the Main Event finishes out the summer.
Quinn Do Wins Dealer's Choice Championship
The final tournament of the WSOP before the Main Event was Event #67: $10,000 Dealer's Choice Championship. When the WSOP introduced the dealer's choice format last year, the only available tournament was with a $1,500 buy-in. With the success of that lower buy-in last year, the WSOP added a Championship event in the mixed game for 2015.
Total entries for the tournament were 108, and by the time two days of play were finished, just 12 players remained, all 12 guaranteed some amount of prize money. The first person to exit on Day 3 was scheduled to receive $21,908 while the winner expected to collect $319,792 plus the bracelet.
Competition on the final day was certainly fierce. Among the players making it to the final day was mixed-game specialist Rep Porter, Jeff Madsen, David Benyamine, and Paul Volpe.
Porter was the player with the biggest stack to start the day, coming into Day 3 with 558,000 chips. Porter was able to play that stack to heads-up, but wouldn't be able to bring it home, finishing second for $197,608.
The final bracelet of the summer before the Main Event went to Quinn Do who started the day in the middle of the chip stacks. Do's strategy for the dealer's choice proved very efficient. "On Day 1, I noticed that some of the players did not play some games very well, so I called those games," Do said after the tournament. "I kept with that strategy. It was working, so why change it?"
In addition to his second career bracelet, Do won $319,792.
Details and photo courtesy of the WSOP Live Blog.
Get all the latest PokerNews Canada updates on your social media outlets. Follow us on Twitter and like us on Facebook!