Canada at the 2015 WSOP: 4 Bracelets Despite Fewer Canadian Entries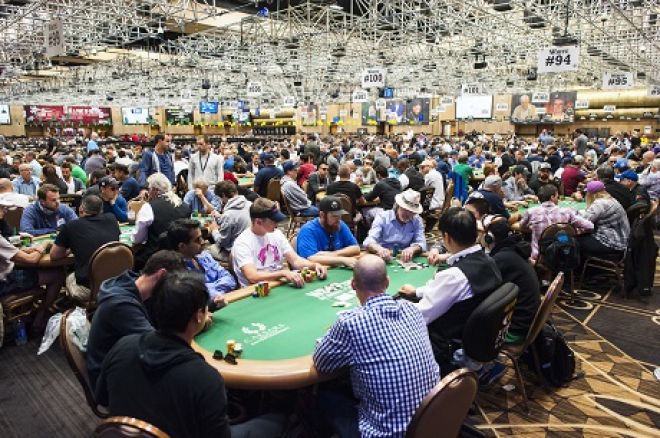 While it carries the name of the World Series of Poker (WSOP), we all know that it's an annual tournament series overwhelmingly made up of Americans, though it has been increasingly international in recent years. Being the closest country, geographically, Canada has always had strong representation at the WSOP. In 2013, Canada won more bracelets (10) than any other country besides the U.S.A. has at the WSOP.
With the 2015 WSOP in the books aside from the final table of the Main Event which will conclude in November, we took a close look at the numbers across the series.
It has been called an enormous success, having seen the most entries in WSOP history. Last year, the record was set with 82,360 entries playing in the 65 events. But, thanks almost solely to the addition of the enormously popular Colossus (Event #5) which became the largest live poker tournament in history with 22,374 entries, the 2015 series set a new attendance record with 103,512 total entries across a bigger schedule of 68 events.
There were 111 countries represented this year, with the second-most players coming from Canada once again. Americans made up 82,439 of the entries (79.6%), while Canada fielded 4,871 entries (4.7%). The third-best showing came from the U.K. once again with 3,466 entries (3.3%).
With 68 bracelets on offer this summer, Canada came back from a devastating year in which not a single event was won by a Canadian player in 2014. Canadians scooped up four bracelets this year, which means we won 5.9% of the events while only making up 4.7% of the field, showing a better-than-average win rate. Americans won 46 bracelets (67.6%) and the U.K. did very well to match us by also winning four bracelets.
In the history of the WSOP, Americans have now captured 879 of the bracelets while Canada has the second-most with 49. The U.K. trails with 34.
Looking at the Main Event, attendance was down to 6,420 from last year's 6,683, and there were 80 countries represented this year. Canada fielded 323 players (5% of the field) and 54 of them cashed (5.4% of in-the-money finishes), showing a better-than-average result again. The best result was, of course, the heart-breaking 11th-place finish by Daniel Negreanu who was being cheered on by poker fans around the world to make his first WSOP Main Event final table. This was his second 11th-place finish in this event, having done so in 2001 as well.
Canadian poker pro, popular Twitch streamer, and Team Gripsed coach, Evan Jarvis continued on his path to tie a Main Event record. He finished 807th for $15,000 which was his fourth consecutive WSOP Main Event cash. The record stands at five cashes in a row, set by Ronnie Bardah last year (he did not cash this year), and only six other players in WSOP history have made it to four: Robert Turner (1991-1994), Bo Sehlstedt (2004-2007), Theodore Park (2005-2008), Chris Overgard (2007-2010), Chris Bjorn (2008-2011), and Christian Harder (2010-2013). If he can cash the Main Event again next year, Jarvis will be tied for the record and be looking to set a new record of six consecutive cashes.
| Year | Total Entries | Countries Represented | Bracelet Events | American Entries (Bracelets) | Canadian Entries (Bracelets) |
| --- | --- | --- | --- | --- | --- |
| 2015 | 103,512 | 111 | 68 | 82,439 (46) | 4,871 (4) |
| 2014 | 82,360 | 107 | 65 | 78,165 (51) | 6,045 (0) |
| 2013 | 79,471 | 106 | 62 | 57,040 (41) | 4,118 (10) |
Despite the growth of the WSOP as they continue to add more events and attract more players, the 2015 series indicated that there might be a change in the air for Canadians. With the unfavourable exchange rate, the always-frustrating 30% withholding tax on substantial winnings, and the increasing number of high-quality local tournament series being offered across the country, Canadians seem to be giving the WSOP a pass.
While the overall attendance of the WSOP grew by 25.7% this year over last and nearly every country fielding more players, Canadian participation actually fell by a not-insignificant 19.4%. Nearly 1,200 less Canadian entries were paid to the WSOP this year than last. Another year will determine whether this is an ongoing trend or not.
A huge congratulations goes out to the four Canadians who brought home gold this summer: Sam Greenwood, Dan Idema, Andre Boyer, and Jonathan Duhamel.
Photo courtesy of Joe Giron / WSOP.
Get all the latest PokerNews Canada updates on your social media outlets. Follow us on Twitter and like us on Facebook!