Global Poker Ring-Game Traffic Continues Steady Decline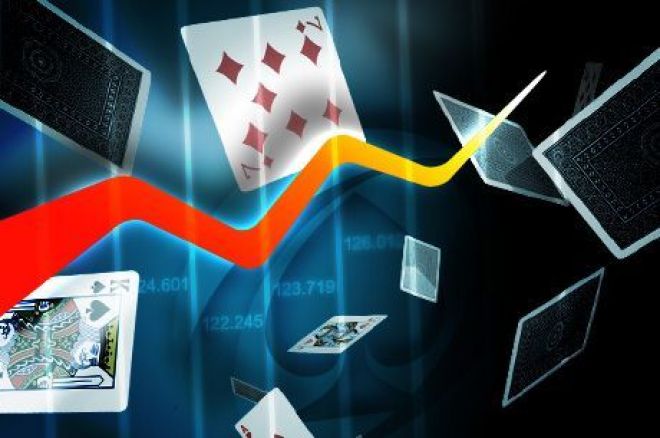 Online poker ring-game traffic continues to decline, and two reasons are being cited. First: many countries and jurisdictions are enacting tighter regulation. Second: players seem to be shifting their action from ring games to other forms of poker including lottery-style sit-and-gos.
According to PokerScout, based on a seven-day moving average from July 19, 34,736 players were playing ring games on poker sites around the world. This represents a 3% decline from the average of 35,825 players one week ago on July 12. The decline is even more steep at 17% when compared to the average of 41,872 players the data analysis site recorded for July 19, 2014.
The declining trend is alarming. Going back even further to two years ago, there was an average of 47,925 recorded for July 19, 2013, representing a huge 27.5% decline in the most recent figures.
Top Poker Sites
There has been little movement in recent months in the top 10 site rankings based off a seven-day moving average of ring game traffic. As has been the case now for many years, PokerStars currently dominates the market with 14,732 players based off this matrix. While PokerStars will likely be the industry leader for the considerable future, perhaps all is not, well given the poker room's traffic declined by 17.7% from 17,902 players a year ago. Even looking at just the past week, traffic declined 3.3% from the 15,228 players recorded on July 12, 2015.
Despite the declining traffic, PokerStars traffic represents more than seven times that of 888poker, the number-two site in the rankings, which generated 1,998 seats. Looking at it another way, PokerStars continues to dominate the market with 42.4% of all ring-game players playing at the site.
888poker as a company, however, could be in good shape to increase its overall traffic figures after striking a deal to acquire bwin.party, the operators of the partypoker network. Partypoker as a stand-alone network witnessed an average of 1,044 seats, which is good enough for seventh place on the rankings.
Also, the traffic seems to be relatively stable at 888poker with traffic only declining by 1.8% from the average of 2,034 players recorded a year ago. 888poker would have likely shown a year-over-year increase based off a seven-day average if not for many reported connectivity issues players experienced around the world over the past two weeks.
Sitting in third place in the PokerScout Rankings is Bodog with 1,700 players. The network continues to increase in popularity with many Americans choosing to play on the Bovada Poker skin, which is currently providing grey market services. Many industry experts agree that at a minimum the site is in violation of the UIGEA, meaning those playing on the site have few protections.
Despite its questionable legality in the United States, Bodog has experienced significant growth in the past year with a 21.4% increase in ring-game traffic when compared to the average of 1,400 players a year ago.
Rounding out the top five are the iPoker Network, who was once battling 888poker for second place, and PokerStars Italy.
Novelties Only As Good As the Rewards
PokerScout reported in its Weekly Traffic Update report that French poker operator, Winamax, witnessed a huge 105% spike in traffic following the launch of its Cash Game Bingo jackpot promotion. This promotion was initially attractive to recreational players, which allowed them to have fun while pursuing rewards by filling out a bingo card of 14 spots within 50 hands (spots get filled every time a player is dealt a certain hand combination in ring games).
However, PokerScout points out that once players caught on to how low the rewards were given the difficulty level, traffic returned to its normal state. Consequently, it's being reported that only €27,800 out of the promised €100,000 has been paid out during the first 11 days of the promotion. PartTimePoker highlights the difficulty of winning a prize in this promotion, explaining players have only about a 1 in 5,000 chance of winning a prize during any 50-hand window.
This isn't to say that novelties and promotions can't work in both the short and longterm to help rebound ring-game traffic. This is especially true when considering the introduction of lottery-style sit-and-go's, which many believed would be a novelty. Despite the initial traffic increase from such games, it seems they may actually be a catalyst for a drop in ring-game traffic.
Special thanks to Poker Industry PRO and PokerScout for data used in this article.
Get all the latest PokerNews Canada updates on your social media outlets. Follow us on Twitter and like us on Facebook!