Heavy Rain Causes Leaky Roof at Rio; 23 Day 1b Main Event Tables Forced to Move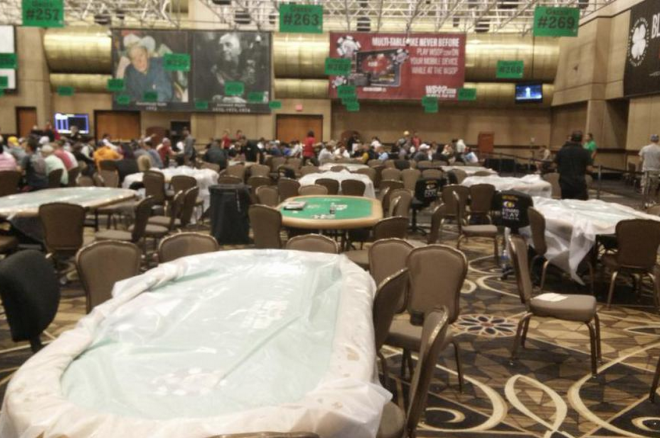 It doesn't rain in Las Vegas often — it averages just 9.15 inches annually, which is 30 inches less than the national average — but on Monday it came down in droves, so much so that it briefly interrupted the 2015 World Series of Poker.
About 10 minutes before the dinner break on Day 1b of the $10,000 Main Event, play was halted after rain started to fall from the ceiling.
Here's what the WSOP had to say about the situation in their live blog:
"With the heavy storm outside, water has leaked into a corner of the Brasilia Ballroom where playing tables were located. As a result, 23 tables are being relocated after dinner to the Amazon Room.
"If you're seated in Brasilia at tables 1-19, 24, 31, 38, or 39, your table will be in Amazon after dinner. These rerouted tables are located near the center of the room where the orange and purple sections meet on the left hand side of room once you enter. All other tables are unaffected and players should return to the seat they were in immediately preceding the dinner break."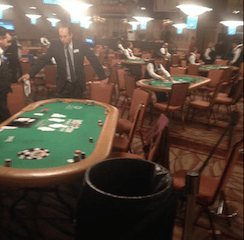 Not surprisingly the bizarre incident, which also seemed to affect several tables in the cash game area in the Pavilion Room, was met with mixed reaction from the players.
"So tilted right now," tweeted Jean-Robert Bellande. "Poised to ship my short stack but we got sent on dinner break nine min early."
Meanwhile, Todd Witteles tweeted a picture with the caption, "This is a new one: Raining IN the WSOP! Trashcan is catching rain. Dinner break early."
The situation seemed to be a minor inconvenience; however, PokerNews caught up with a couple players after Level 4 to get their take.
Erick Lindgren: "I think when you come to the Rio anything is kind of expected. I expected the rain. If it was still my betting days, I definitely would have bet on rain today. A lot of people who come don't think it ever rains here, but this is like our rainy season. It happens, absolutely no big deal."
Chris Moorman: "To be honest, I didn't even notice the rain was coming it, so it didn't bother me at all."
Phil Galfond: "I didn't know what was happening except I heard what I thought was an alarm, but it was everybody's phone going off in unison with a flood warning. Then they said they were going on break early. On the way out, I did get dripped on. I actually prefer to be in the Amazon Room, so it was a good thing."
So there you have it. Aside from Bellande, no one seemed to view the rain delay as too troublesomeness, but rather a unique singularity.
For an idea on just how bad the rain was on Monday, check out this video from the WSOP:
*Lead photo courtesy of Jason Finn.
Get all the latest PokerNews Canada updates on your social media outlets. Follow us on Twitter and like us on Facebook!