Table Selection No Longer Possible in Full Tilt Ring Games
Matthew Pitt
Giovanni Angioni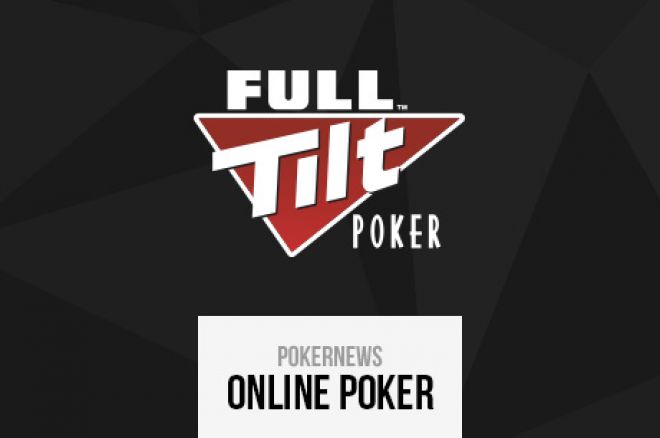 In a blog article earlier this month, Full Tilt Managing Director Dominic Mansour highlighted a number of changes to the site's ring games designed to "bring the fun back to online poker" and "make the site more exciting."
Those changes were instituted yesterday as players who launch the Full Tilt client are prompted to update the software to the latest version. Once the update is complete, the changes to the ring game lobby become apparent.
Gone are the long list of individual tables, traditionally the view used by the vast majority of online poker sites, and instead are in groups of tables. The lobby is still sorted by stakes, number of tables, and buy-in sizes, but players can no longer choose their seat as the new software automatically finds a random open seat and places them in it.
"If we wanted to be serious about trying to fix a broken poker economy, we had to find all of the biggest issues and either really solve them, or remove them."
Taking to the Full Tilt Blog, Mansour explained that the site would use the same system found in live poker rooms.
"When a player arrives at a live card room, they tell the poker room manager what game they want to play and the poker room manager will take them to a table with a free seat so that they can start playing straight away," said Mansour. "As players join and leave the live card room, the poker room manager brings new people together to create new tables, and moves players from short-handed tables to ensure every player has the best possible experience."
Another major change is the removal of all heads-up tables. Mansour highlights the fact that the heads-up games were being adversely impacted by the process known in the industry as "bum hunting," where more experienced players prey on weaker players and refuse to play similarly skilled opponents.
"Firstly, heads-up games were being adversely impacted by the minority of experienced players who targeted 'weaker' opponents rather than take on all challengers. Secondly, new players who tried out the heads-up games found it intimidating and confusing."
According to Mansour, this discouraged many players and kept them from heading back to the virtual felt. "In short, heads-up ring games just didn't form part of a healthy poker ecosystem, which made our decision to remove them easier."
Answering to the comments and concerns expressed by many regulars at Full Tilt on the popular poker forum Two Plus Two, Full Tilt Poker Room Manager Shyam Markus said that the decision to remove the heads-up tables has been extensively debated within the team before it became operative.
"It wasn't a decision we reached lightly. All of the suggestions were discussed. Lots of ideas that weren't suggested were discussed. We had a full specification all written up for the direction we wanted to take the heads-up games," Markus explained.
"The problem was that nothing changed the fact that the more new players play heads-up, the less likely they are to continue playing. If we wanted to be serious about trying to fix a broken poker economy, we had to find all of the biggest issues and either really solve them, or remove them.
"It's not going to be a super popular decision, and it's absolutely possible we've made a mistake," Markus continued. "But for now it's the decision we feel has the best chance of helping to turn around some of the biggest problems we face and return to growing the site."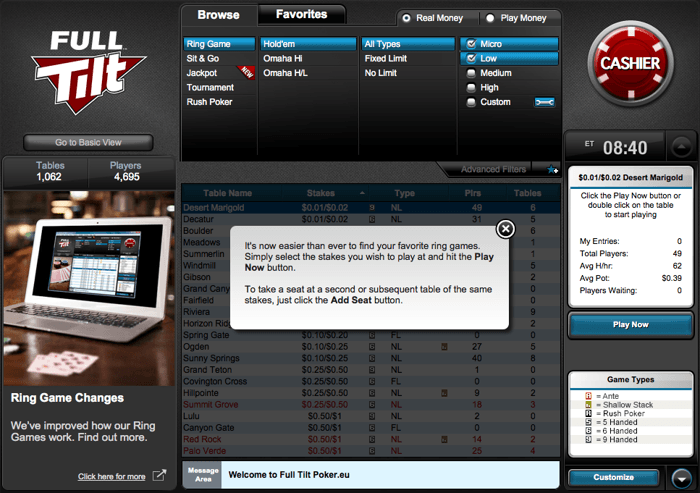 Also removed from Full Tilt's cash game offering are the nosebleed stakes plus all stakes of stud, draw, and mixed-game tables. The maximum stakes available are now $10/$20 for No-Limit Hold'em, $15/$30 for Fixed-Limit Hold'em, $10/$20 for Pot-Limit Omaha and $2/$5 for Pot-Limit Omaha Hi/Low.
Full Tilt's newly appointed Player Ambassador, Marc Kennedy, joined the discussion and welcomed the changes, hoping the new strategy will once again innovate the poker industry.
"There are obviously going to be people who don't like some or maybe even all of the changes, that is always going to be the case when you have a major shake-up," Kennedy commented. "I think these are good changes and they are just one piece of the puzzle. There is some really cool stuff on the horizon."
Kennedy also hinted at an all-new VIP program to be rolled out in the near future and praised Full Tilt's tendency to look for new ways to grow its online business.
"They are trying some new things and Full Tilt has never been a company that is scared to try new things. If they don't work they try something else. I like that mentality. Of course, sometimes this means that you are going to make mistakes, but sometimes you may also end up reshaping the entire industry as it happened with Rush Poker."
The previously mentioned plans to alter the rake structure and rewards system were not included in the new software release, but PokerNews understands these changes will be deployed in the coming weeks.
What do you think off the new Full Tilt changes? Let us know in the comments box or on Twitter @PokerNewsCanada.
Get all the latest PokerNews Canada updates on your social media outlets. Follow us on Twitter and like us on Facebook!