The Five Biggest Hands from Day 3 of the Super High Roller Cash Game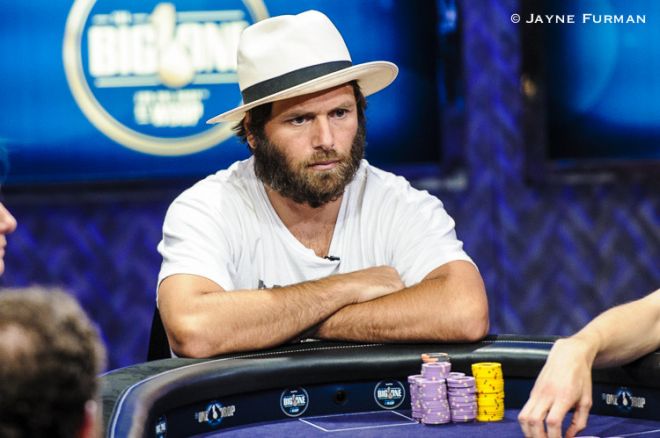 Day 3 of the Super High Roller Cash Game at ARIA kicked off on Wednesday around 2:30 p.m., and things got even crazier than the first two days. After playing with $400/$800 blinds and a $200 ante, players switched up the format to $300/$600 blinds with a mandatory $1,200 straddle. Many pots were further straddled to $2,400 and $4,800, with at least one pot featuring a fourth straddle to $9,600 as the night wound down.
All of that money in the middle created plenty of incentive for action, and a line-up filled with amateur players with huge bankrolls obliged in a big way. In the end, Bill Klein (+~$400,000), Brandon Steven (+~$350,000), Rick Salomon (+~$250,000), and Bill Perkins (+~$250,000) appeared to be the biggest winners, although it's hard to judge in a cash game with players able to reload at a moment's notice. Jean-Robert Bellande seemed to be down an unknown amount, while Al DeCarolis (-~$250,000), Antonio Esfandiari (-~$200,000), and John Morgan (-~$90,000) also booked losses.
How did it go down? Read on for the top five hands of the session.
Perkins Doubles Through Salomon
Early in the session, Salomon was by far the most active player at the table. He made a big misstep in this pot, which started building with a Morgan raise to $8,500. Salomon called from the button, and Perkins came along from the big blind.
The dealer spread a flop of



, and action exploded, starting with Morgan's continuation-bet of $12,000. Salomon raised to $35,000, and Perkins cold three-bet to $100,000. Morgan quickly got out of the way, but Salomon thought briefly before announcing he was all in, only for Perkins to snap-call for his last $120,000.
"You have fours?" he asked.
"I just have ace-queen," Salomon said, showing


.
He was miles behind


, and the players agreed to run it twice. Neither run out helped Salomon, and Perkins raked in a $482,000 pot.
DeCarolis Gets Felted
In the cutoff, DeCarolis opened for a raise to $8,500 with the $2,400 straddle on. Salomon made it $25,000 from the button. DeCarolis called and checked the



flop. Salomon tossed out a cranberry $25,000 chip, and DeCarolis gruffly announced a raise, putting $75,000 in. Salomon double-checked his cards and called. DeCarolis checked the

, and Salomon flicked in an orange $100,000 chip. DeCarolis called again and checked the

. Salomon put him all in for $290,000, and DeCarolis called.
Salomon showed


for a light three-bet that found the most perfect flop, as DeCarolis sighed and showed


. He called it a session after that, and Salomon dragged a pot of $822,700, the biggest of the day.
Klein Bluffs Bellande
Klein opened for $6,000 and got action from Bellande, who was in the mandatory straddle. Bellande check-called $10,000 on the



flop, and both quickly checked the

. The

river put a straight on the board, and Bellande went for an overbet, firing $45,000 into a pot of $32,900. Klein wasted little time cutting out raising chips and put in $115,000.
"There's a reason why you took second in the One Drop with all those superstars," Bellande mused before sighing. "You were right that I was full of s*** and now I have no choice but to fold."
Klein rolled over the


, much to the delight of Esfandiari, smiling as he took in the $192,900 pot.
Klein Induces Esfandiari to Three-Barrel
Esfandiari wasn't smiling for long, as he was Klein's next victim.
Klein raised to $6,000 in the cutoff, and Esfandiari made it $15,000 from the button. Klein repopped to $29,000 after the blinds mucked a scary flop hit the board:



. Esfandiari bet $29,000 after Klein checked. Klein called. He check-called $51,000 more on the

turn, and the

hit the board. Klein checked again and Esfandiari fired $118,000. Klein cut out calling chips and slid them forward after a brief thinking period.
Esfandiari showed


for a whiffed straight draw, and Klein took a pot of over $450,000 down with


.
"Antonio, you and I can have a conversation in the back after this," Bellande said with a laugh. "We can talk about trying to bluff the rich guys."
"Don't you know I'm a nit, Bill?" Esfandiari asked.
That pot made Klein one of the biggest winners at the time, up $450,000.
Steven Doubles Just Before the End
With the night winding to a close, Perkins opened to $8,000 under the gun and got two calls before Steven, who stayed quite tight all night, made it $37,000 to go from the $2,400 straddle. Perkins four-bet to $83,000, driving out the squeezed players, and Steven called. He checked the



, and Perkins put him all in for $214,000. After about a minute, Steven dropped in some chips.
Steven:



Perkins:


The players ran it twice, and neither


nor


allowed the queens to catch up. That pot allowed Steven to book a solid win.
Get all the latest PokerNews Canada updates on your social media outlets. Follow us on Twitter and like us on Facebook!