You Bet Your Life: Daniel Negreanu vs. Justin "Stealthmunk" Schwartz
Marty Derbyshire
Pamela Maldonado
Andrea Thomas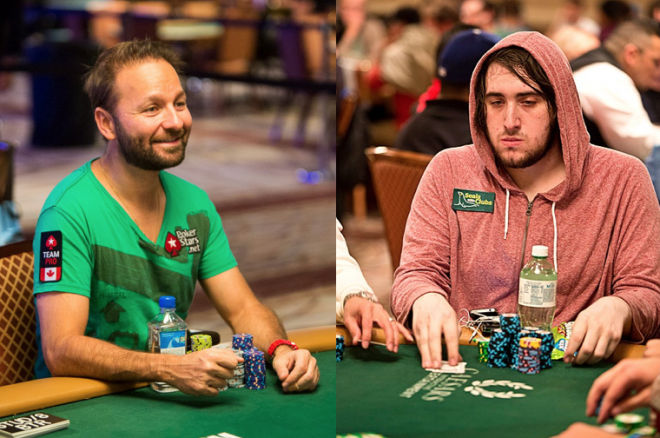 It started as an open challenge. Bored with the action in Las Vegas, Justin "Stealthmunk" Schwartz let it be known that he was willing to take on all challengers playing $25/$50 or higher, heads-up pot-limit Omaha.
There were very few takers until Daniel Negreanu stepped up with an offer to change his life.
"He's actually been really mean and rude to me, but I always thought for years, 'How can I make a difference for this kid? How can I help him?'" Negreanu told PokerNews. "So I wrote back a tweet. I honestly didn't think he was all that serious, but I said if you do the following, we will play. Then it became a thing. A lot of people came on board and told him he should do it because it's a great opportunity for him.
"Essentially what it is, originally I was just going to give him a freeroll: A free $100K if he wins and if he loses I'm going to give him a better deal."
That better deal included Schwartz having to improve his diet, exercise regularly, read more, meditate and do yoga, a staking arrangement, and finally getting involved in a program at Choice Center Leadership University, a personal development program which Negreanu himself has attended.
"Daniel and I have had our differences over the years," said Schwartz. "We nearly got into a physical altercation at PCA once. I've always been the voice of the younger generation of online poker players and not afraid to speak out. He tries to speak out too, and our opinions often conflict.
"He's played and interacted with me enough to realize I have potential as a poker player and realize I'm a very depressed and tortured soul. I think his extreme success has gotten to his head. He has made millions upon millions, and the cornerstone of Choice Center is charity. What could be more charitable than giving one of your supposed enemies a chance at a new life?"
Negreanu agrees.
"I think exercise and diet can help people feel better about themselves, so this is just one way I can help," he said. "He's said really mean things to me in the past, but I know that there's something deeper there. I'm not going to take it personally. Instead, I believe it's like a life lesson in a sense. When someone really upsets you, instead of asking for bad things to happen to him, think 'how can I make a difference for this person to help him be a better person.' And that's going to make you feel good. So it's not a selfless act. Me doing this for him, if he gets back in shape, I would be so happy. That's my motivation. That's what I get out of it, seeing him succeed and just maybe see him change his view on the world."
Schwartz was less open to the idea of a program at Choice Center, reading, and doing yoga and mediation, so the two settled on a more simple bet. They will play a heads-up pot-limit Omaha and 2-7 triple draw freezout for $100,000 sometime in mid August. If Schwartz wins, he has a year to reach 22-percent body fat and collect the cash. If he loses, Schwartz can get his money back by reaching 22-percent body fat within a year. If he loses and doesn't make the weight, Negreanu and he will choose a charity to give the money to.
Both players actually found themselves heading into Day 6 of the 2015 World Series of Poker Main Event Monday, putting the bet on hold for now. However, Negreanu promises it will happen.
"There's no incentive for me other than helping the guy," Negreanu said. "I just feel like he's the type of kid who just doesn't believe that something good can happen to him. I feel like he's had a lot of bad things happen and he just doesn't trust, he doesn't believe. It is going to happen."
Get all the latest PokerNews Canada updates on your social media outlets. Follow us on Twitter and like us on Facebook!