BlogNews Weekly: The Weekender, Bad Folds, and Happiness in Isolation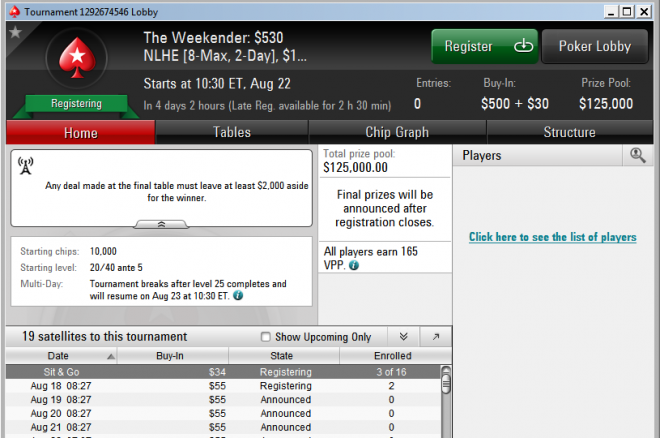 Each week, PokerNews Canada brings you insight into the happenings at the major poker sites. Featuring the most popular blog posts, BlogNews Weekly is your one-stop shop for all your poker blog highlights.
This week, the BlogNews Weekly brings you highlights from the latest PokerStars, Full Tilt, and partypoker blogs.
PokerStars Introduces the Weekender
In a blog post titled PokerStars Introduces The Weekender, PokerStars announced a new deep-stacked two-day tournament aptly named The Weekender, which appropriately will take place every weekend. The Weekender features a $530 buy-in, $125,000 guaranteed prize pool, and a fantastic structure with 10,000 starting chips, 12-minute blind levels, and eight-max tables.
The next event is this Saturday at 10:30 a.m. ET, where 25 blind levels will be played before all remaining players get some rest before and come back on Sunday at the same time.
PokerStars is also hosting satellites throughout the week starting at just $5.50, providing both high-limit and low-limit players a chance to play in The Weekender.
The inaugural tournament ran this past weekend with Austria's "HealTheWorld" outlasting a 328-player field to collect $31,570. The tournament was such a success PokerStars already bumped up the guaranteed prize pool from $100,000 to $125,000.
Head on over to the PokerStars blog to learn more about The Weekender.
Bad Fold or Bad Call
The Full Tilt blog titled Video of the Week – Play It Tight? points out that sometimes it's better to make a bad fold rather than a bad call. A bad fold may mean you didn't accumulate chips you should have, but at least you have preserved your remaining chip stack, while a bad call could mean you are out of a tournament or felted in a ring game.
This doesn't mean you should be making bad folds. As you can see from the video below, you should always look at your cards if you don't remember exactly what you have to avoid bad folds:
Head to the Full Tilt blog to check out a bad fold in action.
Happiness in Isolation
It's usually partypoker Team Pro Tony Dunst giving away free advice on the partypoker blog; however, this week it was Paul Seaton, who talked about how and why you should be isolating your opponents in a blog titled Happiness in Isolation.
Isolation is an important concept in poker, and when used properly could mean big rewards. In his informative blog, Seaton elaborates on what isolation is, protecting premium hands, being prepared, fighting fire with fire, and rewards of isolating hands postflop rather than just preflop.
Even if you already know what isolation is, and have used it while playing, this blog can give you some food for thought.
Visit the partypoker blog for everything you need to know about isolation in poker.
Get all the latest PokerNews Canada updates on your social media outlets. Follow us on Twitter and like us on Facebook!