The Sunday Briefing: Canadians Rack Up Cashes in Sunday Warm-Up and Sunday Supersonic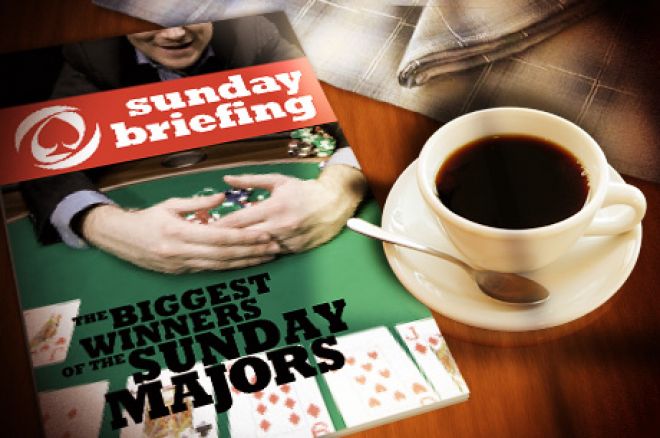 With millions of dollars paid out to poker players around the world, the week's biggest and best online tournaments are found every Sunday on sites like Full Tilt, PokerStars, 888poker, and partypoker.
This weekend, two Canadian-based players were part of a four-way chop in the 'Sunday Warm-Up' on PokerStars that saw the two of them walk away with the top two payouts — more than $50,000 each. Jon 'apestyles' Van Fleet picked up a third-place finish in the 'Sunday Rebuy' for just shy of $20,000. Two Canadians can boast final-table finishes in the 'Sunday Million', and Canadian flags peppered the payout table of the 'Sunday Supersonic' after racking up most of the top finishes.
Sunday Majors on Full Tilt
The Sunday Brawl
With 331 entrants for the first big tournament of the day on Full Tilt, the $250 'The Sunday Brawl' awarded the guaranteed $75,000 in the prize pool, but each elimination also earned players $35. 'BedoliFE' from the U.K. won the top prize of $16,500, not including bounties.
The top Canadian result came in seventh place with 'CzarBushov' earning $2,475, and he was one of two Canucks on the final table. Finishing in ninth place, David 'd_quang' Quang also managed a final-table finish, collecting $1,425 to start his Sunday off right.
The Sunday Major
An overlay in 'The Sunday Major' topped the prize pool up to its guaranteed $125,000. With 483 entries — nearly 50 more than last week — Full Tilt had to contribute $12,000 to its second $250 tournament of the day.
Austrian 'Jedi AllStar' won the big money. He scooped up $26,562.50 with the win while a steady Canadian grinder collected fifth place. 'MidEGambler' earned $7,750 for fifth after also final-tabling last week's 'Super Sized Sunday' on Full Tilt.
Super Sized Sunday
The price goes up for the last major of the day on Full Tilt. For $500, players are guaranteed a prize pool of $50,000 in the 'Super Sized Sunday'. With 98 entrants, the guarantee was not quite met. The biggest portion of the even $50,000 went to Latvian 'DinamoRiga1' and one Canadian made the final table. Finishing in ninth place, which also happened to be a min-cash in this tournament, was 'jaliberta17'.
Sunday Majors on PokerStars
Sunday Kickoff
This biggest tournaments of the day get started on PokerStars every week with the $109 'Sunday Kickoff' with a $125,000 prize pool guarantee. With 1,618 people paying the buy-in, the guarantee was far surpassed, with $161,800 eventually being the sum they were playing for.
With the early start for players in Canadian time zones, it's not surprising to see no Canadians collecting any significant pieces of the prize pool. 'ThaSquirrel' from Malta collected $21,783.65 after a three-way chop.
Sunday Warm-Up
The $215 'Sunday Warm-Up' heats up the action with a $400,000 guarantee, and this week 2,199 entries meant that 324 players would collect a piece of $439,800. The largest piece went to an American based in Canada. Amit 'AMAK316' Makhija earned an impressive $50,959.38 after a four-way chop that also included another Canadian.
'SHIPP ITT' collected very nearly as much as the champion — $50,090.56 — despite officially finishing in fourth place, due to locking up a bunch of money as the chip leader when chop negotiations were settled.
Sunday Rebuy
The $109 'Sunday Rebuy' saw the $180,000 guarantee beat when registration closed with 598 entries to push the prize pool just a few thousand dollars short of $200,000. While a Swede took the top prize — '42ayay' earned $37,025.10 — two Canadians found their way to the final table as well.
Jean-Pascal 'hopezACE' Savard was the first of the two to go when he was eliminated in eighth place for $4,407.75. Jon 'apestyles' Van Fleet put in a few more hands to ultimately finish his run in third place for $19,981.80.
Sunday Storm
Moving on to the lowest-priced tournament that could be considered a Sunday major, the $11 'Sunday Storm' is the best value you'll find in online poker. Despite the tiny buy-in, the prize pool guarantee is set at $275,000, and it just squeaked past it this week to settle at $277,780.
No Canadians managed to snag a significant portion of the cash. With 30 players remaining, there were still four Canadian-based players left, but none made it past 18th. U.K.'s 'fultb' earned an impressive $23,129.52 after chopping it three ways and coming out as the winner.
Sunday Million
The most jaw-dropping tournament in online poker is the only one that guarantees a million dollars in prizes. The $215 'Sunday Million' saw 5,430 entries this week, and when only nine remained to take seats at the prestigious final table, two Canadians were among them.
Swelling his bankroll by $24,435 was 'Brainy14' with a seventh-place finish, while one of Ryan Laplante's students made it one notch further. The coaching seems to have been effective, as 'Nurlux' earned $35,295 for sixth place. That should pay for plenty more poker lessons. This week, Argentina's 'KKruchitAAs' won the title and $158,184.70 after chopping it heads up.
Sunday 500
The price of admission goes up for the 'Sunday 500' where 515 players paid $530 for a virtual seat and chips this week. One player from Canada made it to the final table. With the eloquent name of 'Online IDIOT', eighth place earned him $5,793.75. Ireland's 'NukeTheFish!' did as his name suggests and won the top payout of $37,543.48 after a pretty even three-way chop.
Sunday 2nd Chance
It's all in the name. The 'Sunday 2nd Chance' gives tournament hopefuls one last regular $215 tournament to try to lock up a profitable day with a $160,000 guaranteed prize pool. When the 896 entries played down to just one, it was India's 'felter1989' who collected $29,231.20 for the win after chopping it heads up. No Canadian managed to make a final-table appearance.
Sunday Supersonic
The Sunday majors conclude on PokerStars with the $215 'Sunday Supersonic' — a six-max hyper-speed tournament with a $200,000 guarantee. In almost exactly two hours, 1,121 players were reduced to one, and that one was Canadian Jonathan 'Poker Own U' Bardier laying claim to $36,263.27 after a three-way chop.
The player to come out second-best in the 'Sunday Supersonic' was another Canadian. Earning $29,253.77 after chop negotiations, 'josht7' finished second. Just a couple of spots back was Griffin 'Flush_Entity' Benger with a $10,137.56 cash for fifth place, and that's still not all of the Canadians on the final table. 'AJacejackAJ' finished eighth for $4,135.36. Mark 'scrubbyz' Zajdner just missed the final table by making his exit in 11th for $2,953.83, meaning that five of the top 11 finishes were by players in Canada.
Sunday Majors on 888poker
The $100,000 Mega Deep
The premiere Sunday tournament on 888poker sets the guarantee at $100,000 for a $215 buy-in, and that was surpassed this week by nearly $20,000 with 595 entries. Hailing from Australia, 'poker_mom74' won the top payout of $22,479.10. The best Canadian result was the first elimination from the final table when 'yukeepplayin' finished ninth for $1,785.
The $150,000 Whale
Not a weekly tournament, 'The $150,000 Whale' occasionally offers a high roller with a $600 buy-in for 888poker's players. Portugal's 'AryenRobben' won the best prize of $30,675, and one Canadian player made the final table, also finishing ninth as our Canuck did in 'The $100,000 Mega Deep'. Earning $2,850, 'alexos888' chalked up the lone maple leaf within the top 10.
The $75,000 Sunday Challenge
With a more affordable buy-in of just $90, the 'The $75,000 Sunday Challenge' is commonly the most popular tournament of the day on 888poker. With 664 players, the prize pool swelled to nearly $90,000, but no Canadians were anywhere to be found deep in the tournament. Poland's 'Zbigniew1963' earned $15,286.48 after coming out on top of a heads-up chop.
Sunday Majors on partypoker
$150K Guaranteed Sunday
There have been few weeks this year that partypoker's $200 Sunday major has met its guarantee. What was once a $200,000 guarantee was reduced to $150,000 mid-way through this year, and there was still a small overlay this week. With 789 entrants, Matt 'swifterjet' Swift had the best Canadian result, earning $2,745 for ninth place. Ukranian 'jokero19891' won the most after a heads-up chop. The top two places both earned a little more than $21,000.
$100,000 Gtd High Roller
In the higher-priced tournament of the day, 226 entries pushed the prize pool past the guarantee to $113,000 in the $530 tournament. Won by Denmark's 'x_zola25' for $21,345.70, the best Canadian finish went to a player who has dialed in partypoker's Sunday majors. Finishing in eighth place was 'V_ELIMINATOR' — a Canadian who final-tabled both the '$100,000 Gtd High Roller' and the '$150K Guarantee Sunday' on the same day earlier this year.
That's it for this week. If you don't already have an account on all of these sites, make sure you download through our links and use our bonus codes to take advantage of the most lucrative promotions you can find. Good luck; see you in next week's headlines!
Get all the latest PokerNews Canada updates on your social media outlets. Follow us on Twitter and like us on Facebook!