The Sunday Briefing: 'wwwBTHEREcom' Wins the Sunday 500 on PokerStars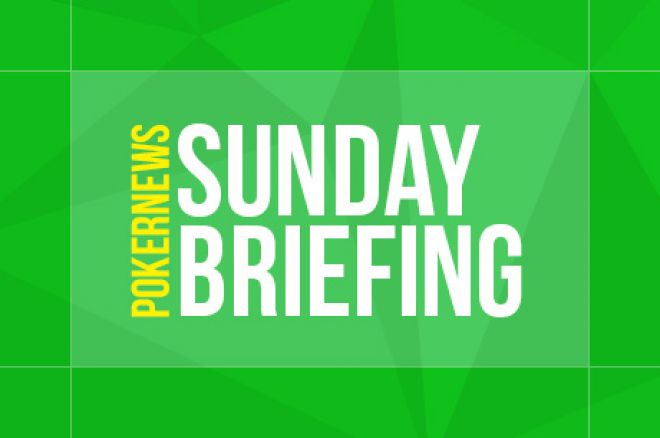 With millions of dollars paid out to poker players around the world, the week's biggest and best online tournaments are found every Sunday on sites like Full Tilt, PokerStars, 888poker, and partypoker.
This weekend, Canadians steamrolled the 'Sunday Brawl' on PokerStars, peppering the top of the standings with red and white by taking five of the top 10 finishes. 'The $100,000 Mega Deep' on 888poker was won by a Canadian, but the top cash of the week by a player in our country was Anthony 'wwwBTHEREcom' Gregg for winning the 'Sunday 500' on PokerStars for $46,494.
Sunday Majors on Full Tilt
Sunday Brawl
With 294 entrants for the first big tournament of the day on Full Tilt, the $250 'Sunday Brawl' had an overlay of nearly $6,000 to make up the guarantee of $75,000. Canadian Michal 'wywrot' Wywrot picked up the second-best prize of $12,375 for finishing runner-up to a player from the Netherlands. That puts Wywrot's lifetime winnings on Full Tilt over $800,000.
A fellow Canadian, 'NoBadBeatsPlz', finished in fifth for $5,025, and Vancouver, B.C.'s Jonas 'donut604' Mackoff earned $3,562 for sixth place. Another Canadian-based player, 'RedPantRed', finished eighth for $2,025, and 'HR Dub' earned $1,125 for 10th place. Overall, a Canadian finished in five of the top 10 spots.
Sunday Major
Another overlay in 'The Sunday Major' topped the prize pool up to its guaranteed $125,000. With 434 entries, Full Tilt had to contribute nearly $24,000 to its second $250 tournament of the day.
The best Canadian result came from 'jbrow8777' in fourth place, earning $10,625. Another player from Canada, Alex 'dynoalot' Difelice, cashed in for $5,625 in sixth place, and 'BlackFours' collected $2,375 for ninth.
Super Sized Sunday
The price goes up for the last major of the day on Full Tilt. For $500, players are guaranteed a prize pool of $50,000. With 95 players, Full Tilt had to cover a $5,000 overlay in this tournament as well. With nearly $5 million in lifetime online winnings, Ben 'NeverScaredB' Wilinofsky had the best result out of the Canadian contingent, finishing fifth for $4,000.
With only nine players earning a payout in this tournament, the first three eliminations in the money were all Canadians. The first out was 'canadiense' for $1,250, followed by 'MidEGambler' for $1,500, and Russell 'rdcrsn' Carson for $2,000.
Sunday Majors on PokerStars
Sunday Kickoff
This biggest tournaments of the day get started on PokerStars every week with the $109 'Sunday Kickoff' with a $125,000 prize pool guarantee. With 1,468 entries, the prize pool almost reached $150,000 this Sunday, but no Canadian won a significant piece of it.
Sunday Warm-Up
The $215 'Sunday Warm-Up' heats up the action with a $400,000 guarantee, and this week there was a slim overlay created by the 1,972 entries. The top Canadian-based result came in ninth place by American Grayson 'gray31' Ramage who earned $3,800 for his final-table appearance, and he's coming close to the $4 million mark for lifetime PokerStars tournament winnings.
Sunday Rebuy
The $109 'Sunday Rebuy' saw PokerStars top up the prize pool by $15,000 to reach the $180,000 guarantee with its 508 entries, 699 rebuys, and 439 add-ons. The best Canadian result was that of 'jays94' in 14th for $1,800, and we also saw Russell 'rdcrsn' Carson's second cash of the day in 19th for $1,080.
Sunday Storm
Moving on to the lowest-priced tournament that could be considered a Sunday major, the $11 'Sunday Storm' is the best value you'll find in online poker. Despite the tiny buy-in, the prize pool guarantee is set at $275,000, and that was beat by a slim margin this week with 27,817 entries.
The top result by a Canadian-based player was 12th place by 'chika641' who earned $931.86, while an Estonian took the impressive top prize of $26,034.66.
Sunday Million
The most jaw-dropping tournament in online poker is the only one that guarantees a million dollars in prizes. The $215 'Sunday Million' fell a few thousand dollars short of the guarantee with 4,962 players this week and a first-place prize of $156,430. However, no Canadian players managed to win any of the larger sums of cash.
Sunday 500
The price of admission went up for the 'Sunday 500' where 492 players paid $530 for a virtual seat and chips. With $246,000 to play for, a Canadian took the biggest piece. Coming in first place, American-in-Canada Anthony 'wwwBTHEREcom' Gregg earned $46,494 for stealing the victory from a final table full of Europeans. That win made him Canada's biggest winner of the day.
Sunday 2nd Chance
It's all in the name. The 'Sunday 2nd Chance' gives tournament hopefuls one last $215 tournament to try to lock up a profitable day with a $160,000 guaranteed prize pool. With 827 entries battling for chips, three Canadian players managed a top-10 finish.
The best payout collected by a Canadian was sixth place by 'SFisch4' for $6,946.80. In seventh place was 'jbrown8777' for $5,292.80 to add to his fourth-place finish in the 'Sunday Major' on Full Tilt on the same day, and Doug 'dlanger610' Lang earned $1,819.40 for 10th place.
Sunday Supersonic
The Sunday majors conclude on PokerStars with the $215 'Sunday Supersonic' — a six-max hyper-speed tournament with a $200,000 guarantee. It took only an hour and 45 minutes to play from 954 entries down to one winner earning a top prize of $34,188.29, earned by a player from the Czech Republic this week.
The top Canadian results were recorded by 'scossett' in fourth ($13,574.46) and 'AJF30' in fifth ($9,552.40).
Sunday Majors on 888poker
$100,000 Mega Deep
The premiere Sunday tournament on 888poker sets the guarantee at $100,000 for a $215 buy-in, and 539 players bought in for a piece of the action this week. After a little more than 12 hours, Canadian 'LCfish' collected the top prize of $20,374.20 for proving to be the best of the bunch.
$75,000 Sunday Challenge
With a more affordable buy-in of just $90, the '$75,000 Sunday Challenge' is commonly the most popular tournament of the day on 888poker. The 577 players also contributed 318 rebuys (one per player is permitted), tipping just over the guarantee. Canadians had less luck in this tournament, with 'saythx2urmom' collecting the most in 12th place for $873.24.
Sunday Majors on partypoker
$150K Guaranteed Sunday
There have been few weeks this year that partypoker's $200 Sunday major has met its guarantee. What was once a $200,000 guarantee was reduced to $150,000 mid-way through this year, and there was still nearly $25,000 in overlay this week when 681 players came to the tables. The top Canadian cash was collected by 'Bonequeiro' in fifth place for $8,025, and was the only player from our nation on the final table.
$100,000 Gtd High Roller
There was also a tiny overlay in the higher-priced tournament of the day. The prize pool stood at $100,000 in the $530 tournament with 197 entries. Coming in seventh place and earning $5,100, 'billy_tha_kid' was the best Canadian in the field, while 'GetOurs' just missed out on the final table by finishing in 10th for $2,200.
That's it for this week. If you don't already have an account on all of these sites, make sure you download through our links and use our bonus codes to take advantage of the most lucrative promotions you can find. Good luck; see you in next week's headlines!
Get all the latest PokerNews Canada updates on your social media outlets. Follow us on Twitter and like us on Facebook!