Devilfish, Juanda and Pescatori Among Ten 2015 Poker Hall of Fame Finalists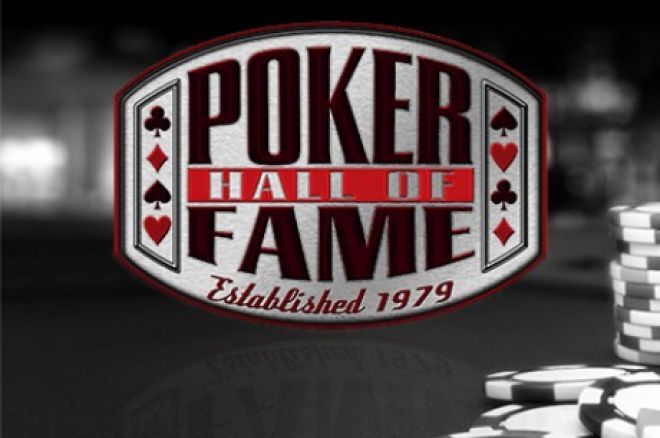 The Poker Hall of Fame (PHOF), established in 1979, currently boasts 48 members, but this year at least one player — more likely two — will be joining their ranks. After a public nomination process and vetting by the PHOF Governing Council, this year's list of 10 finalists has been announced.
Among those nominated for the PHOF Class of 2015 are (in alphabetical particular order): Chris Bjorin, David Chiu, Bruno Fitoussi, Jennifer Harman, John Juanda, Carlos Mortensen, Max Pescatori, Terry Rogers, Matt Savage, and the late David "Devilfish" Ulliott.
Four of those candidates have been nominated for the first time (Pescatori, Rogers, Savage, and Ulliott), while the other six finalists have been previously nominated (only Fitoussi, Bjorin and Harman carried over from the list of 2014 finalists, with the latter two having been nominated for the last four years).
The list of finalists will be submitted to the 23 living Hall of Fame members and a 16-person media panel who'll determine which player(s) will be inducted into the exclusive club.
The criteria they will consider in their vote are as follows:
A player must have played poker against acknowledged top competition
Be a minimum of 40 years old at time of nomination
Played for high stakes
Played consistently well, gaining the respect of peers
Stood the test of time
Or, for non-players, contributed to the overall growth and success of the game of poker, with indelible positive and lasting results.
The 2015 Class of the Poker Hall of Fame will be inducted as part of the World Series of Poker Main Event final table festivities between November 7-10, 2015. A special dinner and induction will be held at the famed Binion's Gambling Hall.
Here's a look at each of this year's finalists according to an official WSOP press release:
Chris Bjorin
Bjorin, a 67-year-old Swedish-born poker player who now resides in London, England, has earned more than $5.5 million playing poker in his distinguished career. The two-time WSOP gold bracelet winner sits sixth on the all-time WSOP cash list with 74 and ranks fifth all-time in WSOP Main Event cashes with seven.
A model of consistency, Bjorin has cashed for six-figures in 19 different calendar years, including 13 consecutively. He hold's Sweden's all-time money and cash records and is WSOP Europe's all-time cash leader as well. He cashed six times during the 2015 WSOP.
David Chiu
Born in China, Chiu moved to the United States when he was an 18-year-old exchange student. Originally a restaurateur in Colorado, Chiu first started in poker as a dealer before transitioning into one of the most successful tournament players in poker history. The 55 year-old is a five-time WSOP gold bracelet winner with wins in limit hold'em, seven-card stud, and Omaha eight or better and cashes in 70 WSOP events.
Chiu's most recent bracelet victory came in 2013 at a stacked $2,500 stud final table where he defeated the likes of Michael Mizrachi, Frank Kassela, and Scott Seiver to earn his fifth bracelet. Chiu's success extends beyond the WSOP, though, and also includes a memorable victory over Gus Hansen in the 2008 WPT World Championship. That win earned Chiu an impressive $3.3 million and, over the course of his career, Chiu has raked in almost $7.9 million in career tournament earnings since he first started playing tournaments back in 1996.
Bruno Fitoussi
Perhaps no one is more influential in French poker circles than Fitoussi, 56, who turned his passion for poker into a successful playing career and several other poker-related business interests. He introduced Texas hold'em into France in 1995 at the Aviation Club de France, Paris' most famous gaming club. He has more than $2.7 million in career poker winnings, ranking eighth all-time on France's list.
"The King" won the inaugural World Heads Up Poker Championship in 2001, defeating Amarillo Slim. His first recorded cash was in 1991. He was the runner-up in the WSOP $50,000 Poker Players Championship in 2007, securing his largest cash, for $1,278,720 and showing he was capable of playing all poker's major variants well.
But Fitoussi's mark on the game in large part comes from getting poker on television in France and his participation and commentary in several poker shows over the years. France truly became a poker market in part due to Fitoussi's activities to develop the game in his home country.
Jen Harman
Harman has a long list of tournament accomplishments, including more than $2.7 million in earnings, two WPT final tables, 12 WSOP final tables, and the honor of being the first woman to win multiple WSOP bracelets in open events. However, what might be even more impressive than her tournament results is her skills in the cash games. The Reno, Nevada native has been a staple in the biggest cash games in Vegas for more than a decade and is one of the only women to play cash at such high stakes. The 50-year-old mother of two also dedicates much of her time to using poker to raise money for charitable causes, including the National Kidney Foundation and the Nevada Society for the Prevention of Cruelty to Animals.
John Juanda
Juanda is a 44-year-old Indonesian-born poker pro who doesn't do much talking, but his poker résumé speaks for itself. He has amassed more than $17 million in tournament winnings, including five WSOP gold bracelets, an EPT title, plus WPT, APT, PPT, and many other tournament victories. He's also won wherever he has went, with victories in Europe, Australia, Asia and North America. A long-time U.S. resident, Juanda came to the United States in 1990 to attend college at Oklahoma State University and then went on to receive his Master's degree from Seattle University. But since 1997 John has made his income on the felt and in so doing has cemented himself as one of the most consistent and successful players of the last two decades.
Carlos Mortensen
When it comes to tournament poker and ROI, no one besides Dan Colman can compare to Carlos "The Matador" Mortensen. The 2001 WSOP Main Event Champion has won more money on the World Poker Tour than any other player in history despite playing significantly fewer events. His almost $6.8 million in WPT earnings combined with over $3.1 million in WSOP earnings and assorted other cashes put his career earnings at almost $12 million. The 43-year-old is also the only player to have won both the WSOP Main Event and the WPT Championship event. Hailing from Alicante, Spain but now residing in Vegas, Mortensen is still one of the top players in the game, already cashing 17 times in 2015.
Max Pescatori
Italy's all-time money earner is the "Italian Pirate" Max Pescatori, who captured two WSOP gold bracelets this past summer to push his lifetime earnings up over the $4 million mark to go along with four career WSOP gold bracelets.
Pescatori, 44, began his poker tournament career in 2002, and has been a steady and consistent performer ever since, with a well-rounded game that includes success in multiple disciplines. The Milan resident, Pescatori is also a noted poker author, having written two books in Italian on poker, to help strengthen and grow the game in his home country.
Terry Rogers
Many consider Rogers Ireland's 'Godfather of Poker' but the colorful character is also one of the most influential people in all of Europe in terms of impact on the game of poker, sports betting and horse racing. Rogers founded The Eccentric Club and started the Irish Poker Open in 1980, the longest running tournament in Europe, and the second longest overall, behind only the World Series of Poker. Rogers was a frequent attendee at the World Series of Poker in the 1970's, and took the game of hold'em back to Europe with him and helped bridge the game between continents.
Rogers was a bookmaker by trade and credited with changing the face of sports betting in Ireland by revolutionizing betting shops and making them accessible to the ordinary man. Rogers was quite a showman too who was involved in the Muhammad Ali fight that took place in Dublin in 1972.
Born in 1928, Rogers passed away in 1999. He dabbled in poker himself including a runner-up finish in the Alaskan Stakes tournament in 1983, but it was beyond the felt where he had the greatest impact. He was instrumental in the career of Noel Furlong, the only Irish WSOP Main Event Champion, who won the event in 1999 and also convinced the likes of Doyle Brunson, Stu Ungar, Amarillo Slim, Chip Reese and Tom McEvoy to travel to Dublin for Rogers' tournament.
Matt Savage
When you think of non-players in poker, perhaps there is no more well-known figure than tournament director Matt Savage. Known for his player-friendly, feet on the floor style, Savage, 46, has directed tournaments all over the globe and for all different tournament series and casino companies and handled his duties with aplomb and style. One of the inaugural founders of the Tournament Directors Association, Savage has tirelessly advocated for standardizing poker tournament rules and has been one of the foremost innovators in terms of tournament offerings and formats.
The San Jose, California native is the current tournament director at the Bay 101 Casino in San Jose as well as the Commerce Casino in Los Angeles, in addition to being the Executive Tour Director of the World Poker Tour. Savage has had a front row seat to the incredible growth poker has undergone this century and has been one of the most influential men in helping the game grow and evolve to what it is today.
David "Devilfish" Ulliott
Sadly the poker world lost the physical presence of David "Devilfish" Ulliott in 2015, but his legacy and influence on the game of poker is sure to live on. Ulliott is one of Britain's most famous poker faces. A colorful character, Ulliott has a WSOP gold bracelet, a WPT title and more than $6.2 million in lifetime earnings to his name. He currently sits second on the England all-time money list and has cashes dating back all the way to 1993.
You couldn't help but notice "Devilfish" when you were seated at a poker table with him, and it was his personality that shone through on television, particularly in Europe, that made him one of poker's biggest stars. What was clear by this public nomination process, Ulliott was a beloved figure in poker whom was taken too soon, but not before he left an indelible impact on the game and all those he came in contact with.
Get all the latest PokerNews Canada updates on your social media outlets. Follow us on Twitter and like us on Facebook!