Canada's Poker Haven: The Unique Position of the Kahnawake Gaming Commission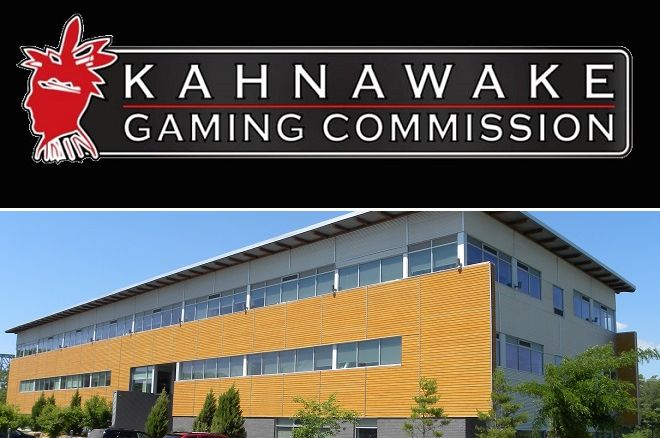 Like The Notorious B.I.G. and 2Pac, the opposing societies split by the Berlin Wall, and the two conferences in the NHL, Canada has an east-versus-west rivalry.
There's the old-world allure and cultural richness of Montreal versus the naturally stunning and vanguard Vancouver. There's the lighthouse-dotted, wind-blown east coast versus the temperate west coast with its towering trees. But in the poker world, there's a palpable envy among western and central Canadians for something that only the eastern part of the country has — a poker haven.
I'm talking about Kahnawake.
In conversation with players about the Canadian poker scene, a comment I hear over and over is that "we need another Playground," usually suggesting Vancouver or Calgary as the spot for a poker-only venue that replicates the model of Playground Poker Club in Kahnawake.
With several major poker tournament series throughout the year, most of them with Main Event's that see well over a thousand entries, and a poker room and tournament hall equipped with industry-leading technology, world-class service, and fantastic food, there's a lot to envy when Playground is thousands of kilometers away.
Then I have to tell them, "It'll never happen; Playground cannot be replicated anywhere else in Canada."
I don't mean that a huge investment would be required, or that it'd be difficult to find a First Nation to work with, or that the business model wouldn't work. I mean that there are some very unique circumstances in Kahnawake that have allowed the creation of the Kahnawake Gaming Commission and, short of a near-revolution, it can't be done anywhere else in the country.
What the Kahnawake Gaming Commission Does
The Kahnawake Gaming Commission (KGC), located on the Kahnawake Mohawk Territory just across the St. Lawrence River from Montreal, is an independent regulatory body of the gambling industry. They have issued a license to Mohawk Internet Technologies as the sole licensee to provide interactive gaming services from their Kahnawake location. With dozens of operators using the KGC to house their online gambling site, some of the ones you might recognize are Bovada, DuckPoker, BetSolo, BingoMania, and Sports Interaction.
Admittedly, the gambling sites that bear the KGC stamp of approval are sometimes ones which have a questionable reputation, though many others are perfectly safe places to play. These are small sites that make up a fraction of the online gambling business, but the fact that KGC issues a license at all — something nobody but provincial governments are sanctioned to do, according to federal law — demonstrates the principles of the KGC.
The KGC has also issued licenses to two land-based poker rooms in the Mohawk Territory of Kahnawake: the aforementioned Playground Poker Club, and Snake's Poker Club. VIP Poker Enterprises and Platinum Poker Club (formerly Stardust Poker Mansion) have held licenses in the past, but are not current licensees.
More than just First Nations casinos as you can find Canada-wide, poker rooms under license by the KGC are able to do things that other Canadian casinos are not.
Part of the reason Playground has been such a huge success is because they have partnered with offshore online poker sites like partypoker, Full Tilt, PokerStars, and with the World Poker Tour (WPT) to host events worthy of the attention of all of North America. These are relationships no other casino or poker room in Canada have (aside from a multi-year contract Fallsview Casino has with WPT) because the provincial regulators will not approve events with these affiliations due to the "grey market" of these offshore operators. But Playground doesn't need the approval of Quebec for their events, and KGC is more than willing to allow these offshore operators a presence in Kahnawake.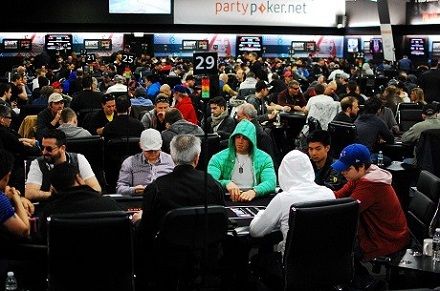 The regulatory environment for the poker industry varies from province to province, but a national law (the Criminal Code), makes online poker a "grey area" from coast to coast. The only online poker sites which are allowed to provide a service to Canadians are the ones who are granted provincial licenses and are owned and operated by the government (PlayNow in B.C. and Manitoba; EspaceJeux in Quebec).
However, sites like partypoker, Full Tilt, and PokerStars are not Canadian companies and do not house their operations on Canadian soil, so there's little the RCMP can do to stop them short of censoring the internet by blocking access to their sites, an extreme only the Americans have dared go to (there is no law prohibiting Canadians from playing on these sites; you cannot be charged for playing online poker). The only enforcement of the law has been to close the doors to these companies when they try to put their name on live events within this nation's borders.
So, while Albertans can and do play live poker of just about any variant but are unable to record a poker tournament on video, Ontarians are unable to play no-limit hold'em at most poker rooms and are not allowed even a pen and paper at the table, let alone their smartphone and headphones, but also have a WPT event each year that is filmed and edited for TV. Such is the variation in provincial regulation. However, the one constant from coast to coast is that no province is willing to mix their business with offshore online poker operators ... with one exception.
The KGC is willing to allow events sponsored by these mega-companies, giving Playground an enormous advantage in exposure, industry relevance, and allows them to create tournaments on a much grander scale than anywhere else, which all leads to them being able to operate one of the world's best poker rooms.
Without partypoker and the World Poker Tour working with the people of Playground (behind the scenes, not officially) to build the enormous tournament hall with the high-tech equipment and promising to fill thousands of seats, the Playground-like experience may have never been born. It is this relationship with the offshore poker sites that has enabled the creation of poker on a scale and of a calibre that the rest of Canada envies.
So how are they able to do it? Why can they get away with it when nobody else in the country can? For one essential, pivotal reason that is completely unique to Kahnawake:
The KGC is not limited by either provincial or federal regulations because the people of the Kahnawake Mohawk Territory maintain that they are a sovereign First Nation that is not under the jurisdiction of either the Quebec or Canadian government.
The Mohawk Territory of Kahnawake: A Sovereign Nation
If you were old enough to follow the news in 1990, you might remember the standoff between the Mohawk people of Kahnawake and the Quebec town of Oka — a land dispute that lasted two and a half months. It's referred to as the Oka Crisis and it was spurred by development plans by the small town to expand an exclusive golf course with accompanying luxury condominiums onto a Mohawk burial ground with standing tombstones of Mohawk ancestry.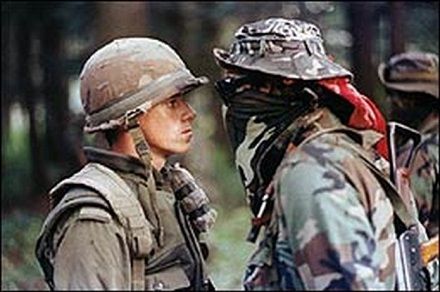 This was sacred territory traditionally used by the Mohawk that a developer threatened to encroach on, and the Mohawk protested by placing barricades to block access to the area.
The Sûreté du Québec (Quebec police) sent a team to the barricades and fired tear gas and flashbang grenades, leading to a gunfight between the officers and Mohawk protesters alongside their supporters.
Months of tension went on with Canadian soldiers and their tanks pushing against the Mohawk people who stood their ground at the barricades, and one member from each side of the conflict ultimately died from the crisis.
After 78 days, the Mohawks laid down their weapons and the golf course expansion was cancelled, keeping the ancestral Mohawk ground safe.
What does this have to do with the KGC? This is an example of how the people of Kahnawake assert themselves as sovereign, and the Mohawk people will not back down to force. They are a self-governing society.
In explanation of what gives the KGC the authority to license and regulate gaming independent of national and provincial law, their website states:
The Mohawks of Kahnawake have consistently and historically asserted sovereignty and jurisdiction over their territory. They have never been defeated in battle and have never entered into a treaty with any government that waives or diminishes their sovereignty.

The Commission's authority to license and regulate gaming is a facet of the sovereign rights Kahnawake has as a community of indigenous peoples to govern its own affairs.
The province of Quebec does not recognize the authority of the KGC in this industry, but there have never been any charges or legal challenges brought forward, and any attempt to do so would result in a long and expensive court battle at best and a guns-drawn standoff at worst.
An investigation was launched in 2001 by Quebec's police, but after several months into the process, the decision was made to drop the investigation to avoid engaging in what would certainly be a messy and inconclusive debate about the sovereign rights of First Nations.
P.E.I.'s Failed Experiment in Replicating the Kahnawake Model
Other provinces and First Nations have watched with great interest the success the KGC have had, and there has been an attempt to follow their lead to create a lucrative online gaming industry for Canada's smallest province.
In a 2008 report, Prince Edward Island's finance minister expressed concern about the looming unregulated online gaming industry, believing that the province's gaming revenue could be at risk to the encroaching offshore operators. Canadian provinces are legally allowed to license online gambling, but only to players within their own province. And with the tiny population of P.E.I., they would need to reach beyond their borders to find any measure of success in joining the industry.
Cue the executive director of the Mi'kmaq Confederacy of Prince Edward Island, Don MacKenzie. As the representative of the island's aboriginal population, MacKenzie noticed what KGC was doing and saw online gaming as a potential revenue stream to assist the impoverished Mi'kmaq people. He came to the office of the finance minister with a proposal.
As they started to investigate the feasibility of launching an online gaming operation, they realized how complex it would be and hired a Charlottetown law firm to consult. Then things got really complicated with meetings in pubs and behind closed doors, side deals made with other interested parties, and offshore companies setting up local branches to help push the plan forward on the possibility of making big dollars.
A report was generated that outlined the Kahnawake's unique position as a declared sovereign nation, allowing them to self-govern. With that information in hand, two possible directions were drawn for the operation: either the province would regulate online gaming and recruit other provinces to join them, keeping P.E.I. as the hub; or put the operation on Mi'kmaq territory and assert sovereignty to overrule the Criminal Code, but with the advantage that the operation would be done in partnership with the province rather than in opposition to it as has been done in Quebec.
After a lengthy process of research and planning, P.E.I.'s government ultimately concluded that getting cooperation from other provinces was unrealistic — ruling out the first possible direction for the operation — and trying to sidestep the Criminal Code by relying on the sovereign rights of the Mi'kmaq was going to face far too much legal opposition — ruling out the second plan.
From there, the dream of creating a lucrative online gaming hub in P.E.I. fluttered and died.
A detailed explanation of the entire story can be found at the Globe and Mail by Robyn Doolittle and Jane Taber.
The Model Will Not Be Replicated
These are the components that form Canada's poker haven: Kahnawake is host to our country's biggest and best poker events because of their ability to partner with large, international poker companies; the venue and events are able to have these partnerships because the KGC allows them; the KGC is able to allow them because the Mohawk Territory of Kahnawake asserts itself as sovereign and self-governing — not bound by provincial or federal law.
When I hear players tell me they want to see, or are even willing to help fund, a Playground-like poker club in Calgary or Vancouver, I fully agree that it would be fantastic thing to see. But the only reason Canada even has one Playground is because of a very unique set of circumstances in Kahnawake.
Unless the provincial government of B.C. or Alberta makes some large regulatory changes to allow the likes of PokerStars or WPT to have a physical presence in the province, or a nearby First Nation goes through the intense and thorny process of asserting and defending themselves — even through the use of arms — as a sovereign nation, it just isn't possible.
Until then, keep collecting those frequent flyer points to enjoy the large events put on just across the river from Montreal, or enjoy the many great poker rooms that already exist in central and western Canada.
Get all the latest PokerNews Canada updates on your social media outlets. Follow us on Twitter and like us on Facebook!