Playground's Bad Beat Jackpot Hits at $672K; New Minimum Set at $250K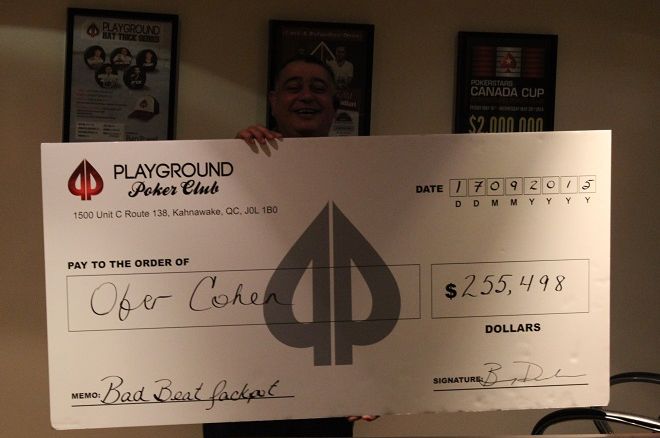 Imagine buying into a live $1/$2 no-limit hold'em cash game and walking away more than $250,000 wealthier? Nobody can make that kind of profit at those stakes in a year, let alone a single session, unless you're playing at Playground Poker Club with a monstrous bad beat jackpot looming over the world-class poker room.
At the Kahnawake, Quebec poker room just outside of Montreal, Playground's primary bad beat jackpot was hit last week with the bonus sitting at a whopping $672,202. It was about 1 a.m. Wednesday night when Ofer Cohen and Denise Berkowitz entered a pot that would earn them life-changing money.
With seven players at the table, Berkowitz raised to $10 and was called by four players, including Cohen. The dealer laid out a flop of



and Berkowitz checked. Cohen bet $25 and was called by just Berkowitz.
Going to the turn heads-up, the dealer slid out the

on the felt. Again, Berkowitz check-called a bet from Cohen, this time for $55.
The river card was revealed to be the

, and Berkowitz continue her pattern by checking, but when Cohen bet a small $45, she raised all in for $155, which Cohen immediately called.
Cohen showed


for quad sevens, but was beat by Berkowitz's rivered quad nines with


. Berkowitz earned the more-than $500 pot, but the two huge hands triggered the bad beat jackpot, awarding $672,202.
Cohen's losing quad sevens saw him collect $255,498 for the bad beat, while Berkowitz was awarded $127,718 for having the winning hand. The table shared a further $21,286, and the rest of the room shared $982.
With this bad beat jackpot now burst, Playground is introducing a new format. They now have a minimum jackpot of $250,000. That means the primary bad beat jackpot will never be less than a quarter of a million dollars.
When the bad beat jackpot resets, the qualifying losing hand starts at quad aces and drops in strength by one hand ranking every four weeks before freezing the threshold at quad eights. The secondary bad beat jackpot of $25,000 is still in effect, and is triggered when someone loses with a full house of aces full of kings or better.
Get all the latest PokerNews Canada updates on your social media outlets. Follow us on Twitter and like us on Facebook!