The Sunday Briefing: 'Jennnyy19' and Sebastian 'p000cket000' Sikorski Find Back-to-Back Final Tables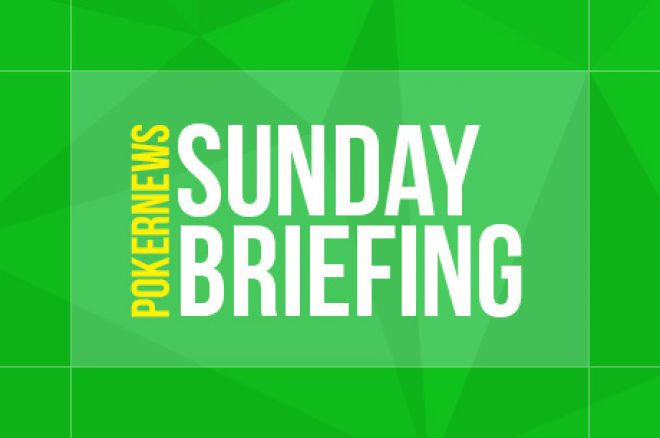 With millions of dollars paid out to poker players around the world, the week's biggest and best online tournaments are found every Sunday on sites like Full Tilt, PokerStars, 888poker, and partypoker.
This weekend, every site saw great turnout for their events again as PokerStars' World Championship of Online Poker (WCOOP) continues and has everyone putting in a busy Sunday schedule to take advantage of the massive prize pools on offer, and that has players trickling into all the other sites as well.
Sunday Majors on Full Tilt
The Sunday Brawl
With 410 entrants for the first big tournament of the day on Full Tilt, the $250 'The Sunday Brawl' surpassed the guaranteed $75,000 in the prize pool, and each elimination also earned players $35. 'Rwprado' from Brazil won the top prize of $18,040, not including bounties.
The top Canadian result was the runner-up finisher. For second place, 'ScarJo' won $12,300 plus bounties. But most incredibly, 'Jennnyy19' finished in third place after finishing second last week for a fantastic back-to-back result!
The Sunday Major
This week, there was no 'The Sunday Major' on the schedule. In its place, the 'Full Tilt Classic Main Event' drew 1,203 players at a $100 buy-in each. Out of the 135 players who collected a payout in the tournament, it was a Canadian who took the largest piece of the $110,676 prize pool.
After a heads-up deal with South Korea's 'Ace0219', it was the player named after one of Canada's biggest celebrities (for better or for worse) who won the top prize. 'Sexy Bieber' earned $19,473.16 for the win.
Super Sized Sunday
The price goes up for the last major of the day on Full Tilt. For $500, players are guaranteed a prize pool of $50,000 in the 'Super Sized Sunday'. With 135 entrants — one more than last week — the prize pool hit $63,720. The biggest portion of this tournament also went to a Canadian after a heads-up chop. 'Judge1034' earned $16,031.53 after besting 'inhoo' the Swede.
The Canadian victor was far from the only Canadian-based player at this final table. Fifth place went to Doug 'dlanger610' Lang for $4,779, and 'ftpballerstatus' scooped up $3,504.60 for sixth. Also making an appearance was Kyle 'kylejf' Frey with an eighth-place finish worth $1,911.60.
Sunday Majors on PokerStars
Sunday Kickoff
This biggest tournaments of the day get started on PokerStars every week with the $109 'Sunday Kickoff' with a $125,000 prize pool guarantee. With 2,073 people paying the buy-in, the guarantee was far surpassed, with $207,300 eventually being the sum they were playing for.
With the early start time for players in Canadian time zones, it's common to see a lack of Canadian flags deep in this event, and this week was no exception. The win was earned by Romania's 'diw.2303' for $30,637.14 after a three-way deal.
Sunday Warm-Up
The $215 'Sunday Warm-Up' heats up the action with a $400,000 guarantee, but the recurring tournament became a Special Edition WCOOP event again this week with a $1 million guarantee, earning 6,282 entries. Players battled to collect a piece of the stunning $1,256,000.
The tournament is a two-day event, so several players remain to return on Monday and play for the bulk of the prize pool. First place is set to make $196,503.39 and play resumes at 11 a.m. ET.
Sunday Rebuy
The $109 'Sunday Rebuy' also saw numbers swell with the $180,000 guarantee beat by a long shot when registration closed with 1,021 entries, pushing the prize pool over $340,000. While a player from the U.K. took the top prize — 'VL-Hannibal' earned $54,751.13 after a three-way deal — two Canadians found their way to the final table as well.
One of our country's best online players, Griffin 'Flush_Entity' Benger, finished fifth for $17,934, and 'lftarii' was one finish behind in sixth for $14,518.
Sunday Storm
Moving on to the lowest-priced tournament that could be considered a Sunday major, the $11 'Sunday Storm' is the best value you'll find in online poker. Despite the tiny buy-in, the prize pool guarantee is set at $275,000, and it just pushed past it this week to settle at $290,830.
Belgium's 'costasiempre' took the top spot, collecting $27,211.72 for the win, and one Canadian just missed the final table. Ultimately finishing in 10th place, 'floplucky88' earned $974.28.
Sunday Million
The most jaw-dropping tournament in online poker is the only one that guarantees a million dollars in prizes. The $215 'Sunday Million' became the $2,100 Sunday Million Special Edition for WCOOP this week with the guarantee bumped up to $2 million, and still saw 1,502 entries at the increased buy-in with an incredible $3,004,000 to play for.
This tournament became a two-day event, and 198 players still have chips to carry to Monday's final day. First place is going to earn a stunning $503,170, and everyone still in the tournament is guaranteed at least $3,454.60. Leading the field is Austria's 'Päffchen' with 364,459 chips.
Sunday 500
The price of admission is set at $530 for the 'Sunday 500', and there were 928 players who bought a virtual seat and chips this week. The $250,000 guarantee was well-surpassed when the total came to $464,000 to play for, with $83,520 going to first place.
It was U.K.'s 'Carsandi' who collected that top prize, but the second-best payout of $59,531.20 was earned by Canadian-based 'kylef89'. Seventh place was also claimed by a well-known Canadian. Mike 'SirWatts' Watson earned $13,920 for his final-table appearance.
Sunday 2nd Chance
It's all in the name. The 'Sunday 2nd Chance' gives tournament hopefuls one last regular $215 tournament to try to lock up a profitable day with a $175,000 guaranteed prize pool. When the 1,434 entries played down to just one, it was U.K.'s '+Liquidez.es' who collected $48,756 for the win.
Two players from within Canada made final-table appearances. 'KatePkrPro' was the first of the two to be eliminated and collected $3,097.44 for ninth place, but 'SammyL7' did better to go on to finish fourth for $19,502.40..
Sunday Supersonic
The Sunday majors conclude on PokerStars with the $215 'Sunday Supersonic' — a six-max hyper-speed tournament with a $200,000 guarantee. In one hour and 45 minutes, 1,640 players were reduced to one, and that one was U.K.'s 'jackziyang' laying claim to $56,179.12. There were no Canadians to survive to the final table this week, but 'eagle762' came very close, finishing 10th for $3,457.12..
Sunday Majors on 888poker
The $150,000 Mega Deep
The premiere Sunday tournament on 888poker has bumped up the guarantee to $150,000 for a $215 buy-in, and that was surpassed this week by $10,000 with 802 entries. Hailing from Germany, 'mrgruger' won the top payout of $29,032.40. The best Canadian result was found by 'Kamexx' who earned a respectable $8,260.60 for fifth place.
The $200,000 Whale
Not a weekly tournament, 'The $200,000 Whale' occasionally offers a bi-weekly high roller with a $600 buy-in for 888poker's players. This week was not to be one of the weeks, but a player request had 888poker host the event anyway, but with a reduced guarantee of $150,000 — albeit unnecessary, as 366 entries put the prize pool at $206,790.
While 'FU_GTO' and 'SundayMaster' made a deal that saw the former take the win and $35,046.59, there were two Canadians on the final table. The first to be eliminated was 'DePittsterje' in ninth place for $4,432.71. But most impressive was a return of our very own Sebastian 'p000cket000' Sikorski. He won this tournament last week, and came back to finish sixth this week for $8,788.57 for an incredible back-to-back final-table result.
The $100,000 Sunday Challenge
With a more affordable buy-in of just $90, the 'The $100,000 Sunday Challenge' is commonly the most popular tournament of the day on 888poker, and has also experienced a recent boost in the guarantee. With 818 entries, the prize pool swelled to more than $112,000, and two Canadians were on the final table to compete for the big money. However, finishing in sixth place, 'jadedjason' had to settle for $4,651.15 while '123_THC' went on to collect third and $10,927.41.
Sunday Majors on partypoker
$150K Guaranteed Sunday
There have been few weeks this year that partypoker's $200 Sunday major has met its guarantee. What was once a $200,000 guarantee was reduced to $150,000 mid-way through this year, but with all of the increased traffic online due to WCOOP, partypoker saw its guarantee met too. With 855 entrants, 'singandsongnlh' won $19,900.97 for outlasting them all.
The sole Canadian-based player at the final table was 'l_fw_' in fourth for $10,336.95, .
$100,000 Gtd High Roller
In the higher-priced tournament of the day, 236 entries pushed the prize pool past the guarantee to $118,000 in the $530 tournament. Won by the U.K.'s 'BigPescado69' for $22,290.20, the best Canadian finishes went to 'milfseeker69' in fourth for $9,558, 'justforefun2' in fifth ($8,024), and 'IEatBears' in sixth ($6,844).
That's it for this week. If you don't already have an account on all of these sites, make sure you download through our links and use our bonus codes to take advantage of the most lucrative promotions you can find. Good luck; see you in next week's headlines!
Get all the latest PokerNews Canada updates on your social media outlets. Follow us on Twitter and like us on Facebook!