Ontario Racetracks Offer an E-Poker Alternative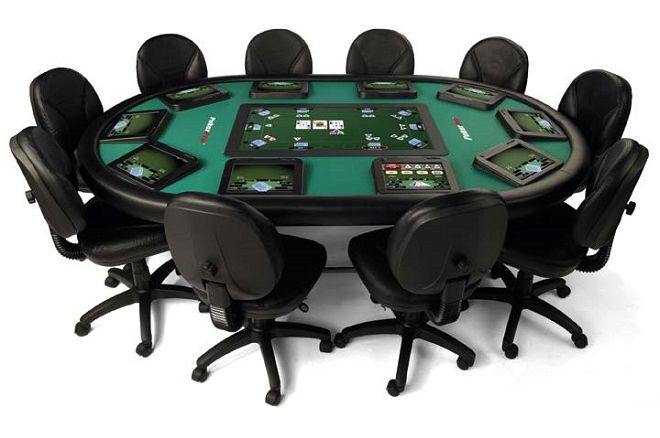 Racetracks across Ontario are stepping into the electronic poker (e-poker) world.
E-poker tables are 10-handed tables that have a tablet-style device at each seat along with an additional monitor in the centre of the ring, created by PokerTek. There is no physical dealer, cards, or chips. The game plays like a standard poker game, but all of it is managed digitally. There are currently three locations in Ontario that offer e-poker.
The innovation gives racetracks an opportunity to increase revenue without a lot of the overhead a regular brick-and-mortar casino poker room has. This allows poker to be a profitable venture for the struggling racetrack industry in Ontario.
While we are used to playing poker in a live setting as well as on a computer, e-poker blends the two. We headed down to a local venue to get our impressions of the game.
Sign-Up Process
After signing up and receiving a player's card (which can be used at multiple locations) from the rewards desk, players can go to the cage to register for a tournament or load money onto their card and pick their screen name. Once you have money on your card, you go over to a hub where you swipe the card to get on the list for your game of choice. Currently, most racetracks are only offering no-limit hold'em games at $1/$2, $2/$5, and $5/$5.
Beginners also have the ability to practice on play-money tables. If it is your first time playing on the PokerTek tables, let the people at the poker desk know and they are more than willing to show you how you get started. They sit down with you and give you a tutorial on how to look at your cards, how the action flows on the screens, how to look at stats, and how to use the rabbit hunt option in cash games where you pay $0.25 to see any of the remaining community cards that haven't been shown.
Game Play
The main thing you will notice when sitting down at an e-poker table compared to a live game at a casino is the speed of play. Players will see more hands per hour than at a regular game with a dealer. Not having to wait for a dealer to shuffle speeds the game up tremendously. Add in the fact that players get a maximum of 45 seconds per turn to act, and the speed of play matches playing a single table of online poker.
Players must tap down on the screen to reveal their cards while simultaneously covering the sides of the screen so other players at the table can't see their hand. This can be a challenge as an accidental touch of the screen may allow unwanted onlookers a chance to view your hole cards. It is much easier to peel back physical playing cards and live brick-and-mortar casino players will have more control over how they look and cover their cards from surrounding competitors.
Another positive aspect of e-poker is, since there are no dealers at the table, there will not be any misdeals, errors, or room for interpretation. All decisions are done through your tablet so there is no possibility of putting out the wrong bet amount or dealers hearing bet amounts incorrectly.
Tournaments
Canadian poker pro Evan Jarvis of Gripsed fame recently got a chance to play a tournament at one of the locations that offer e-poker. He has a video outlining his experience:
We also got a chance to sit down with him to discuss his experience in more detail.
Jarvis alluded that this format lends itself to playing more hands in a given session or blind level, which means that a winning player should have an increased win rate at this format. The Gripsed.com founder also stated that their tournament structure is on par with other brick-and-mortar casinos in the area and that, even though the levels are 30 minutes, you will see almost double the hands you would at casino-run tournaments because the speed of play is increased.
Jarvis, who's website focuses on training players, touched on the fact that e-poker is a very good training tool for new players. With an inviting atmosphere at the racetrack, the games lend themselves to people who have never played poker before and are interested in dipping their toes in the waters. Players are notified when it's their turn to act instead of waiting for someone to let them now it is their turn. Players have the ability to play more hands at an e-poker table in a live setting which will allow them to learn more quickly. Hand-winning percentages are also shown when a player is all in, which is a nice added feature that you wouldn't get while in a regular game.
Tournaments also have additional statistics screens that you might not normally see while playing a tournament at a casino. Players can view the up-to-date tournament leaderboard, payout structures, hands played, time remaining in the level, and the level structure.
Table changes also happen more quickly as there is no need to draw cards for seating. The computer automatically does the seating arrangements by a random draw and tells players that are moving which table and seat they are moving to. When players get to their new table, they are shown their screen name on the display at a seat.
Jarvis also added that you are able to see everyone's stack size right on your screen. Rather than fight to see and always ask for a count of players' chips late in a tournament, all players know exactly how many chips their opponents have in front of them at any given time. This should clear up confusion with players who aren't as skilled with counting chip stacks and should also give an advantage to more experienced players who know how to do the math to make profitable decisions.
One thing that Jarvis found out that could turn players away from a positive experience is that it can take quite a while for first-time players to get registered for the tournament. The whole process of getting a card and loading it takes about 15 minutes in total. First-time players will want to give themselves ample time to sign up and get the required funds added to their card.
The tournament also has a weird structure flaw where they take away $25 denomination chips at the 100/200 blind level, only to return them the next level at 100/200 with a 25 ante.
Cash Games
Cash games for e-poker machines allow users to see stats that they may not be able to track in a live setting like hands played, hands per hour, money wagered, and time playing. And while tipping is normal practice in live cash games, it is not a factor at e-poker tables since there is no dealer.
Playing on these machines also give players a tiny kickback. Players earn $0.50 per hour played as rakeback, which gets paid out in $10 increments. It may be small, but the poker rooms that hold e-poker tables are the only place in Ontario that actually give you anything back for playing on them.
The best way to explain this format of poker to a player that is thinking of dipping their toes into the e-poker scene would be that it's similar to one-tabling online poker but with live reads. Winning players should expect to see a bit of an hourly increase as they are playing more hands per hour and don't need to tip on hands they win. Players just starting their poker journey get the ability to learn in a friendly environment with a lot of visual aids and a lot less intimidating than a regular brick-and-mortar casino environment.
Get all the latest PokerNews Canada updates on your social media outlets. Follow us on Twitter and like us on Facebook!