Scott McMorran is the 2015 PlayNow Poker Champion, Earning $58,760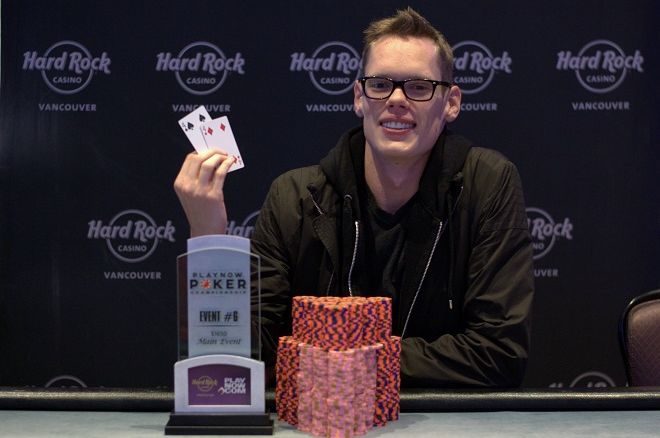 B.C.'s first-ever PlayNow Poker Championship has come to a close with Scott McMorran winning the title and $58,760 for coming out on top of the Main Event.
The 11-day, six-tournament series at Hard Rock Casino Vancouver reached it's peak with the $1,650 Main Event that offered two separate Day 1s — one on Friday and one on Saturday. Both fields were sold out with all 100 available seats filled. Each day saw 36 players survive to bag chips for Day 2 to see a field of 72 resume play on Sunday to play down to a winner.
There was $294,000 on the line for the top 20 players, and first place promised $85,260!
When the day began, Kayvan Payman was the chip leader by a huge margin. He came to the table with 356,600 chips, followed by his friend Woody Nielsen with 290,500, and JR Javier returned with 215,100. They were the only three players to top the 200,000 mark on Day 1.
Javier's words as he bagged up his Day 1b chip lead were that he was glad to have a big stack, but it guaranteed nothing. Anything could happen on Day 2. True to his prediction, he was eliminated before the money.
The other two big stacks, Payman and Nielsen, made it to the money. Nielsen just managed a min-cash of $4,410 for finishing in 16th place while Payman kept his momentum going with heaps of chips all the way to the final table and to sixth place for $13,230.
His tournament shifted in one hand when he got tangled with McMorran for a massive pot. Payman was still one of the top stacks in the tournament with six players remaining when he raised to 75,000 from the button and McMorran called from the blinds.
The dealer burned a card and fanned



on the table and McMorran check-called a bet of 105,000 from Payman. Both players checked the

turn, bringing the

river. McMorran checked, Payman pushed all in, and McMorran went in the tank, finally calling with two pairs, holding


. Payman's bluff with


had been called and he was left with a stack on life support. He was eliminated shortly after and McMorran took over the chip lead.
While eliminations came quickly for the early part of the day, the money bubble took two full levels to burst. Hand-for-hand play started two players away from the money, and those who remained were very cautious as they tried to squeak into the money.
One of the shortest stacks to make it past the bubble when it finally burst was that of Kaan Becer who was holding just two big blinds, wanting to grab the min-cash. He did much better than that. Becer spun up his micro stack all the way to the final table. He was still the short stack for most of his time there, but he managed to last until fourth place where he earned $19,845.
As soon as Becer left the table and his chips had been absorbed by the three remaining players with fairly even chip counts, a prize chop was agreed to that saw each of the three players locking up $50,000 and playing for the remaining $8,760.
Kris Jerstad took the third-place spot after pushing all in with


on a



flop and getting hero-called by Jun Kang with



.
Heads-up play between Kang and McMorran didn't take too much longer. The two talked about chopping up the remaining bit of prize money, but neither could reach an agreement with Kang holding the chip lead, so they played on.
Upping the aggression, McMorran took out his opponent in a quick one-two punch of back-to-back hands that stole the chip lead and then ended the tournament.
Kang raised to 240,000 and McMorran three-bet to 600,000, getting a call and going to a flop of



. Both players checked and the dealer burned and turned

. McMorran led out for 600,000 and Kang called, bringing out the river of

. McMorran pushed all in and Kang folded after thinking for a long time, shifting the chip lead to McMorran.
In the very next hand, McMorran raised to 200,000 and Kang pushed all in. McMorran called and the two found themselves in a coinflip situation. McMorran held a pair with


and Kang had overcards with


. Kang couldn't connect on the





board, and he was eliminated in second place, giving McMorran the victory.
2015 PNPC $1,650 Main Event Top 10 Results
| Finish | Player | Prize |
| --- | --- | --- |
| 1 | Scott McMorran | $58,760* |
| 2 | Jun Kang | $50,000 |
| 3 | Kris Jerstad | $50,000 |
| 4 | Kaan Becer | $19,845 |
| 5 | Jorge Shae | $14,700 |
| 6 | Kayvan Payman | $13,230 |
| 7 | David Jong | $11,760 |
| 8 | Frank Szelepcsenyi | $10,290 |
| 9 | Nolan King | $8,820 |
| 10 | Scotty Hunter | $7,350 |
* Denotes three-way deal.
Another noteworthy result is that of Mike Graf who had a stunning showing in this series. He final-tabled three events in a row before also cashing the Main Event. He was eliminated in 12th place for $5,880, just barely missing his fourth final table in four events.
Some of the other local talent that came out to play this Main Event included the likes of Jason Mann, Ami Barer, Shawn Buchanan, Ashkan Razavi, Matt Jarvis, David Quang, and Jonas Mackoff, but none of them were able to make it to the money.
For even more details about the big hands, the progression of chip stacks, and to browse the photo gallery, head to our live reporting page for the event.
Get all the latest PokerNews Canada updates on your social media outlets. Follow us on Twitter and like us on Facebook!